So I've wanted to do this for a while, For trades, gift art, commissions, etc. I'm compiling all of my Characters here, along with all of the art I've done of them. . . some are rather old, so I apologize lol(If you'd like to see the art other's have done of them, Please Check it out here!
kata.deviantart.com/journal/11…
)
I'll list them from the most drawn/used/favorite to the newer or barely continued ones

And so, here we go!
Kattira(Feral)
Species: Black Leopard / Dragon mix
Attirbutes: Brilliant Green eyes, Dark spots on Dark fur, Fading to light gray at tail, wing, and paw tips. Large Onyx Horns on her scull, and Raven feathers. Larger than average Panther, with longer tail growing thick towards the end.
Attitude:Varies, Peaceful, loving, nurturing, to angered, defensive, almost vengeful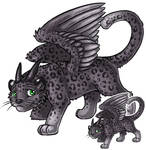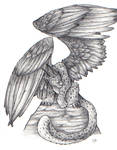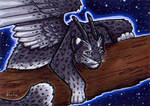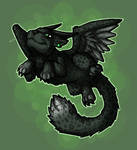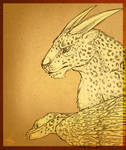 :thumb129345640:
Kattira(Anthro)
Species: Black Leopard / Dragon mix
Attirbutes: Same as Feral, with Purple hair, sometimes in glasses (like me

)
Attitude: This is basically a representation of me. So anything really, from goofy, to angry, to sad, to sexy, to bored. . . anything really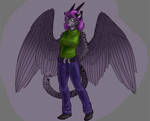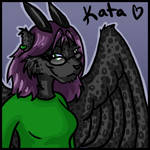 Dijani
Species: Sanishi (Dragon/feline) (
Shiella
's creation)
Attirbutes: Golden blonde hair, creamy white fur and light gray stripes with shimmering white scales beneath, Simple brown leather garments, Bright green eyes, Dragon wings, Dragonic tail with spaded tip. Has the ability, when threatened or angered, to turn into a large feral dragon, and her eyes turn from green to gold.)
Attitude: More or less. . . Bitchy. She can be sweet and mothering at times (especially with children), but mostly she's sexy with an attitude. Blunt and straightforward, with a 'No Touching' attitude.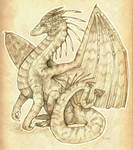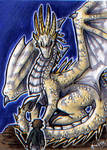 Gruu
He's technically a little demon, a bit larger than a ferret. He resembles a dragon (more eastern than western, long and thin) including the jet black horns rising from his brow, though he has the face and ears of a bat, and his wings are stunted and more or less useless for flight. He also has an odd mixture of fur and scale.He's mischievous, sarcastic, intelligent, and witty.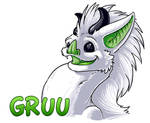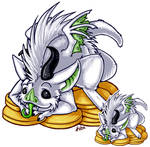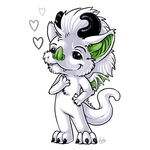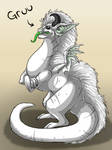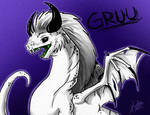 (Before I added the bat ears)
Kantii
Species: Dark Brown Striped Feline
Attirbutes: Large fluffy tail, usually restrained by wraps. Wraps also on her arms/hands and feet. Blue short spikey hair with bangs Tight fitted leather clothing, and hidden daggers on her person.
Attitude: She's a Sparring girl, so she has a sarcastic, snide, "I could kill you if you looked at me wrong" attitude. She's very cocky and knows she's sexy, and enjoys keeping any male at bay with her speed and knives. Also a "No Touch" attitude.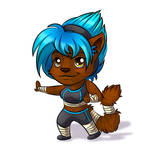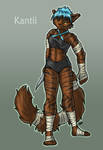 Parafin
Species: Parasaur
Attirbutes: Usually carries a large natural wood staff, necklace with a feather or two, rings in the webbing of his horn, and dark brown markings on his green skin.
Attitude: Sullen, though strong. He's been through a lot and lost almost all he has loved, but he's still a leader, and though almost an empty shell, he tries to stay strong. Tragic figure.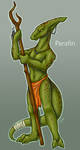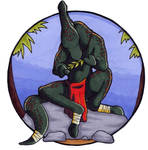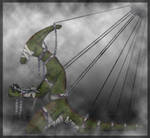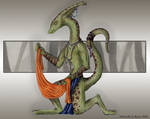 Kanjia
Species: White Tigress
Attirbutes: Blue eyes, clothing varies, though should fit a more medieval
theme. (Used to be a princess) Carries a large white sword, and sometimes a natural walking stick.
Attitude: Weak, kind, and sad. She, too, has lost all she once held dear, but different from Parafi, She is young, small, and scared. However, as she grows she is gaining more vengence in her nature, seeking to learn to be strong and claim revenge on those who have wronged her. However this aspect is still very subtle in her nature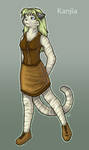 To be updated as more characters/drawings emerge