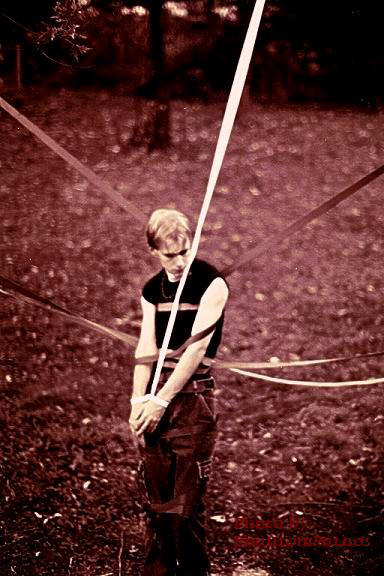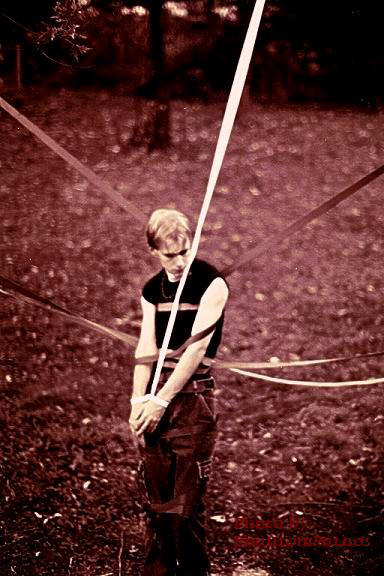 Watch

Hmmm... I do not see kinky. Sorry to disappoint. I see a sweet young man.
Reply
It's not that I like people being tied up, I just like the picture. I'm guessing there must have been a lot of big trees around you to get that shot. What did you use for the strappy thingys?
Reply

Well, these photoes were based off of a drawing I did. I haven't posted it yet, 'cause it's still in the sketch phase. Anyway, I live right in front of a small forest, so, I just found two trees close enough, then we positioned the harnesses. The harnesses by the way, are nylon automotive whenches. Basically it's the kind of stuff you'd use to lift an engine, or haul a car, but, in this case they worked well enough to wrap me. Then, around the neck and legs we used white and red ribbon. And, I don't know, like angelflames said, you don't have to be into s&m or bondage, sometimes being tied up may be fun.
Reply
You seriously live beside a small forest? I wish I lived beside a small forest. I guess you could say some of the house I've lived in were by small forests, but we called them woods, hehe. It's probably quite different.
Reply

I doubt it's that different. And, yes, when I saw small forest, I mean SMALL forest. We actually took those pics in a little clearing right behind my back fence. Although, they are big enough for many various wild animals to roam, so, I guess it's big enough.
Reply

two words, meoooowww, grrrr... *digs that pic...* :drools: :humps:

lol...
Reply

Wow, thanks allot, y'know that's allot like the response I wanted. Of course, I thought it would be funny if I got something like, "yeah, nice pic, that's just how I like my men, tied up." But, that's just me and my sense of humor. Anyway, once again, thank you for an excellent and thoroughly enjoyable review.
Reply

ya, i thought about doing that, but, then i wasnt sure what you, might deem appropriate...you know!? some people are like.... ya, well ok, go away!!! but i have a really warped and sick sense of humor and people get so offended these days... so, ya, love the whole tied up thing... kinky!! Lol

hehe... later, Katie
Reply

Hmm, well, I don't really know that I'm " into" that per se, but, It does seem that allot of my stand-alone drawings would support that, hmm, now I have to examine my life and see where I went wrong...
Also, yeah, don't worry about being P.C. with me, I can handle myself. Other people however, uh, maybe you're right, best to be careful.
Reply

well, im sure your not too feaky like into s&m, but it is fun to get tied up once in awhile... *sighs*
Reply