So you want an acid spitting sea dragon?
Perhaps one that can lift and crush rocks with his mind.
Or even yet, one that can wield the shadows twisting them into horrific nightmares.
The majority of Aqrion wield an element type. There are varying rarities of the element types.
These elements can both be used as a breath as well as 'bending' that element type around them.
Breaths are pretty straight forwards, they breathe or belch out their element type.
They are able to manipulate their elements around them. As they age their skills improve, and may even be able to conjure their element out of nothing. At final stages they may animate said form of their elements, creating a semi-lifelike elementals of the element type. These can fight or defend whomever the owner chooses, as well as just being an extra set of hands.
Varying degrees of elemental use uses varying amount of energy. There are physical and mental limitations that an aqrion can use before tiring. This varies with individual, element, age and skill.
A water aqrion summoning a light current to move objects around may never tire particularly.
However if said water aqrion was creating repeated massive tidal waves, he may tire more quickly.
A massive ball of lightning to electrify a whole bay may not last vary long at all before needing to take a break.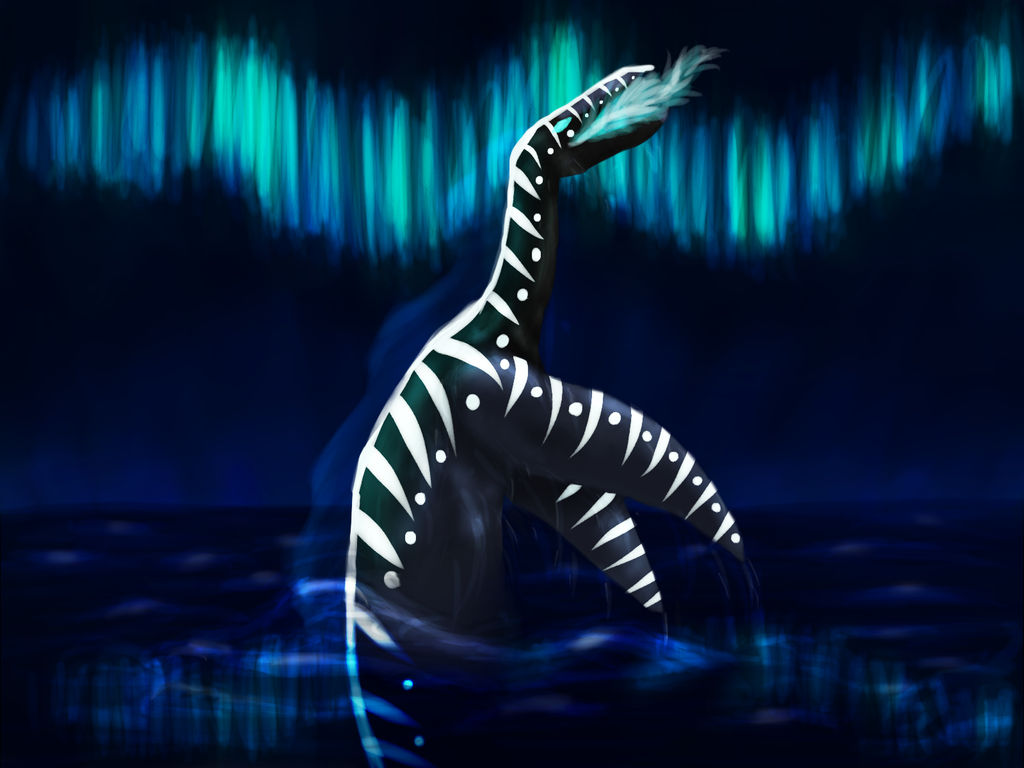 These examples are not the only possibilities of the each element type.
Feel free to interpret and portray them in other ways!
- Common Elements -
Water
Can "see" by feeling the water currents. Manipulate and create water currents. Faster swimming. Forceful water breath. Battlefield wide advantages (or disadvantage to opponent).


Ice
Ice beam, shards and spear. Thawing and freezing. Can use to carve ice caves.


Earth
Manipulates sediments and rocks. Excellent defensive capabilities. Building homes and cities.

Nature

Manipulates, controls and grows plants. Can force vines over a whole area. Excellent healing capabilities.
Sleep and stun spores.
- Uncommon Elements -

Shadow
Blends and melts into the shadows. Manipulates shadows. Can darken area. Induce nightmares and fears.
Can also create shadow creatures.

Light
Creates light. Can blind with a flash-bang style attack. Excellent healing capabilities. Can remove the madness of shadow.
Can create creatures of light.

Amber


Creates a sticky substance that hardens. Create effects similar to stained glass. Can create Amber armor and weapons



Acid


Acid Breath. Acid mists. Poisons victims, or remove poison and other toxins. Voodoo style healing.



Sound
Shits loud yo! Sound barriers. Powerful shouts. Forceful push-backs. Songs can inspire and boost morals/damage in battles.
Songs can also lull prey into a false sense of security. Song can also lea them straight into traps.

Energy
Uses energy to create force-fields that can push, pull, and float objects. Telekinesis!
Is able to make large shield barriers over towns and creatures.

Air
Is able to make bubbles, force air blasts, create windstorms, and float objects. Forced Air at underwater creates is often very deadly.




- Rare Elements -
Thermal
Scalding steam breath. Can make glass with sands. Liquefy rocks. Open volcanoes and manipulate lava flows.
Plasma
Lightning and stuns. Plasma spears, barriers. Is able to mass stun a large area.

Mindbender
Is able to speak telepathically to others, can often suggest Or force thoughts into others, Breaks the enemy's minds with whispers of madness.
Can also create visions in others minds.


None
On occasion aqrion do not possess an element.
These individuals are usually physically stronger and have higher endurance to accommodate the lack of element use.
(Dragons gain a +5 to all Stats)