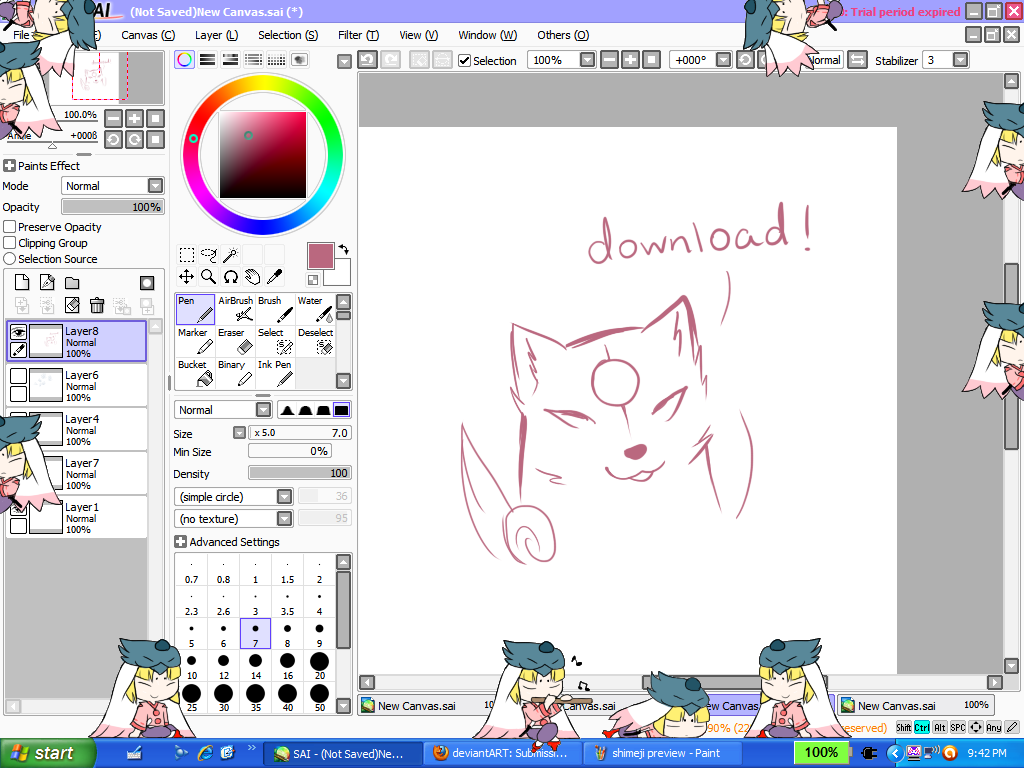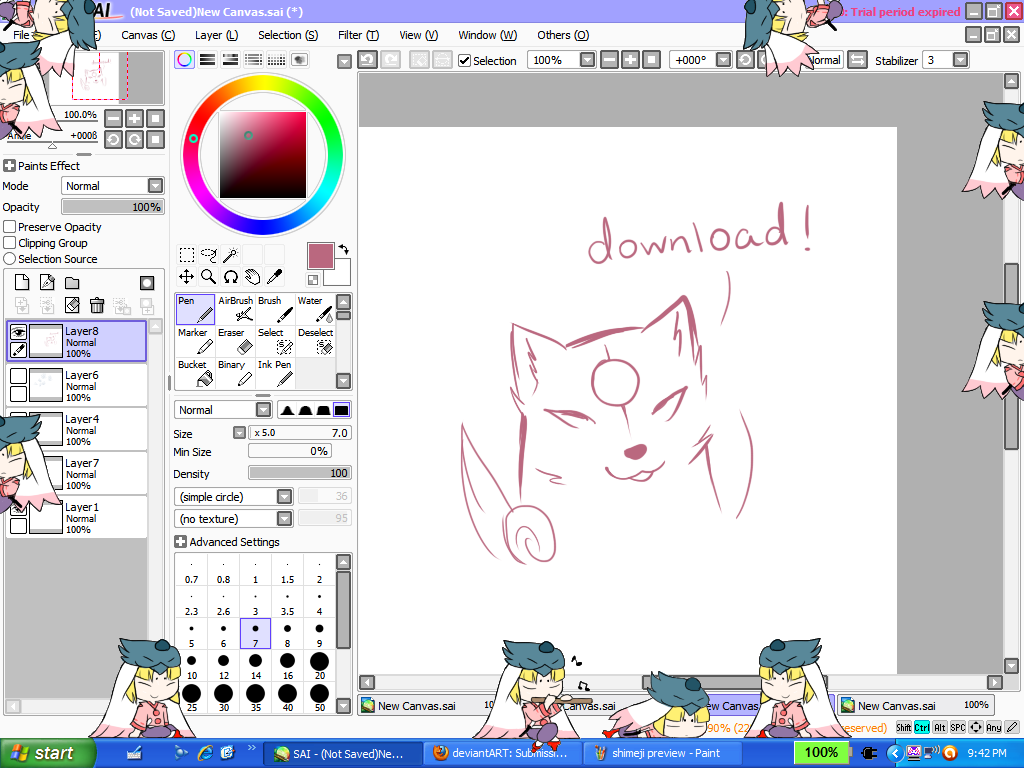 Watch
It's what every Waka fan wants-- tons of little half-baked prophets on your screen! 8D
He walks, sparkles, climbs, plays his flute, duplicates himself, and more!
I've had shimejis for a while now, but it's about time I threw my own into the mix. In case you were wondering, shimejis are little desktop buddies that crawl around your screen and do a bunch of different things, and these actions differ between the different ones out there. It was originally just one character. I was actually thinking about doing Kirby first, since he's really simple, so I /might/ make either him, Mieu, or Oshawott next.
Waka was fun but annoying to make. His freaking geta made some parts difficult. Surprisingly I didn't have too much trouble with his hat, though there were a few stray pixels there that I couldn't really fix. While I was testing him he wouldn't do certain actions so I would be all "THROW THE WINDOW ALREADY ASDFGH" and such cause I wouldn't know if something looked right until he did it >n>
The .RAR is under "download file," while the .zip is here:
[link]
NOTE: If you download the .zip, there is something crucial to do in order for the shimeji to work. Instructions for this are below.
How to use (RAR)
1. Download the .RAR file. The file is named "Ushiwaka." Extract this to the desired location (you will need WinRAR to do this; if you don't have it, one search will find it for you quickly)
2. Open the folder and run the .exe file; it's the monitor with a face
3. A few moments later, a new icon will show up on your taskbar, and there's your Waka!
How to use (zip)
As far as extracting goes, the instructions are pretty much the same (you won't need WinRAR though), but you HAVE to do the following in order for it to work:
Once everything's extracted, open the folder and go to the subfolder named "conf." There, you will find two XML files. You will have to rename them because Japanese characters aren't compatible with the zipping process.
-Name the 10kb one 行動
-Name the 43kb one 動作
After you do that, run the program and Waka should appear.
Here is a tutorial on shimeji downloading for Mac users: [link] If needed, please direct any problems you may have to there. <:
You will see that a list of options show up when you right-click the taskbar icon. These are as follows:
-Add one (you can also just simply click the icon)
-Come here (calls all Wakas to your cursor. if you let him sit for a while... >u>)
-Leave just one
-Get IE windows back (shimejis may chuck your windows offscreen. this includes MSN conversations)
----------
Baibai (bye bye; closes program. this will also show up if you right-click an individual shimeji so you can delete it)
Please do not ask me to make a ______ shimeji! This alone took me anywhere between 40 and 60 hours to complete, so I'm pretty worn out. ;n; But if you want to make your own, all you have to do is replace the frames in correspondence to their actions. It takes a lot of time and patience, but it's totally worth it in the end!
Hope you enjoy AuA