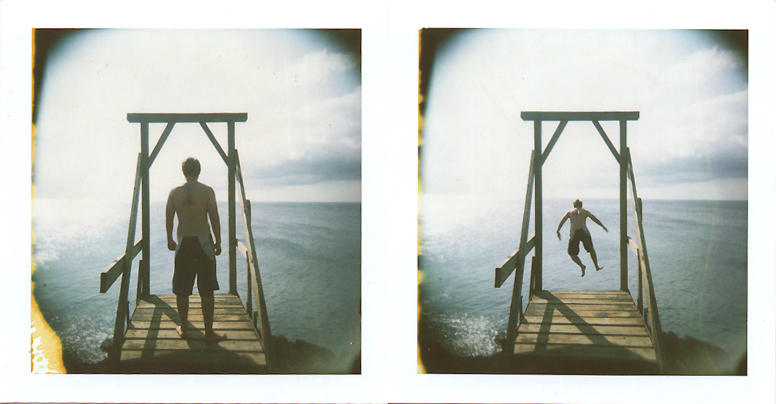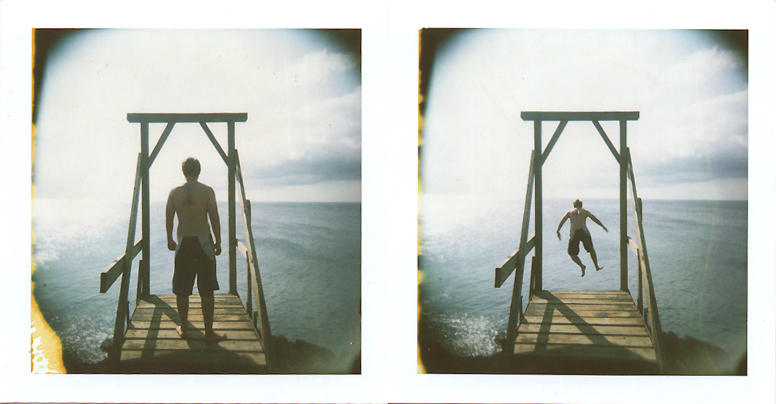 Camera: Polaroid: Holga 120CFN + CB80 Polaroid Back
Film: T-89
Location: South Point, Hawaii

I find the second image to be a little distracting. I think he had some second thoughts while he was in mid-air, which gave him the funny body language.
Body language is an interesting thing. You can tell alot about people in any situation.

Anyway, I hope to reshoot a three set similar to this.
Enjoy!

© Karl Long
please, no artistic use or financial gain in any form unless consent is approved // under CC Attribution

polas at southpoint?
nice.
Reply

i've got a lot of pictures of there,
my roommates go down there all the time even though we live in hilo. pretty rad.
Reply

I'm thinking of getting a holga. Do you like yours?
Reply

Sorry to take so long to get back to you. Yes, I love it. It's pretty random on what quality you'll get with the camera. I happened to luck out and get one with few light leaks. Worth the 60$.
Reply


afamily friend said you can tape the light leaks.
And she found one for 20 dollars! I'mm really excited to get it.
Hopefully my work will be as itneresting as yours.
Reply

Ha, thank you! Diligence and hard work will get the desired outcome. I could see it being hard to tape the camera, but if she has some special way then go for it! Light leaks are fun though, you never know what you'll get!
Reply

hahaha,
brilliant shot (:
Reply

i have a holga with polaroid back! maybe check out some of my work?
anyway great shot.
Reply

Ohh, this is so cool!!! You're right, his body language is interesting... i have a few jumping into water pics in my gallery... i love them... fun times!!
I really like the style of the photo... is it from the polariod camera??
Renee
Reply

The camera is a Holga, so it's a Lomo camera, not polaroid. But I bought the backing to hold polaroid film.

Reply

i love it!!
the composition is really great! find the two togheter interresting

You got a polaroid back for holga? i'm jalous

and just for fun, about how high it was??
Reply

I'm guessing about 80 FT. But I'm not quite sure. I was stoaked when I bought it. Right before they stopped producing them I saw it and knew i had to have it. So I got it at a good price.
Reply

i really don't think you need to reshoot. the second one is so uniquely weird, i like it a lot. an uncertain leap.

Reply

Well it looks like hes resisting the fact that he already jumped. WHOOPS!

Usually whenever I do a reshoot it's never as good. My instinct photograhy is always better.
Reply