Hi my dear friends!
Thank you for all of your nice comments and messages.
Many of you wrote me that I should do a bondage shoot again, like I did ages ago.
Remember?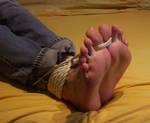 Good news! I took a lot of pictures with my feet tied up last weekend.
And I really mean "a lot". So I will upload many pictures of this shooting in the next weeks.
Before someone might say "This gets boring", I also have some other pictures I will mix in between.
But please let me know if you like my tied up feet and and feel free to share your fantasies about them with me!
Thank you very much my dear watchers and friends!
Karina