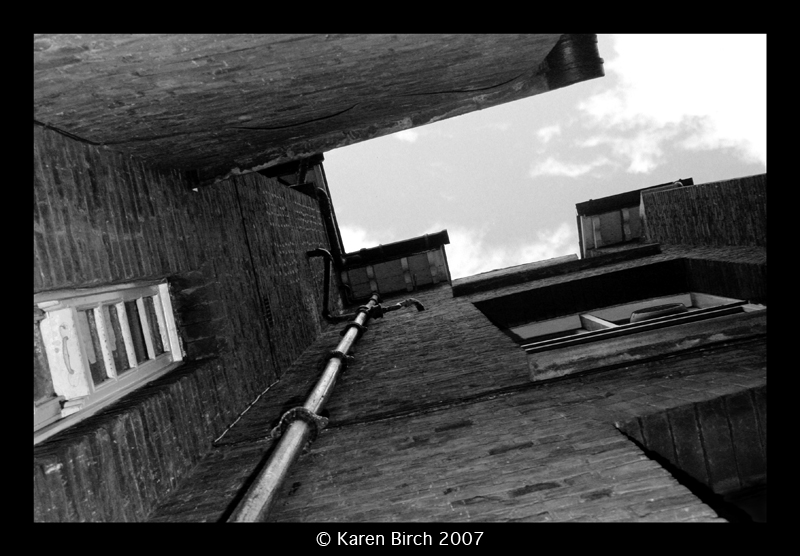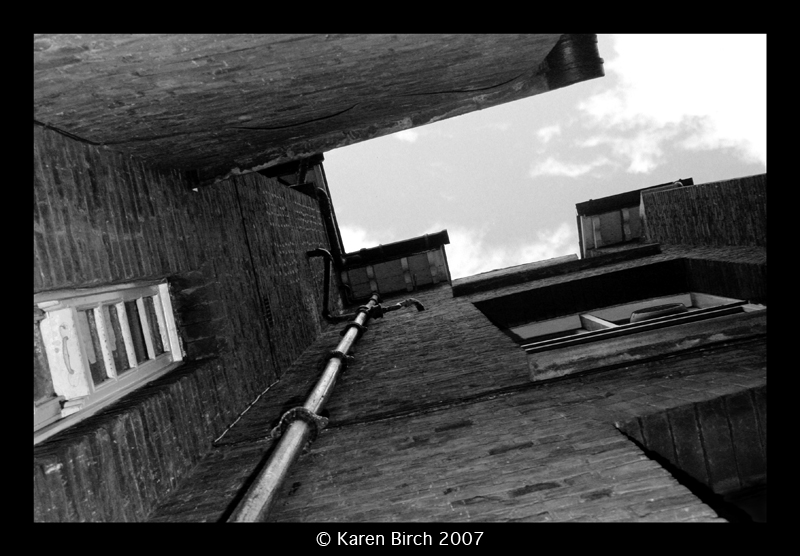 Watch
My first real photo of 2007.
I'm pleased with it it but I had real trouble with the following decisions:
a) Should it be colour or b&W?
b) Clouds or no clouds? (the original had white sky but looked dull, I thought)
c) which way up it should be (I tried all four ways)
d) The border, although I think the black was the right choice as the clouds on the right merge into a white one)
So I encourage advanced critique on this one if you have any thoughts.
Don't be shy now!


Yes, this way up is definitely right, because of the drainpipe leading us "up" into the composition, surely?
Reply

Obviously it will not surprise you to read that I LUUUURRRRRVVVVVVEEEEEEEE this shot! Would be interested to see in colour...a bright blue sky with clouds might be a powerful contrast to the bricks. It reminds me of a shot I have on a postcard which I shall hunt out to show you [who am I kidding, I know exactly where it is!]
UJxx
Reply

LOL, yes I'm sure you do! You can show me it next time I'm over yours.
Thanks chiglet, I'll email you over the colour one

Reply

Happy New Year

I have a vertigo

Reply

I concur with Nitsch! LOL....

Reply

Thanks me deario!! I guess it was alright after all.
I think I had guilt today (as I was supposed to be doing college work and not dicking about on here), maybe that was making me question myself!

Reply

I agree with the other comment. It's difficult composing an image according to the 'rules' when there is no obvious focal point. I spent a day in the 'big smoke' recently taking similar shots (not as good as yours) and had all sorts of similar dilemmas. I think you definitely need the cloud detail, as that's where your eye is drawn to.

If it were mine I'd have probably cheated and 'shopped a tiny bird into the sky as well. Yes, it's probably obvious and probably cliched, but obvious and cliched are my middle names.


Regards
Crazy Obvious Cliched Eyes
Reply

Thanks Crazy Obvious Cliched Eyes (LOL!), I really appreciate the comments, it all helps.
I think that in the end I imagined myself shinning up the drainpipe (yeah, right!) and thought that must be the right way up.
I have another friend (~
UbiquitousJamie
) who hates it when a bird gets into his photos and usually 'shops them out. I quite like it if I get one tho!
Reply

Woah! Makes me feel giddy just looking at it!

1. B&W is a good choice here IMHO.
2. A bit of detail in the sky is needed, I like what you've done here.
3. I think it works well how you have presented it. I think it works well 90 and 180 degrees counterclockwise too, but I don't like it 90 degrees clockwise.
4. The border is spot on!

Reply

Thanks ever so much for that, I feel a lot better about it!
What I didn't say before is that the sky is from a photo I took in Kenya, I thought it would be fun to put a bit of Kenya over London

Reply