Si tu n'as pas de voix
HURLE
Si tu n'as pas de jambes
COURS
Si tu n'as pas d'espoir
INVENTE



If you have no voice
SHOUT
If you have no legs
RUN
If you have no hope
INVENT



AUGUST 9th

"Special Show your Love Day".
In The French Calendar it is the day of "Saint Love"
This day has been filled with events! Let's show our love for this community, artists, deviants and most importantly our favorite charities and humanitary projects!! Awareness is the key! Spreading the word about these causes with our art is sometimes the very best thing we can do!
Above had show our support to deviants who need a hand, kind words, support, and not only deviants but people around us in our family, relatives, neighbours
.
Well anything in our life that makes our hearts beat!

View the Journal Entry about this Project
All entries can be seen here :
browse.deviantart.com/projects…
1st Place)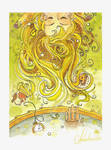 by

2nd Place)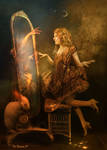 by

3rd Place)
by

thanx some much to all contestants!!!

I'm personally hosting a contest for this event.
You'll have to create an image based on a text i've written!
All details and keys are given under!

You've probably seen I rarely upload here my writings. I've recently uploaded one.

Yellow Love StoryYellow Love Story
She was boring.
Why not stay in bed this morning? Her blond hair on the yellow pillow. The ceiling had a pale white color. Maybe she might change it?
The same dream each night. Why dreaming? Nothing is becoming true... She closed her eyes.
She's a nurse in the biggest hospital of Frisco. She remembers this man she nursed once. Blond-haired, a sensual voice, gentle. She often thought of him. She would like so deeply to fall in love.
Maybe she could escape from this material life. From the tram each morning, from the clock, from the shopping... A white rabbit is running in her room, he's dressed, he seems to be late, he entered into the mirror of her dressing-table.
It seemed strange to her because he went through it, like if he went on the other side of the mirror. She stood up. Went near the dressing-table. She saw on it all what she left last night before going to bed, even the sandwich (with jam) which she had not eaten.
She looked inside the mirror. The refl

There were several references in it. Have you found the key(s)??
I'm gonna give here all they keys to open all inner doors!

So if you've not yet read this text go here : www.deviantart.com/deviation/5…


Now The SECRETS
(

)
- Oh dear... you've not seen it..... The rabbit... in a hurry..... The name of the two characters.. But who is Lewis Carroll???
The author of... Alice In Wonderland!!!!!!!!!!
Now you've seen it.. there are references from Alice's Story....

- But this story has deeper meanings...
Of course for each of us, referencing to our life we could have many interpretations.
Why not having my own version, why not knowing the meanings i put inside of this text?
Here we go... you'll see how tortured i am!!!!

-> The girl (Carroll) can be me, in a sense. The begining is absolutely not me. I wanted to write something quite not important, superficial... Like a simply "cute" love story... and a bit of sex lol with the word "suck". But it was a fake way where i wanted to lead you.
The direction i really wanted to take begins in the second part, when she met the boy on the "other side". Surrealism. i wanted to give the unreal and "not" possible touch, to make you wander if it was real or if she was dreaming. I've let you here interpreting this surreal part as you want.
I thougt about each sentence, each word i wrote here.
Remember the begining : "she was boring"... "her material life"... then in the second part : "he creates what he wants in this world. He is used to having no use."
See the contrasts between their two lifes.
In the third part and conclusion i gave you the key.
I opposite them to make you feel what the lady really feel inside : she's completely depressed, her life means nothing to her. She does not know what to do.
Remember this : "She went out of her body, of her material life. She escaped...". And read my conclusion : "You know, be conscious that on earth there's no way to live our dreams. Maybe one day you'll also look at yourself in the mirror. You could be surprised of what you'll see inside. But never forget you're in the reality. We always wake.".
Do you see?
Dear all : she just... died. I lead you to a complete opposite way with great and cute words about sex and love and Alice also... But the real meaning is that the mirror represents this river you have to pass to go to the other side, when you life passes away... The only way to really be happy... In my life i passed through moments like that. Not now!
Yes this is in fact a very unhappy story.
Again to avoid misunderstandings, this story reflects a time of my life when i was bad. And that's why i also had the idea of the dA Loving Day (with several other things) : show your love to those who need it, Lend a hand to those who are in need.

You have the keys now, so let's try the contest!


Now The CONTEST
I'm really impatient to see what you'll make and how you'll create the image from my story!!
Be creative, surprise and inspire me!!!!!!!!!!

- I'll be the only judge.
- You have to create an image from this text : www.deviantart.com/deviation/5… .
- Deadline : August 25th 2007.

- Rules :
1) Medias allowed : VISUAL medias ONLY (digital, trad, flash, photography etc...)!!!
2) 1 entry max per deviant!
3) The entry must be made for this contest only (In your description you must link to this contest & contest entries must have been made after the begining of this contest : july 13th)!
4) No explicit porn nor hatred deviation!!
5) Your Entry must fit the theme (give explanations how you imagined the theme).
6) To enter the contest, submit your finished piece to the Contest Category here : Community Projects > Events > Community Projects > dA Loving Day > Yellow Contest
7) Stocks and other resources must be credited even if you used your own or if the stock provider didn't specify he had to be credited.
8) Write in your description : ***I give permissions for all Mods in the dA Loving Day to use image for this event only.***
- Prizes :
- 1st place :
6 monthes subscription from karemelancholia
1 Book in english of french from karemelancholia
1 Signed Print (A4 size) from karemelancholia
3 Prints (postcard size photoquality) from karemelancholia
24 Address Stickers from karemelancholia
Custom Stamp from GoodiesForYou
Custom Icon from GoodiesForYou
Journal Feature from karemelancholia
- 2nd place :
3 monthes subscription from karemelancholia
2 Prints (postcard size photoquality) from karemelancholia
Custom Stamp from GoodiesForYou
Custom Icon from GoodiesForYou
Journal Feature from karemelancholia
- 3rd place :
1 month subscription from karemelancholia
A Print (postcard size photoquality) from karemelancholia
Custom Icon from GoodiesForYou
Journal Feature from karemelancholia


You made an entry? Upload it HERE
.