:thumb38637058:
Introduction
I'm happy because with the last event initiated since many years by
Moonbeam13
: against breast Cancer, i've given to a french association (ligue contre le cancer) and also to another french association that fight against AIDS (Sidaction); this illness is the one i want to fight more against, i dunno why, i know none who has this sickness, probably because i think this one is full of injustice, when i see sopme religious leaders saying "no condoms"... I'm completely shocked. when i see the poor countries (most of all in africa) where no pills, or unusuable pills are distributed, i'm so revolted. i'm so angry against this.
My generation is the one on the divorce, the financial crisis/recession, of the AIDS. Stop now.

See this news article please : news.deviantart.com/article/34…
Thank you to our wonderful Project GD :
shell4art

Over 25 million people have been lost to AIDS so far, and 4.3 million people were infected with HIV in 2006. The spread of HIV is quickening, with more people infected in 2006 than in any previous year.
Information, education and communication are among the most important elements in the response to AIDS. To be effective information must be understood and believed and it's no surprise to anyone reading this that there is a negative stigma associated with this disease.
For more infos about AIDS and Awarness see this news article :
news.deviantart.com/article/34…
So participate & donate!
Many thanx!
How Can I help?
I'm glad you asked, there are several ways:

For the americans you can support
EveningDownpour
in her
Philadelphia Aids Walk

For the frenchs like me i advice you to give to this association, like i did : Le Sidaction
.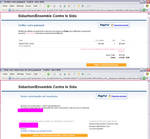 <- Proof that i gave here!

You can sport the stamps and help spread the word in your journals by directing people back to this article

Read the information in the links below and educate yourselves, educate your friends, your family, whoever. Get the word out about the truth and help us break the stigma.

Steal the CSS and post information about this cause in your journal

Sport the avatar

Information

AIDS Walk 2007

AIDS Mythbusters Contest

AIDS.org

Center for Disease Control and Prevention HIV/AIDS Fact Sheet

U.S. CDC HIV/AIDS prevention

National Black HIV/AIDS Awareness Day (7 February 2008)

U.S. Department of Health & Human Services: HIV/AIDS Days

U.S. Department of Health and Human Services AIDSinfo

National Latino AIDS Awareness Day (15 October 2007)

AIDS/HIV Awareness.org

CBS Cares: HIV

amfAR: The Foundation for AIDS Research

Avert.org: World AIDS DAY (1 December 2007)

The AIDS Memorial Quilt (The NAMES Project Foundation)

UNAIDS: The Joint United Nations Programme on HIV/AIDS

NetAid (an initiative of Mercy Corps): ACT NOW: HIV/AIDS

Red Ribbon Foundation

KidsHealth.org: HIV and AIDS

HIV Vaccine Awareness Day, NIAID/NIH

The Office of Minority Health: Minority HIV/AIDS Initiative

United States Conference of Catholic Bishops (SAAC): HIV/AIDS Awareness in the African American Community

National Catholic AIDS Network

What Does the Catholic Church Say About HIV/AIDS?