Menu
You LOVE me? So do I!

1$ Auction!

won by bemymind

I'm making auctions for a Pack Of 10 Postcards made from my creations.

Size of the postcards : 13,9cmx10,7cm aka 5,47x4,21 inches.
They are glossy.
And ready to be sent or collected, as you prefer!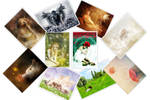 ATTN : NO Watermark on the postcards!!!BIGGER view here :
fc05.deviantart.com/fs45/f/200…
BIDDING STARTS AT $1!! + shipping see under for infos, they are cheap!!

You have until june 14th, midnight, GMT +0 time zone.
About bidding :

- Bid here in the comments.
- PLEASE read the comments under to see how much is the last bid
- Bid in WHOLE $ (USD) or € (Euros) AMOUNTS (no comas as $1.50 bids).
- Only bid if you are going to pay!!
- Payments are made via Paypal.
- Shipping : Internatonal $2.70 - France : 1.5€.
- BIDDING STARTS AT $1!!
- When the deadline will be passed, i'll note the winner. And i'll ask for your postal address to send it to you.
- Nothing will be sent before payment!

PLEASE only bid if you can pay immediately!
ps. If previous comments are hidden, it's because there were bids for the previous auctions

.
You LOVE me? So do I!