I was commissioned by Jennifer L. Armentrout and her team to draw some artwork for her sexy young adult novel "Obsidian"! Soooo excited!!! I've posted the first piece already, titled "Push/Pull" here: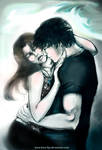 I'm doing more pieces, but they'll be secret until Jennifer's book signing tour, at which my artwork will be handed out to all the lovely readers as a gift! How cool is that?
Hopefully I'll be able to make it to the Georgia signing to autograph said artwork cards being handed out!
So it marks the first professional commission I've received, and I'm so stoked!
Go read her books NOW. Super sexy, snarky and well-written, "Obsidian" is the first book in The Lux Series. The second book is called "Onyx" and it comes out in August.
Here's some links to fandom stuff:
Jennifer's website:
www.jenniferarmentrout.com/hom…
Tumblr:
luxseries.tumblr.com/
Twitter:
JLArmentrout
and
vlc
_Photo
Special thanks to Jennifer L. Armentrout for writing awesome books and to the amazing Vania, of VLC Productions (who created and filmed the book trailers for Cassandra Clare, Holly Black, etc), for her generosity and overall badass-ness!