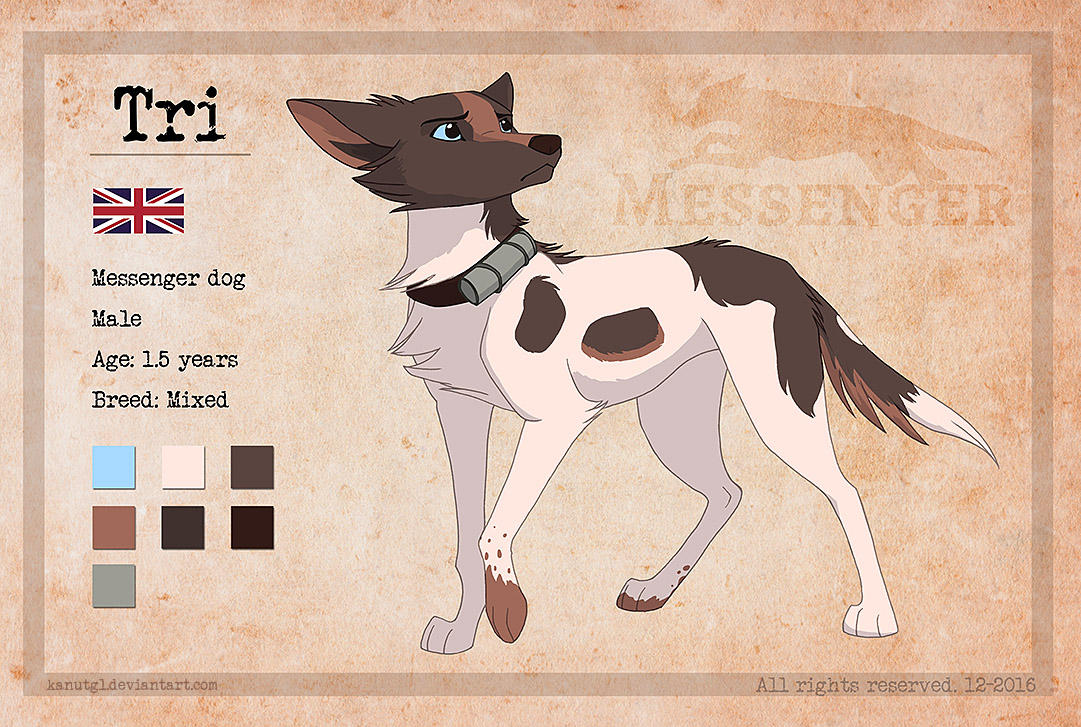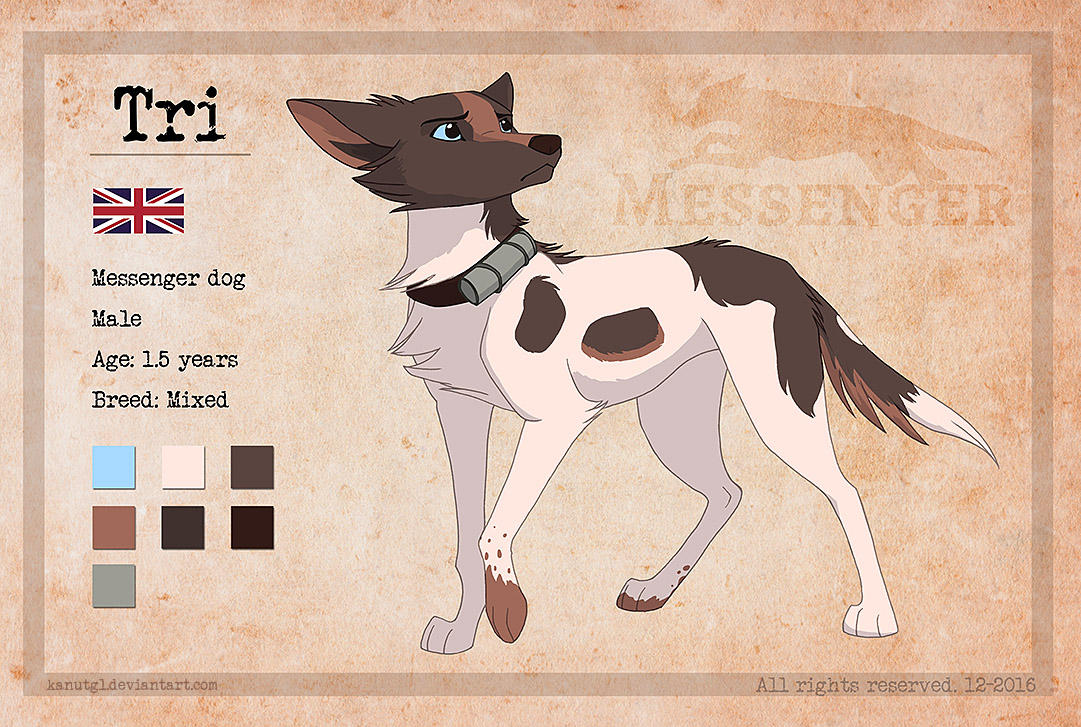 Watch
Name:
Tri
Character Personality traits:
Loyal, brave, cautious, anxious.
Brief History:
Tri is a young English farm dog torn from his home and sent to the battlefields of Europe in spring of 1918, late in The Great War. He was a donation to the war effort from his master and after being trained to carry messages for the army, he is shipped across the English Channel to France. There, alongside his companion dogs, he has the dangerous task of running vital communication through trenches and across no-man's land. He does not enjoy his job despite being good at what he does, and would much rather be back at his farm. They all try to keep the faith, but the idea of ever returning home seems like impossible dream, and every day hope is harder to find...
--------------------
Introducing (finally with a ref sheet) Tri, the main character of Messenger~
There's not a lot to write in his profile for now, but it should be updated as I go. The story I plan to tell begins in 2018, but I figured it was time I posted something to explain who the heck this dog that I keep uploading drawings of is

Why a World War I story about dogs? Because animal tales have always been my favourite. Books like Black Beauty, The Silver Brumby and Run With The Wind were what got me into reading when I was little, and I've loved stories about the animals' perspective in the human world ever since. I am also fascinated by the history of the world wars and after reading War Horse years ago I was inspired to start researching what other animals were involved in the first world war. I landed on dogs and choosing them as my subjects/human analogues was a no-brainer. They did dangerous, but vital, work, I love dog stories and dogs have always been very dear to me (despite never having owned one!). So there we are - with a bit of luck, the story of Messenger will be told! I have no idea where or how yet, but I'm working on that. Slowly. But surely. Very slowly.
We shall see how this goes.
Fun fact: Tri is a design I originally
adopted
from
PeachesOfWar

Fun fact 2: This is also Drawcember #4, a little belated.
Bonus art:
Early turn-around
,
Expression sheet

Ah I can't wait to hear more about this story! And I love this character design! Such a beautiful dog

Reply

Thanks a ton! <3 It means so much to me to hear that!

I'm curious about your characters too! I'll keep watching, hehee

Reply

You've never owned a dog?! Then I recommend you get one. A mid-drive Border Collie from working lines. Awesome dogs!
Reply

Yes, I've wanted one since I was about 5, haha

I love Border Collies so much. I definitely will own a dog someday - someday!
Reply

Reply

Such a beautiful design! And such an interesting story concept also!!

Reply