Character Busts/Headshot:
Art is flat or with minimal to basic shading; base prices are
$15-$25
per character.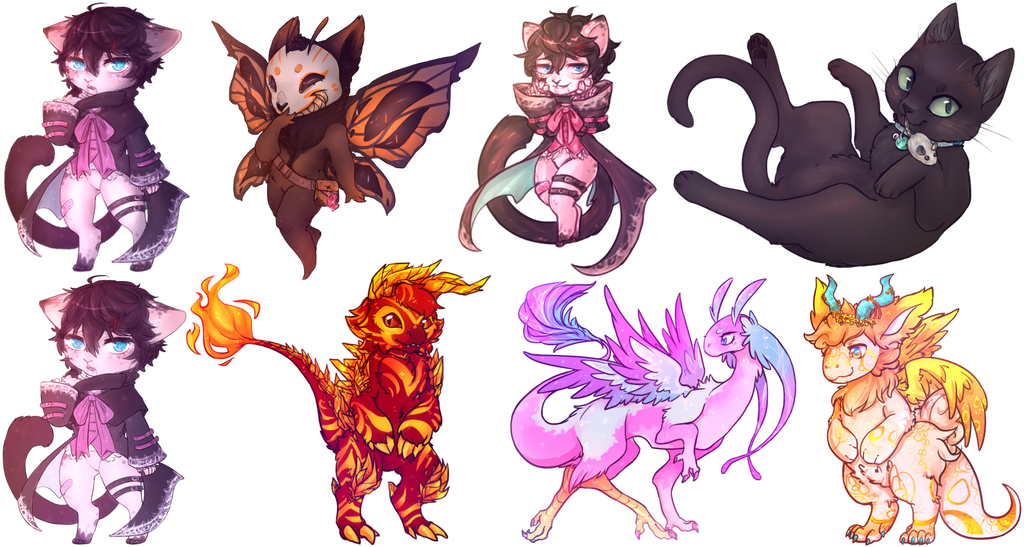 Character FV Customs/Chibis:
Option 1:
Art is flat or with minimal shading; base prices are
$15-25
per character.
Option 2:
Art is shaded in painterly style or detailed rendered shading; base prices are
$35-50
per character.
PWYW Sketches, Doodles, & Experimental Art:
Details: This option is for those who don't mind the chance of rougher unpolished art, experimental techniques, or well..the option to choose your own price range. Payments are accepted after the piece is finished and currently only available for USD. Art can range from a coloured sketch/doodle, to full body works (sorry but there isn't a choice in regards to what it may be however, it all varies on inspiration, motivation, and other factors). This option is also open for descriptions/palettes or custom designs such pokefusions but with that said, I can not promise things will turn out as expected or envisioned.
.-.-.-.-.-.-.-.-.-.-.-.-.-.-.-.-.-.-.-.-.-.-.-.-.-.-.-.-.-.-.-.
CURRENT SLOTS;
-
-
-
---
In need of some money for the Holidays, want to attempt doing some commissions.
I can do;
Animals/Furries/Humans/Humanoids...etc.
Mild Gore/NSFW/Nudity* (this requires further discussion and I have the right to refuse a commission for any reason. If requesting nsfw material you must be at least 18 years of age)
I will not do;
Anything considered highly offensive/inappropriate, racist/inciting of hate speech….etc.
Commissions for anything i don't have listed as available
Art based off real life people (I just don't feel comfortable enough in my skill to work off photo references. Exception** I will work off photo refs for pets)
Art based solely off descriptions. Must have a visual character reference please! (Trying to guess what you mean by "mid-length curly hair" is hard qwq)
Prices shown are the basic price point; additional characters will cost additional (up to the same amount depending on what is requested).
Want a physical copy of your commission? Ask before I start so I can make sure resolution is good to go and you can receive a physical print for an additional cost as well (price varies depending on country). Please note that this requires having an address to ship to and not all countries are available for this offer. Tips are highly encouraged and extremely appreciated.
Once your commission is accepted you will be sent an invoice through Paypal. (if you contact me via dA, I will require your email to send the invoice to. If contacted via email I will send to the email in which I was contacted with)