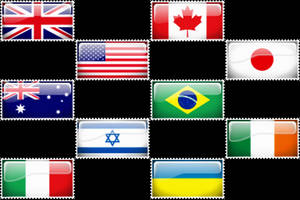 COUNTRY FLAG STAMP COLLECTION
Show your support/allegiance to a country by proudly flying the flag on DeviantART.
---
Suggested Premium Downloads

Description
World Flags
Dock Icons

Contain 255 icons which in PNG format with 256*256 pixels for use in your objectdock application.

You also can use it for your personal websites, blogs, as avatars, signatures or display pictures on forums or instant messaging software.

Details:
- Contain: 255 countries
- Format: .png
- Software creation: Adobe Photoshop CS2

Note: If I left out another country, please let me know.





Please post any comment so that I can improve my works.


If you like my works, you can simply click here or

it.


Hi, kampongboy9! I'd like to use your flags in a homepage I build for a cutomer of mine. How much is it, how can I pay or donate?
Thanks, Mario. mario@mariocus.de