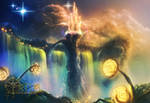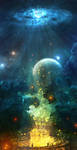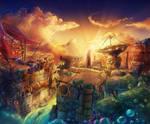 Hey there people !
I decided to open up two slots for comissions.
Things I usually do involve landscapes, space, castles, fantasy and skies. And it gets colorful !
But I also can work in more muted palettes.

This was done as a background for an animation.
I also create lineart for backgrounds or mechanical design or incoorporate lined characters in new backgrounds.
Feel free to ask me for a quote. (Please provide as much detail as you can, it'll make things easier !)
Greetings
Kamikaye