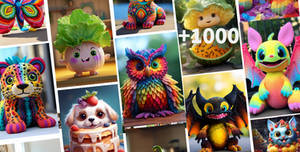 Ai Plush Art Gallery
This collection are over 1000 illustration to help you get inspired in filed of game/animation/illustration project.All images are made of AI. Support my work by contributing to my tip jar every month.
---

Tiny Wings Machine - Papercraft
Description
Tiny Wings is a great iOS game, and since the author Andreas Illiger came up with a massive free update, I express my appreciation with the release of another papercraft machine.
Pull the little bird and watch him fly over the mountains!
You can download it here for free:
[link]
Kamibox on Facebook:
[link]
Image size
961x614px 2.29 MB