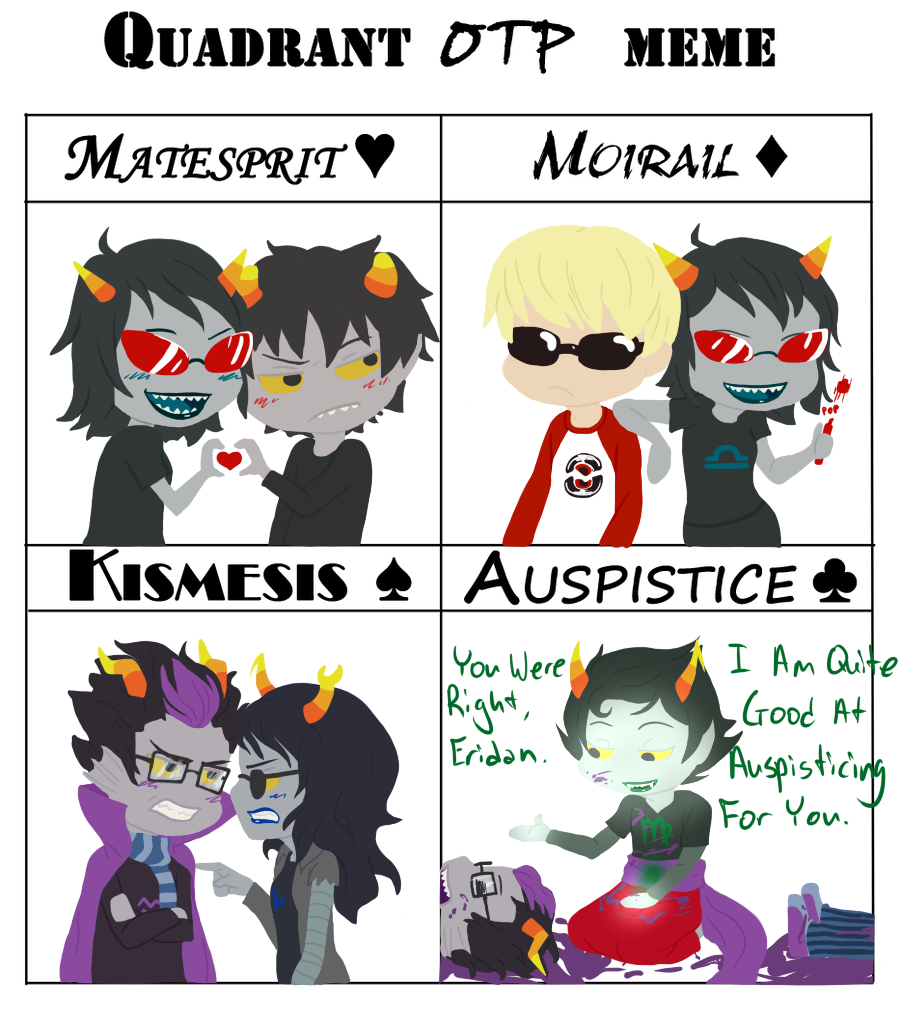 Watch
I couldn't resist filling out this meme to showcase my four OTP's.
Matesprit: Karkat<3Terezi. I just love their snarky "flirting" and
SLOPPY M4K3OUTS
wonderfully adorable bonding moments. I bet someday, Terezi will be able to put a smile on Karkat's face.

Morails: Dave<>Terezi. Canonically speaking, Terezi and Dave aren't morails, but their friendship is so entertaining. They have quite a special, interspecies bond.
Kismesis: Eridan<3<Vriska. Combined with the Dualscar<3<Mindfang dymanic, this is my favorite kismesis pairing, and recently developed into my second favorite pairing in Homestuck (sorry John<3Rose). These two have the most unsuccessful romances and romantic advances out of the entire cast, and so far, the only mutual romance they had was with each other (even if Vriska broke up with him later). Besides, these lovable scumbags deserve each other in blackrom.
Auspistice: Eridan's Top Half c3< Kanaya c3< Eridan's Bottom Half. Well played Kanaya. Even if I miss Eridan's hilariously pathetic, stuck-up hipster self, this scene was so epic and ironic that it would've made Dave proud.
For those who don't know about Troll romances, this wiki explains it well enough:
[link]
My Soul Eater version:
Homestuck (c) Andrew Hussie
Original Meme:
[link]