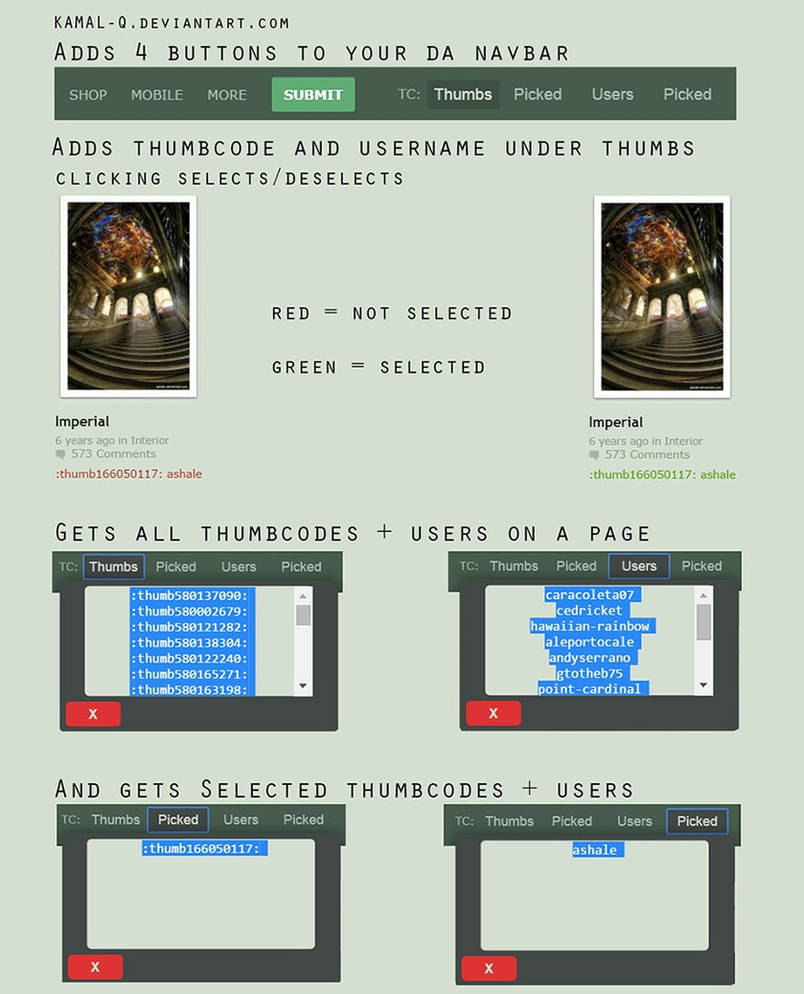 Watch
Image hasn't been updated
No time

New version! Another script

After the update to da it seems large portions of the script weren't working. The new version works, and on more pages. The styling is slightly different. The bar that the buttons was added to is now in its own draggable div, and more cases are handled (journal pages, thumbshare forum, user galleries). Also, I didn't have enough time to add in some oauth functionality - but for those that want to get all deviations uploaded by a certain users (as an example), a good place to start would be
www.deviantart.com/developers/
especially the developer console.
---
ThumbCollect
is a script for Deviantart that allows you to quickly collect the thumbnail codes and/or usernames from most places on the site.
Four buttons are added to the top navigation bar (beside your username) to allow you to select thumbcodes or usernames.
'Thumbs' shows all the thumbnail codes on the page.
'Picked' shows the thumbnail codes that you have collected.
'Users' shows all the usernames on the page.
'Picked' shows the selected usernames.
By clicking on 'Thumbs', 'Users', or'Picked', a drop down box will appear, allowing you to copy the thumbnail/usernames.
Perfect for journal features and more!
ThumbCollect requires
Tampermonkey
(Chrome) or
Greasemonkey
(Firefox).
---
Just in time for the holidays

Updated version - looks a bit nicer, and the code is nearly half the size. Also corrects a bug in the old version.