16 Favourites
5 Comments
70 Views
Registered Name
: Anamorphosis, ID# !1258
Nicknames:
Morphie, Anna
Breed
:
Aksiothos
, Scion Kin
Gender
: Mare
Age
: Exact age unknown, under five years old
Height
: 17 HH (when adult)
Colour and markings
:
Sooty Argyros Black Daimon's Allure (Chrysos carrier)
Genotype: Ee aa nAy ncy nSty DluDlu rara

Elemental Affinity: Light
Shapeshifter Ability: Wolf (Canidae)

Alignment:
Faithless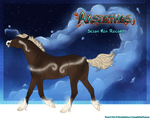 Sire:
!190
Aksiothos Scion
Dam:
!192
Aksiothos Scion
History and extra information
: Anna was born into a Scion herd, but with the great changes that happened, she got lost. Stuck alone in a new world, she has struggled to survive until she met with
Pantariste
, who recognized the foal as of her kin, at least in breed though not in blood. She promised to help out Anna until she would figure out what her path in life is.
Characteristics
: Sweet and kind, but tricky. She loves pranks and illusions.
AKROS TRACKER (coming soon!)
ACTIVITY LOG
Breeding
- currently CLOSED
I am open for Denarii/point/USD/art offers on this horse! Art payments will require example of style/quality and should be finished within 30 days unless agreed otherwise.
1.
!1350
Aksiothos Kin
(PolarisAstrum)
2.-8. Closed for now!
---
Background stock
Another sweet baby from the past!! Sweet spooky child <33
IMAGE DETAILS
Image size
1200x800px 1.47 MB