Description
Chryphora/Qentora
is mostly governed by two factions - the Nimyric Empire and the Pereqaian Alliance.
The conflicts isolating both sides have been going on for a few centuries now, and consequently, some differences in their general appearance have emerged.
One main difference is the elongated skull of the Pereqaians, while the other concerns the shape of the fins. The fins of the Nimyrites are rather triangular, with the longest bones on the outer edge. In contrast, the Pereqaians have rounder fins with the longest bones near the middle.
However, since both factions control regions spanning the whole climate spectrum, they are quite similar overall. Both cover an equal range of skin or hair pigmentations, and there is no coloration which is distinctively one or the other. So, in the end, they are more similar than they would ever admit...
The painting was done in GIMP, and overlayed with a Blender render of their home planet.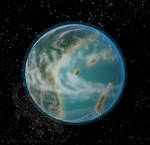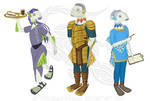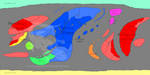 ------------------------------------------------------------------------------------
The Kaleidoscope setting and its inhabitants are my own creation.
You may NOT use the characters, species, locations, or other world-building concepts from these artworks without my explicit permission.
Thank you for respecting that.

Image details
Image size
1000x563px 470.41 KB