Made a thing:
The main concern with the Foobar2k skin in the post, below was...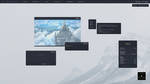 ...that it's really only pretty and not entirely usable for peeps with large playlists. So I hacked together some abomination of a
ColumnsUI
config that somehow works. The two left columns are auto-playlists, which read from a .../Music/<genre>/artist directory setup. (Because of this, I probably won't share this .FCL config, as this so very self-catered to how my music is organized.
Technically,
you could just set your own Auto-playlist queries, but that's quite advanced for the general user...)
What song was that, just playing?
'Starless Age' by Spirit Adrift.
Their new album 'Curse of Conception' just released -- go check it out if you like Doomy Heavy metal stuff.