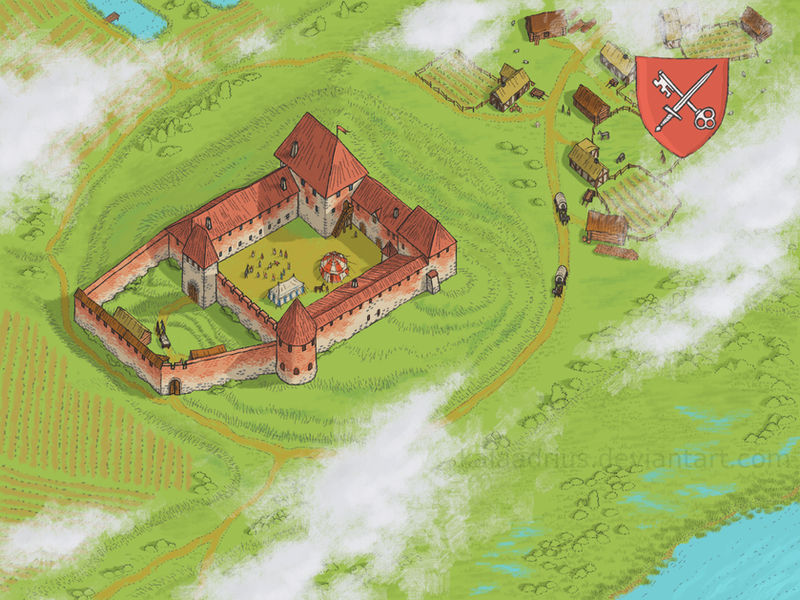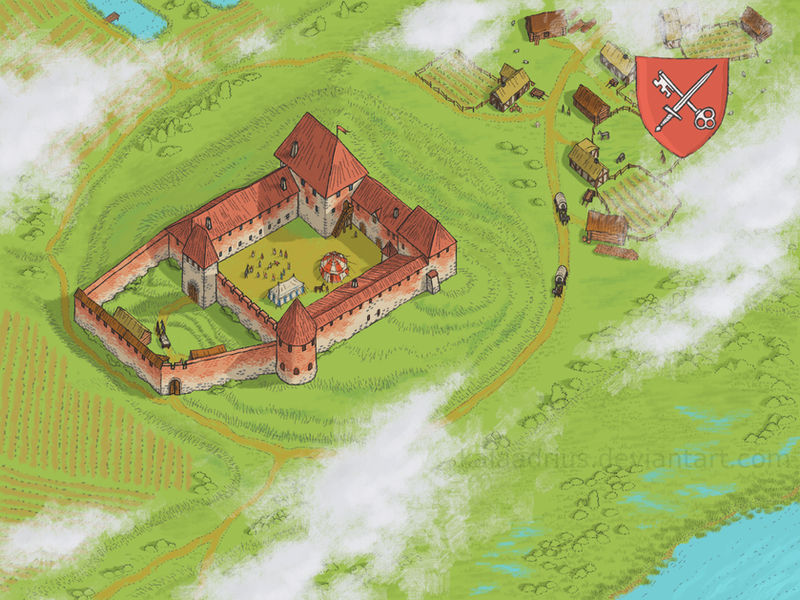 Watch
=============================================
Pealkiri:
Kirumpää piiskopilinnus
Title:
Kirumpää bishop's castle
=============================================
A fictional reconstruction of the medieval bishop's castle of Kirumpää.
Kirumpää (also named as
Kirrumpäh, Kirimpe, Kirrenpeh, Kiräpää
) castle was a border castle that controlled an important nodal point of trade and war roads connecting Tartu (Dorpat) and Pskov: the crossing of one of the largest natural obstacles of the region -- the Võhandu river
[1]
[2]
.
First written mentions about the castle date back to 1322, when Lithuanian Prince Gediminas demolished it
[2]
.
The castle was restored in 1369
[1]
, and expanded several times: first as a tower house extended with a chapel, then extended to a camp castle ("
Lagerkastell
"), and finally, at the beginning of 16th century, augmented with a round (cannon) tower and a forecourt.
At the beginning of the Livonian war (1558–1583), the castle was heavily damaged (or even destroyed).
It served once again from year 1627, but only until it was completely destroyed during the Russo-Swedish War (1656-1661)
[2]
.
Sources also claim that there was a large tradesmen and artisan's settlement near the castle, and the area next to the castle -- Leerimägi (
Camp Hill
) -- was a place where military troops frequently camped
[1]
.
Several questions remain open:
*) According to nowadays maps, the castle site is a bit far from the road and also from the crossing site (few hundred metres). So, it is not exactly clear, how the castle controlled the route, as it seems that fast and small troops could have passed before the garnison of the castle could have stoppped them. It may be, though, that natural obstacles were more tight at that time, e.g. there are mentions about the castle being on a river island in past
[1]
. Based on the nowadays maps, however, it is not clear to me, what could have been the outline of the river at that time, so I used nowadays outline in this picture;
*) It is also not clear, where this "large tradesmen and artisan's settlement" was located. I placed it between the castle and the trade road, but it's hard to find signs/hints confirming this location from the nowadays site;
*) Last, but not least, origins of the name of the castle -- Kirumpää -- provide an interesting puzzle. It seems to be a name in ancient Estonian, though I haven't heard much discussion about its meaning. The Võro variant of the name --
Kiräpää
-- seems to be associated with
writing
, and so the name may be a reference to writing skill of the rulers of the castle.
-----------
Kirumpää piiskopilinnuse fantaasiarekonstruktsioon.
Kirumpää (teatud ka kui
Kirrumpäh, Kirimpe, Kirrenpeh, Kiräpää
) linnus oli Tartu piiskopkonna idapiiri kaitsev linnus, mis kontrollis olulist sõlmpunkti Tartu (Dorpati) ja Pihkva vahelistel maanteedel: kohta, kus maanteed koondusid, et ületada suurim looduslik veetõke -- Võhandu jõgi
[1]
[2]
.
Linnuse esimesed kirjalikud mainimised pärinevad aastast 1322, mil Leedu vürst Gediminas selle purustas
[2]
.
Kants taastati aastal 1369
[1]
ning seda laiendati / uuendati mitu korda: esmalt täiendati tornlinnust kabeliga, seejärel laiendati ruudukujulise põhiplaaniga kastell–linnuseks ning viimaks, 16. sajandi hakul, lisati ümar (kahuri)torn ja eeslinnus.
Liivi sõja (1558–1583) alguses sai linnus tugevasti kannatada (või koguni hävis täielikult).
See taastati 1627, ent hävitati taaskord Vene-Rootsi sõjas (1656-1661) ning seekord lõplikult
[2]
.
Kirumpää linnuse ümber olevat paiknenud omal ajal üks suurimaid kaupmeeste ja käsitööliste asulaid ning Leerimägi linnuse lähistel olevat olnud sõjavägede sagedaseks peatumis- ja laagripaigaks
[1]
.
Minu jaoks jäi mitmeid linnusega seotud küsimusi lahtiseks, nt:
*) Tänapäeva kaartide järgi on linnus maanteest ning ka jõeületuskohast üksjagu kaugel (paarsada meetrit vähemalt). Seega pole päris selge, kuidas linnus suutis maanteed kontrolli all hoida: näib, et väiksed ja väledad sõjasalgad suutnuksid linnusest mööduda enne, kui garnison suutnuks neid takistada. Samas võib olla, et maastikuolud olid tollal üsna teistsugused (vähemsoodsad tee kiireks läbimiseks), nt mainitakse, et linnus võis tollal paikneda koguni jõesaarel
[1]
. Tänapäeva kaartidelt oli aga raske leida vihjeid jõe tollaste piirjoonte kohta, seega on pildil matkitud suures osas jõe tänapäevast kulgemisjoont;
*) Samuti pole selge, kus täpselt võis paikneda linnust ümbritsev "suur kaupmeeste ja käsitööliste asula". Pildil paigutasin selle linnuse ja maantee vahelisele künkale, samas oli mul raske leida tänapäeval sellelt alalt asulakohale viitavaid märke;
*) Huvitav on ka küsimus, kuidas/mille järgi sai linnus oma nime? Nimi paistab, sarnaselt Otepää nimega, pärinevat muinaseesti keelest, ent seni olen kohanud vähe arutelusid selle tähenduse / saamisloo kohta. Võrukeelne nimetus --
Kiräpää
-- justkui viitab
kirjale/kirjutamisele
ja võiks oletada, et nimi viitas linnuse valitsejate jaoks iseloomulikule oskusele: kirjutamisoskusele.
-----------
Related:
*) Otepää bishop's castle:
fav.me/d9fubf0
*) Bishop's castle of Tartu:
fav.me/d7s799f
*) Kärkna Abbey:
fav.me/d85nsse
*) Vana-Kastre bishop's castle:
fav.me/d8c9u8j
*) Uue-Kastre bishop's castle:
fav.me/d8ryty3
*) Vastseliina bishop's castle:
fav.me/dci4cx5
*) Map of the prince-bishopric of Tartu:
fav.me/dbauswd

Thanks very much for this! Terribly interesting background history and the art is captivating! Bravo!
[T]here are mentions about the castle being on a river island in past [1]. Based on the nowadays maps, however, it is not clear to me, what could have been the outline of the river at that time, so I used nowadays outline in this picture;
Wound there be any sort of settlement around the castle if it were on a "river island?"
Is this river quite large that would have had an "island" in its center?
How, if at all, would the castle look differently than in your fantastic illustration?
Thanks!
Reply
And I thank you for the comment and

! Much appreciated

More recently, I had a chance to discuss the castle with one of the local history enthusiasts, and according to his knowledge, the surroundings of the castle should actually be different than on this illustration.
The river itself is not particularly large, but there is a creek branching from the river, and the river together with the creek surround the castle in a U-shaped curve, leaving an impression that the castle is almost like on "an island". According to the local history enthusiast, there was a water
trench connecting the river and the creek (on the right side of the castle, in the location where I have drawn the settlement), so the castle was actually surrounded by water and was on an "island" (
in some sense
). As for the settlement, it must have been on the other side -- on the left side of the castle, near to the
forecourt of the castle. In this way, both the castle and the settlement would have been on the "island", that is, surrounded by the water.
Reply

Ah. I understand perfectly, but the space inside the horseshoe was big enough for both a castle similar to this and a small settlement?

Thanks for your reply!
Reply
Well, if you look at
the nowadays map
(you may have to zoom out a bit to see the surrounding river), there is a
plenty of room to fit even a small town


As a matter of fact, now I remember that in old times, they (probably Swedes) even had a plan to move the whole town of Tartu / Dorpat to Kirumpää, because the location would be more easily defendable than Tartu's current location.


Reply

Great work - I have certainly missed seeing new works from you - this one looks great, I like all the details and wooden houses around the castle - the coat of arms is a good touch as well - thank you for sharing!
Reply
Great thanks for the support!
Unfortunately, I do not have much time for art these days, being busy with other things in work/life. But hopefully there will be more time gaps for art in the future

Reply