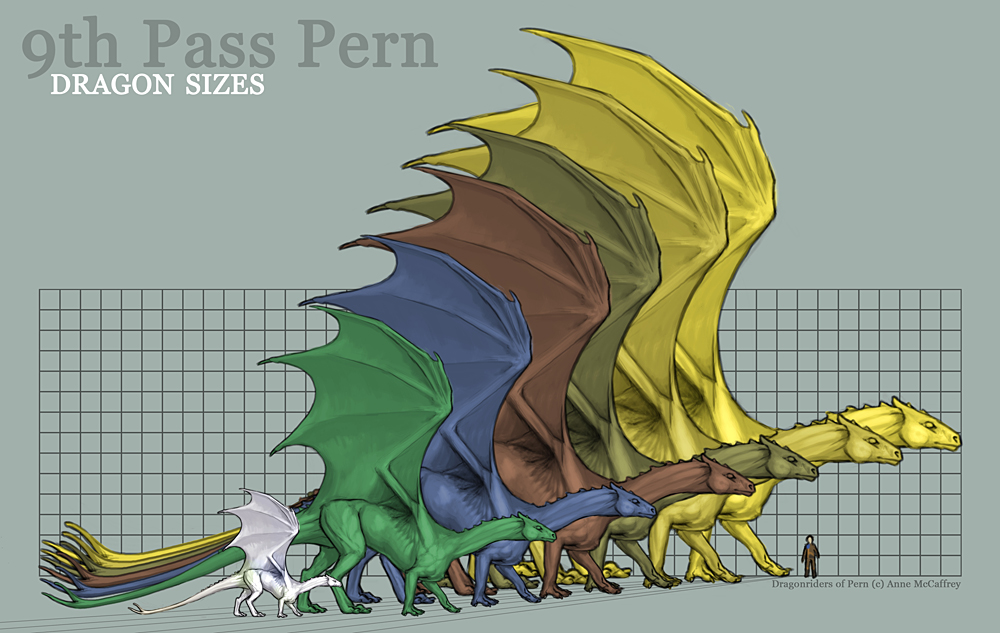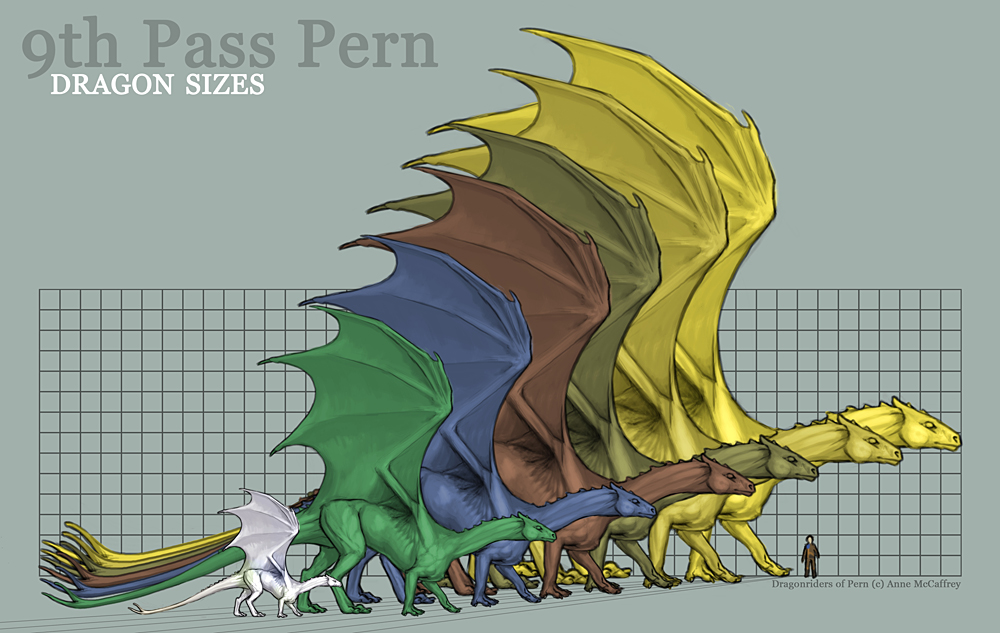 Watch
Hey there folks, I ask that people refrain from arguing their opinions on this image. This is just my own thoughts on the matter, and I try to respect the opinions of others (I won't judge ya if you want to commission me for a foot-size dragon, for instance). Thanks!

KEY:
Largest gold = Ramoth
White dragon = Ruth
Grid box = 1 meter high x 1 meter wide

---

Okay, before anyone jumps down my throat for posting this because of the sudden influx of Pern dragon size charts... I've actually be meaning to do it for some time.

Now, I will hereby defend my preference of the meters size of the Pern dragons. Not only is the thought of such huge creatures awesomely awesome, it's what I soundly believe Ms. McCaffrey herself wants. I have numerous reasons why I believe this is the correct way to view them.

First off is the most blatant. The books themselves, numerous times, state that they're measured in meters, not feet. I don't know who said that McCaffrey said that it was a misprint, but I highly doubt it. Highly. I have an original print of one of the books and it clearly says meters. If it was such a mistake, would not it have been fixed by the time the second edition of the Dragonlover's Guide to Pern came out? What about all of the subsequent reprintings?

Also, see little Ruth down there? He's a little bit taller than a big horse in my image, which is how he was described as being in the actual books. As it stands, he's about 11 meters long here, or, roughly 36 feet from nosetip to tailtip. If the measurements listed in the books are by feet, a green dragon would be at least 11 feet smaller than that tiny little Ruth down there! That's ridiculously tiny. Absolutely inconceivably tiny. There is no way multiple people could ride that thing, maybe not even one person, and I do recall the books mentioning multiple riders on a green dragon. Plus, if it was feet, then Mirrim certainly wouldn't have been mocking Jaxom on Ruth's miniscule stature as her own Path would have been smaller by comparison.

Also, how could Mnementh have created a cage out of his claws to catch Lessa in Dragonflight if he was only 38 feet (a little bigger than the size Ruth is HERE) long? And anyone care to explain how the eye of the aforementioned bronze could have been bigger than Lessa's head if he wasn't enormously huge? I daresay I recall F'lar being darn proud that Lessa wasn't a wee bit scared that Mnementh's eye was bigger than her head when she was scratching his eyeridges. Also note that, in comparison to my dragons here, the little badly-drawn dude under Ramoth has a head that's a wee bit smaller than most of the dragons' eyes!

So yeah, ridiculously huge is ridiculously right in my book and I don't want any arguments in the comments, so please don't be posting them.

Feel free to use this, BUT MAKE SURE YOU GIVE ME CREDIT FOR THE IMAGE. BY THE SHELL OF THE FIRST EGG....