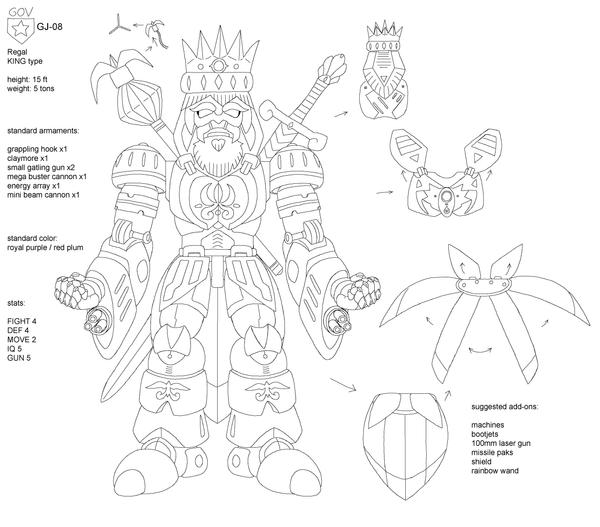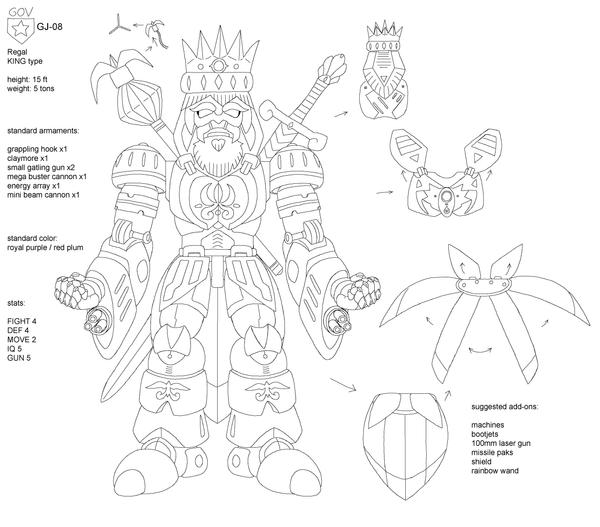 Watch
I forget how this came to me exactly, but I always kinda wanted to do more DCs themed after.. odd things.. kinda like how Medarot had a car type, a soldier type, a samurai..
I doublechecked to make sure they never did a king, and then here we are

His chest thingy opens up revealing a mega buster cannon, and the cloak open up into an energy charging array thing.. it's perfect

However this king is not going to bring you any burgers, so don't ask.

Odd things? Why not a Viking, cause hey, its a fucking Viking.
Reply

not a bad idea at all! wrote it down. Still, I kinda don't wanna do a bunch of 'humans in costume' since Medarot has that kinda covered.. and since I already have the MAN type series.. Better if it's something sort of iconic.. but a Viking isn't a bad idea.. though i'd look a lot like the oni XD what with the horns..
Reply

Well then, why not a Cerberus-type? Or a Therizinosaurus-type? Ouroborus-Type? Geryon-type? I can keep 'em coming.
Reply

I like how you think!
Hoever, Cerberus and Ouroboros would just sort of be similar to the existing snake and canine DCs except an extra head.. plus there's already two hydras..
I've had designs for a therizinosaurus for a long time, I just haven't gotten around to fleshing any out.. because I can't get them to look quite right.. >_< (by total accident, the GRENDEL type strongly resembles one)
Geryon is a mythological dude with lots of heads or bodies.. that doesn't really sound like a cool robot.. what would it look like in your head?

Reply

Well, there are 2 main descriptions of Geryon. According to Hesiod, he had 3 heads. Whereas according to Aeschylus, he had 3 bodies. Another, later, description gives him wings and six arms/hands. Both agree that he had the appearance/armor of a warrior. Perhaps you could take the different qualities you like best from the different descriptions and combining them. No matter which way you do it, I could see maybe using the extra 2 heads/bodies as detachable drones. If you go with the six arms, you could give each arm a different weapon. Through in some Greek/Spartan/possibly Roman armor detailing, and you have yourself an ass-kicking machine.
Reply

I have an idea for a weird DC... nah maybe that's just pushing it.
Reply

Ideas are always good

I'll listen to any idea as long as you don't mind the answer being no. XD
Reply