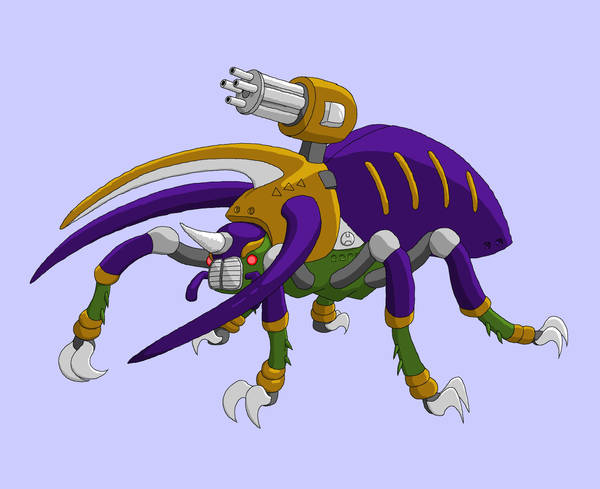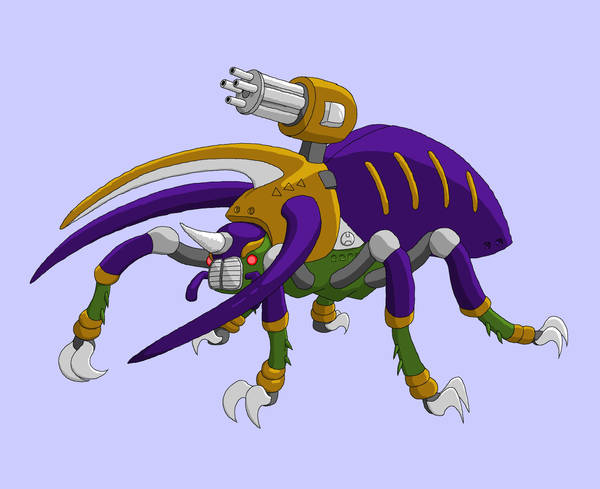 Watch
Colors here were, as usual, already in my head when I drew it.. gotta go with indigo to contrast the more heroic colors on the KABUTO DCs.
It's just kinda odd how I can imagine a DC being almost all one color, but when I try to fillbucket most of it one color, it looks wrong.. I can't bring myself to let adjacent colors touch much.. XD

man u got great design on ur monsters!
Reply

very cool.

ps the feet should be more reinforeced some however you did a good job on preportion this time when it moves it will not be hunching forward the center of mass is excellent however themini gun up top could present a problem the recoil could casue damasge to the struture of the armor the mini gun whould work better coming from the thorax not the center i'm not saying it would not work i'm just saying it whould put a ton of stress on robot and over the years witth contiue use whould casue damage to the armor and the inside of your buggy. but i do think this would be a cool cartoon though and i like the idea of use exsiting disigns for other areas.

Reply

Hmm, you're right, the feet are a little small. It would definitely have to bend its leg joints every time it takes a step in order to dissipate the weight. That's why that kind of leg is a lot slower..
The gun might be pretty large overall, but the individual firing chambers are pretty small, so I don't think recoil would be a big problem, but sometimes I do put bigger cannons up there, and maybe I should keep recoil in mind more often. Give it some shock absorbers... yeah

Thanks for the insightful comments!
(oh, and that IS the thorax)
Reply

it reminds me of a spider i found in my closet .__.
Reply