literature
The Kevin Chronicles - Chapter 17

Literature Text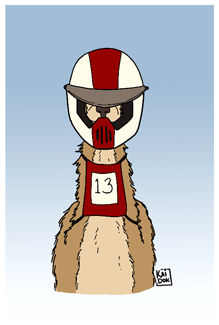 Chapter Seventeen – One Round of X-treme Llamas
Within the cutthroat, bare knuckle, spontaneous de-pantsing world of UMX, there is one llama who needs no introduction. Jeremy, from Camelid Fitness, met up with Kevin to ask the hard hitting, no holds barred, take no prisoners, go for the guts questions that every diehard, basement dwelling, hardcore, passive aggressive stalking, fanatical part-time enthusiast demands answers to. We have the overly graphic and often deeply disturbing hate mail to prove it.


Kevin, nice weather, don't you think?
Of course I think. What kind of question is that? Are you implying that I don't think, because 3 of my 4 mental agility coaches have assured me that I do in fact think, and I won't have some jumped up excuse for an "investigative journalist" come in here and accuse me of not thinking. How dare you!
Right. Moving on. What can you tell me about the rumors circulating about alleged steroid abuse within the UMX sporting world?
Well, Hans, can I call you Hans? Well, Hans, I think that everyone in the UMX community would agree that the rumors about steroid abuse are wildly exaggerated. I will admit, there have been some incidents in the past, but you can't paint us all with the same brush. My experience with steroids has always been quite gentle and caring. Any abuses perpetrated against steroids should be treated individually and not as a systemic problem within the UMX sport.
I'm sure your fans will be reassured by your no abuse policy towards steroids. Speaking of fans, what's your opinion about the political climate in Iwasonceastan? (Pronounced: I-was-once-a-stan)
Oh well, Francis, my fans are the best. I had them tested, just to be sure. They rated higher than any of the others, and I'd like to think I had something to do with that. As for that other thing, I haven't been told what I'm supposed to think about that. But if you talk to my people after the interview, you should be able to get my opinion from them.
Okay, that's great. Why don't we talk a little bit about UMX? What first got you interested in the sport?
That's an easy one, Benedict. Clowns, of course. We used to have a circus that went through town ever couple of hours, and they had some of the best clowns I've ever seen. I had to have seen them a hundred times. It was a real shame when they got shut down, but I hear the running costs were astronomical and their 10 mile circuit just wasn't big enough to support them. Plus, they were eventually linked to a series of inexplicable disappearances. Pets, children and dental hygienists went missing every time they went through town. But those ten years were good while it lasted.
Sounds like an inspiring childhood. But when was it that you knew that you wanted to be a professional UMX rider?
I knew that early on, Percival. I can remember it like it was yesterday. It was a sunny day in late February, the lilacs were in bloom, the air smelled like a dead cat had been ruminating in a tub of 3 month old Belgian yogurt, and the purple spotted plague rat's mating season was in full swing. I had just finished my bottle of milk, but had yet to soil my first diaper of the day. I was just about to construct an architectural masterpiece out of large wooden blocks when, in a moment of heighten clarity, I misjudged an innocent fart and completely messed my shorts. It was then I knew my future lay in UMX. And it's been one wild week since making that decision.
And what a week it's been. As one of the leading names in UMX, you are a hero to many incontinent octogenarians, but who would you say was your hero?
That's a tricky one, Brent. But I would have to say Woodenskewer Legtuff. The way that guy handled being the epicenter of a worldwide doping scandal after completely deceiving the international sporting community for years, that's the stuff of legends right there. Sure, his early career was good, winning 7 bicycle races around the French countryside while going toe to toe with the Big C is impressive, but the way it all completely came unraveled and exploded into a massive crapstorm of accusations and public shunning, now that is a guy worth emulating. I only hope to have half the balls that he does one day.
Don't we all. One last question. Could you give us a run-thru of what a typical day of training is like for you?
No problem, Waldo. It's a pretty basic schedule. I get up around about 3am, get dressed, have a pre-breakfast constitutional on the crapper until it's time to have breakfast around around 6. After that, it's straight to The Jim, he's my orthopedist. Once I'm done there, it's over to the Thunderdome for some light exercise and then it's straight onto my unicycle. I like to warm up with some standard tricks, you know, some 1075s, a backward colonoscopy with inverted butt grab, and if I'm feeling particularly limber, I like to finish my warm up with face planting an Ollie. There's usually an Oliver on staff ordered special for this trick. After I've warmed up, I usually spend a few hours doing circuits on the full pipe and then I close out the day with a trip to my psychic, Greg. He tells me all about the things I was supposed to have done that day, just so I know that I'm on the right track.
---
So there you have it folks, Kevin Llamason, truly a great llama, leading the pack in the world of competitive Unicycle Moto Cross. In just a few short days, this sporting phenom has come from the relative obscurity of the catwalks of Milan, Paris and New York, and has taken the Extreme Sports world by the lack of handle bars. Clearly he is a ball of burning hot gas trillions of light-years away and in all likelihood already extinguished but his light is only now reaching us.
Written by Jeremy aka. Hans aka. Francis aka. Benedict aka. Percival aka. Brent aka. Waldo
Chapter 17, a sports article featuring the rising star of UMX sports, Kevin. Written by our very one reporter for Camelid Fitness, Jeremy.
Anyway, sorry this one was late, again, but I have to say, this has become one of my favorites. Took a little to get it going, but I really like how it turned out. I found it funny, I just hope everyone else does.

Let me know what you think.
And tune in next week for another exciting chapter in the Adventures of Kevin the Llama
And in case you've missed them, t
he rest of the series can be found
here.