literature
The Kevin Chronicles - Chapter 11

Literature Text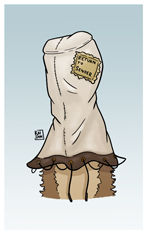 Chapter Eleven – QNA with Kevin
As millions of Kevin's lobotomized fans write in each week, it's been decided that it's my duty as his official biographer to dictate some replies for him. I didn't decide this, but apparently I don't get a say in the matter. Typical. Anyway, here are a few of the more entertaining contributions.
--------------------------------------------------------------------------------------------
Dear Kevin,
I was recently eaten by a grue and it proved to be a very unsettling experience for the poor chap. I thought I'd bring some wine the next time I ventured into the darkness. It seems the least I could do. So I was wondering if you could recommend a good vintage that pairs well with hapless adventurer. Any thoughts? – ConsiderateChow
Dear Chow,
From my vast experience as dinner for a whole assortment of monsters, included my good friend the grue, I've found nothing enhances the impromptu dining experience better than a fine merlot. The 2013 Sonoma vintage is particularly good, and the strong acidity pairs well with most varieties of adventurers. I would also recommend sticking to leathers when outfitting yourself. Since it aids the digestion process you can die knowing your poor decision making won't cause some poor creature acid reflux.
--------------------------------------------------------------------------------------------
Dear Dr. Llamason,
I've been experiencing some constant yet mildly excruciating pain in my left big toe and I'm afraid it might be serious. As the cheapest brain surgeon in the country, can you give me some advice about the best course of action when two girls want to marry you and neither are open to polygamy? – ThrobbingExtremity

Dr Throbbing,
I'm so glad you came to me with this problem. Multiple proposals is not a condition that should go untreated for too long. Here is a prescription for a strong body odour enhancer that should clear up your impending nuptials within a few days. No man should have to endure the crippling indignity of a long suffering condition like marriage, and it is clear you've been following poor medical advice in the past or you never would have found yourself in such an embarrassing position. Just remember in future, just say no.
--------------------------------------------------------------------------------------------
Dear Amazingly Incredible, Somewhat Dark and Kind of Super, Kevin the Flying Green Alien Knight Llama,
We have your wife. We were going to send you a ransom note for her return but we couldn't decide on what to ask you in exchange. With your considerable superpowers and vast experience dealing with this kind of situation, could you recommend a suitably impressive ransom demand for your wife's return? – ThePoorPlanningPosse

Dear The,
Which wife? I've had a few. I only ask because in order to give you a suitable suggestion, I really need all the information. For instance, if you have Helga, then I'd say you've picked up the wrong wife and as such you might as well release her now. I say this with grave seriousness, because there's nothing so small you could ask for that would be worth the effort to obtain in exchange for her release. I wouldn't give you the week old tick-tack bouncing around my pocket for Helga. But if you have Janice, then that's a different story completely. For Janice I would be willing to liberate the contents of several high profile banking establishments just so that you would keep her. I really hope you have Janice, now that I think about it. But if you have Sonya instead, then I would recommend asking for new identities and a flight out of town because after a week with her, you're definitely going to need it. My treat. Now that I think of it, I know you don't have Barbara, because she just left, but if you would like to take her too, I won't stop you. By all means, be my guest.
--------------------------------------------------------------------------------------------
Dear Great Gastric Wiz,
I have attempted to penetrate the Tastefully Decorated Vortex of Infinite Peril three times. I have traversed the Direct Path Labyrinth of Lazy Architects, fought off the Hungry Hordes of Henry's Harem and even recovered the Lost Right Sock of the Great King Lefty, but I just cannot manage the final push into the Screaming Portal of Eternal Agony and Puppies. My party has been wiped out every time. I usually stand at the back, in case you're wondering. Help me Oh Great One, you're my only hope. – LeeroyJenkins

Dear Noobsicle,
Where are you getting you fodder, I mean adventuring companions from, Meatshields-R-Us? Because if so, tell them I'm still waiting for a back order of gullible paladins and I really need them for a run at The Impossibly Dangerous and Inevitable Fatal Tomb of Bob the Miserly. But back on point, it is obvious you're doing something wrong in your questing. Losing numerous party members is an acceptable and oftentimes beneficial risk when adventuring with expendable companions, but you need to manage your deathrate more effectively. How can you expect to reach your goal if you blow through your human shields so casually? The key to success is health potions. I know their expensive and it is difficult to justify their use on expendable resources like party members but if your discerning about it, you can really stretch your inventory. I once managed to keep a party of five alive, well they were breathing so it still counts, for almost 3 days on just one health potion. And the added bonus of this approach is that once you've reached your goal, if you've balanced things right you probably won't need to share the loot. Win/Win.
--------------------------------------------------------------------------------------------
Dear Sifu Kevin,
Long have I heard tales of your magnificent defeat of the ignoble and villainous Jeremy, and the mighty trials you have endured to obtain true mastery of the mind and body. Truly has your legend travelled far. In fact it stopped by just last week and insulted my honour. So grave was this affront that I was left with no recourse but to challenge it in ancient combat. Alas, I was defeated. Oh noble sensei, please, tell me what I must do to become worthy of your training. – C. Norris

Dear Chuck,
The noble crane drunkenly circles the eastern mountains in need of directions while a juvenile pebble on Rumschpringe challenges the roaring falls to a game of strip poker. - Kevin
Contemplate this ancient philosophical proverb. Once its true meaning is revealed to you, only then can I truly help you. But alas, by doing so, you will no longer require my guidance for you shall know true enlightenment.
Something a little different this week, a QNA. I thought it might be entertaining to have some fans write in to Kevin asking for advice, and by fans I mean fictional excuses to write absurd randomness.

Anyway, I had a lot of fun with this one, and I think I might do it again later on down the track. Sort of a review of past chapters or something.
As always I look forward to you thoughts, so tell me what you think.
And tune in next week for more.
And in case you've missed them, t
he rest of the series can be found
here.