You can call me Vaati girl, Shadow, or Kagami(Kagi)
Current Residence: My house
deviantWEAR sizing preference: what?
Print preference: huh?
Favourite genre of music: Epic
Favourite photographer: ..
Favourite style of art: Yaoi or Yuri


Sup' dudes guess what yep I'm also a cry fan hard to imagine eh?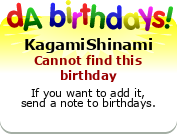 Favourite Movies
Old Disney movies
Favourite Bands / Musical Artists
Infected Mushroom
Favourite Games
Legend of Zelda, Spyro the dragon, Sonic the hedgehog, etc.
Favourite Gaming Platform
W/e