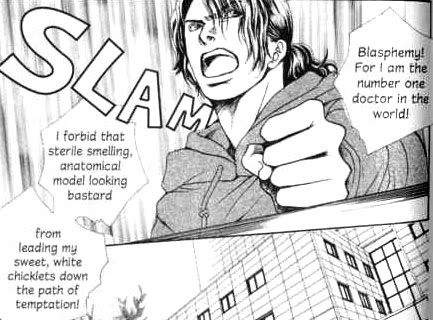 ****************
*BRB, LOL-ING FOR ETERNITY!!!!!!!!!!!!!!
Someone just spilled a pot of tea onto my laptop.
8'DDDD
I'm seriously considering dropping everything and joining a monastery right now.

Then I don't have to worry about "this" or "that" anymore....
Oh well, what the heck. Push forward and carry on!

*
**
***
But computer update wise, since I knew what to do, cleaning this time went rather fast. It's a bit worse because this time I actually saw liquid on the computer chips instead of just in the keyboard tray. I have to set it to lowest brightness again, so I can't color because I'm afraid to ruin the colors, but I can still do lineart because it's just black lines!
I'm working on some pics, so I will update art soon! :3
Thanks for the suggestions and kind words everyone!
***
**
*
Well. I am probably the only person stupid enough in the world to spill SOY MILK into my laptop.

Now when I turn on the computer, the monitor is completely black! There's also a 'zzzzzz' sound coming from it too. I'm at the school library right now to type up this message, just thinking about the future is...so terrible. I'm on the computer ALL, ALL the time, except for classes. I even eat (baaad idea, I got punished) in front of the computer and I sometimes sleep on it too. Now all of a sudden it's gone and I feel so lost. ;A; Dammit, now I can't even do my homework! T__T
Ok, if there is anybody good at computer hardware, please help me! I'll try to explain what's wrong and what I did and stuff:
- After the spill (the computer was on), I immediately got tissues and stuffed it in between the keyboard letters to soak up the liquid.
- I thought I cleaned up most or all of it, and the computer wasn't acting funny, so I just kept using it like nothing was wrong.
- Then I turned off the computer and took a nap.
- When I woke up and turned it on again (the power cord was attached), all of a sudden the screen flickered quickly and turned black and the computer turned really quiet.
- I force shut down the computer and pulled out the power cord. Then I turned it on again.
- The screen is medium dark (because of laptop power saving mode) and there is a 'zzzzz' sound, but otherwise it worked ok long enough for me to backup everything on my computer.
- Then I tried plugging the power cord back in and the screen turned bright for a second (to revert to the normal display brightness) and then all of a sudden the screen is black.
- To clarify, the 'black' isn't 100% black like nothing is showing up. If you turn the laptop 90 degrees so you are looking at the screen exactly sideways, you can see a 'reflection' or something of the screen. It's just abnormally super super super dark.
- Ok, so I force shut it down again (ugg, so bad, I know) and pulled out the power cord and turned it on again.
- This time I tried increasing the screen brightness on my laptop from the control thing on my keyboard.
- The brighter I made the screen, the louder the 'zzzz' sound got. Finally when I got to the highest, or second highest (I forgot), the screen turned black again.
- So I thought, maybe the problem is that when I plug in the power cord, it automatically goes to the brightest screen display, which kills it, so if I change the default settings so that when I plug in the cord it only stays medium-bright, I can still use my computer while it's charging!
- But even after I changed it, when I replugged the cord, it turned black again.
- If I turn off the computer and plug in the power cord, it will recharge ok.
- Oh yeah, somewhere in between all this, I called my dad and (let's skip all the dramatics and 'I knew you would ruin it someday!' ) he told me to blow-dry the laptop.
- First I tried blow-drying the keyboard and trying to get under the keys for about 5 minutes, but no difference.
- Then I tried taking out some parts of the laptop like the battery and back-cover and other things I could pull out, and blow-dried it, but still nothing.
- Finally I disassembled the entire laptop (at least I tried to, it got stuck on one part so it was only 3/4 taken apart) and blow-dried it for a long time, but after I put it together again, still the screen is black.
DOES ANYBODY KNOW WHAT I SHOULD DO??!?!?!?!!?!!!
I'm thinking since only the monitor is affected (and whatever that weird 'zzz' sound coming from the speaker-area), I should try to focus and try to clean that place, but I have no idea where the 'screen monitor control' for a laptop is, since it's all jumbled inside.
Gahh.....if I don't fix this, I'll be stuck using library computer for the rest of the year.

I can't plug my tablet into library computer either and it has none of my programs.
I'm in so much despair!!!
And doing homework!! What a pain!
Well, any advice or maybe consolation would be helpful... ;A;
I think the laptop gods are punishing me...When it turned black the first time, I tried praying to the laptop gods but the only promise I could make was to never eat or drink near the computer again. I couldn't bring myself to sacrifice a pinky or anything to fix my computer, so now I'm sure it's broken forever... If only I could go back in time, I would do a much better exchange...maybe my right foot or something. T__T Or maybe I'll promise never to think indecent thoughts again.

gyaaaaahhhh...........
haaallllpppp......