Journal Entry:
Tue Jul 7, 2009, 9:10 PM
WHY DID NO ONE INFORM MEEEE!!!????
First my breath quickened, then eyes blurred, and then I had to grab an inhaler before I pass out in front of the computer... Gosh, I'm such a pansy....
Sobsob...I NEED A LINK TO THE SEIYUU TALK SECTION. SOMEONE LINK ME PLEASE.
Wow you guys are fast! Thanks!!
Ah, no good.....this heart...
Spent all 4 days sitting behind a 2' x 6' table, and only left it to attend a mini-Hetalia gathering on the 3rd day. XD I cosplayed as Russia all days:
Day 1- Soviet coat
Day 2- Chinese silk (to match Yao's qipao)
Day 3- Soviet coat again
Day 4-
Lietuvis outfit
(sorry I have no photos of this outfit yet)
I think it is easy to recognize me because I wore a big Soviet ushanka. XDDD
Me and mohja's table: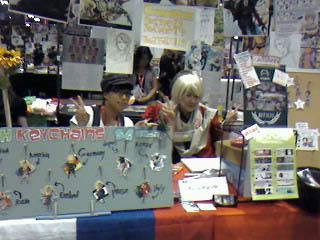 I'm so happy she let me decorate the table Russia... =///v///= Didn't have time to make all the paper dolls for decoration though.
Highlights would be:
- Getting a surprise R/C picture from penumbra!!


I-it was so sweet beyond words... ;w;
- Getting Soviet Socialist and 'Hello' print from
Blue-Fox
after throwing some Commie keychains at her
- Breaking my 4-in boots the first day on my driveway, running back to get my scarf.

- Having
g0th3g1gg13s
fix my boots with duct tape

- Being Glomped for a first time by a stranger L in the hallway. I mean an actual tackle glomp. As in running 6+ meters before jumping onto me.
- Winning last place in the wife-carrying contest because Ivan has no upper body strength

It's all
fat
bones.
Some commissions/doodles I drew: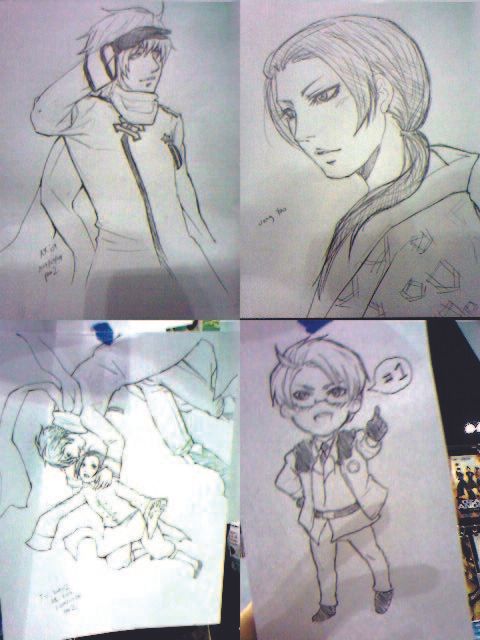 And now for some photo spam. I don't have any photos so these were actually taken by
quandtuniverse @ LJ
and a youtube video.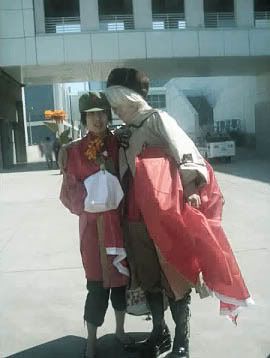 Me and China with our matching hats!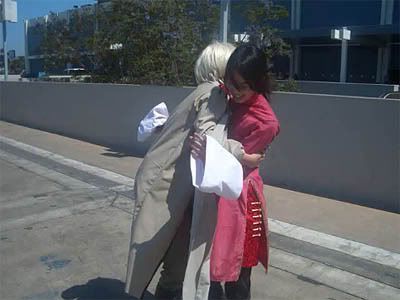 "Ooh, so cute, I just want to hug Wang-kun all day long!"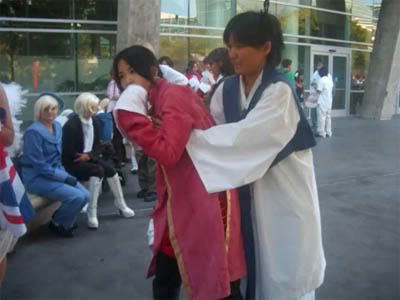 òAó!!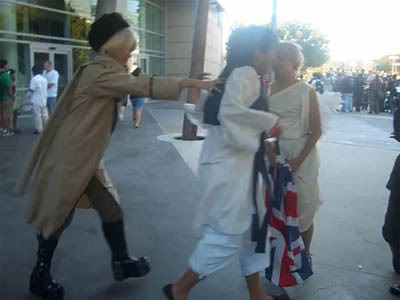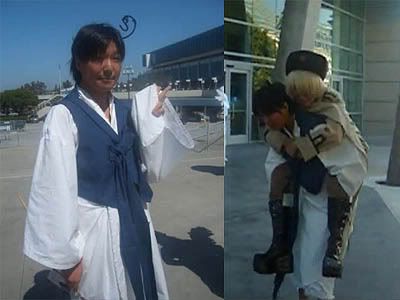 Ooh, hate to admit it, but Mr.Yongsoo is very strong...
(heehee, love you mohja~)
And to Rus/Liet fans: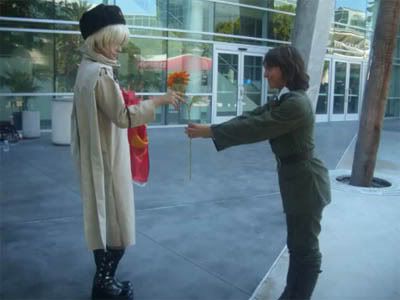 Well first we celebrated Mr. Jones' birthday and I paid my respects with a box of specially made XXS-sized products, and then I gave him a one-way ticket to Siberia. No return ticket, though.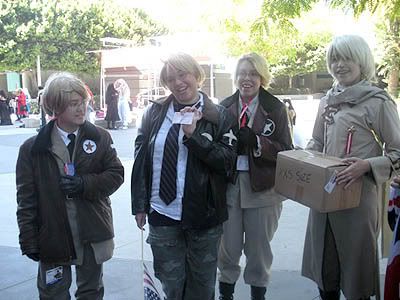 (Blue-fox on the very left!!!)
Then we decorate Mr Jones with beautiful red color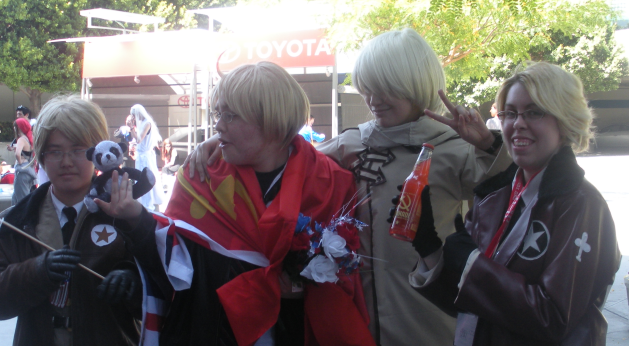 And finally I proposed to Yao-kun with kitty-chan ring!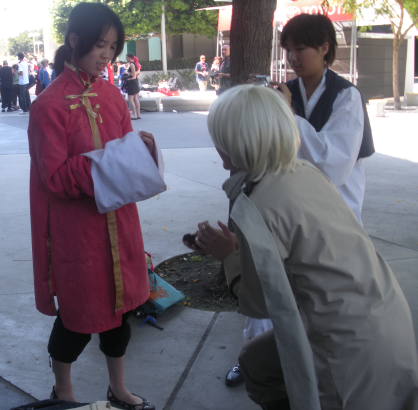 Korea was filming it for a new k drama, "Red Romance"
Some of my favorite cosplay: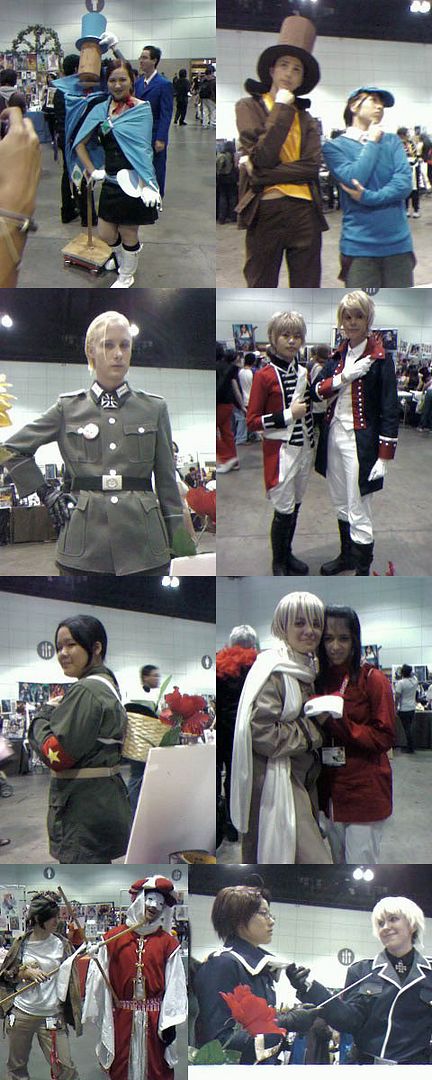 That Austria...I snuck so many photos of you...hurr... =////v////= I love you Aristocrat~
And this photo from the Prussia
sorairokat @ LJ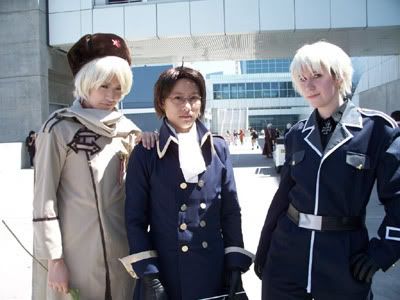 My sleeves kept sliding up and covering the cuff-strap thing.



Oh well, at least I got to touch Austria... |DDD
After AX ended on the last day,
I forcibly threatened
we decided to go eat Russian food!
b-but when we got onto the Metro to go to the restaurant.........
THERE WERE THREE RUSSIANS WITH US.
NOT ONE, NOT TWO, BUT THREE. AUTHENTIC REALLY LIGHT HAIRED LIKE IVAN, AND REALLY PRETTY BLUE EYES. A-AND ONE OF THEM HAD A SQUISHY BUILD LIKE IVAN. XDDD AND ANOTHER ONE WAS FROM MOSCOW. uaaaggghh... MOSCOW.
And you can hear them talking in rapid Russian..! And then and then, they were going the same direction place as us! We talked to them (well not me since I was too shy, but johwa talked to them XD) and then one person asked if we just came from a convention and we said yes.
1: Is it for anime or something? Did you dress up? We saw some people walking around outside earlier in costumes.
2: A-ah, yes, some of us did...
1: What did you dress us as?
2: WELL SHE *point* DRESSED UP AS
RUSSIA
.
Me: *dies on spot*
I think I literally melted into a pool of embarrassment. I mean, to anyone who doesn't know Hetalia, that just sounded PLAIN CREEPY. TAT I'm sorry..!
Well anyways we then asked them to recommend what kind of Russian food we should order? And they said borstch (of course XD), beef stroganov, pelmeni (<3), one of the grain dishes (I forgot)...
The restaurant was in Hollywood, so we walked along the Walk of Fame thing and came across Michael Jackson's star: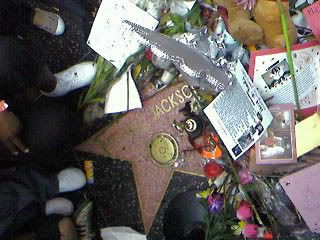 Oh god, it was so freaking crowded like a Tokyo or Shanghai metro in the morning...almost impossible to get this photo. There were iron gates around his star and a police officer guy and sooo many people. There was also a section roped off by the curb filled with posters and flowers and gifts and stuff. It was so hard walking through cause I was still carrying all my luggage bag and junk from AX
Cute restaurant with matryoshka and alchohol on the walls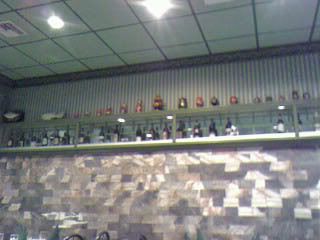 And Russian mtv =v=b
First was all the drinks: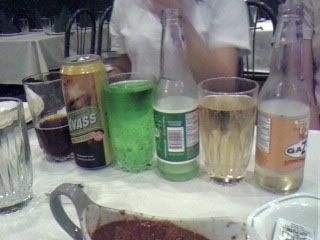 Left to right: квас/"Russian cola", Тархун/tarragon soda, burratino lemonade
So...regarding the kvas/Russian cola......
WE WERE COMPLETELY FOOLED
. I thought it was going to be some sweet fizzy drink like...you know...soda.... but with a "Russian" flavor, whatever that means.

I should've realized....if "Russian water" = vodka, "Russian cola" = PRETTY MUCH THE SAME THING. OTLL Wiki -> "The alcohol content is so low (0.05-1.44%) that it is considered acceptable for consumption by children." BUT IT'S STILL ALCHOHOL, MAN.

cola....cola.... OH, IVAN, YOU SNEAKY...!
As for tarxun, it sorta tasted like black liqcorice...kinda weird.... And the burratino lemonade was so good =///w///= It was so sweet and sugary, mmmm~
Next was the borstch: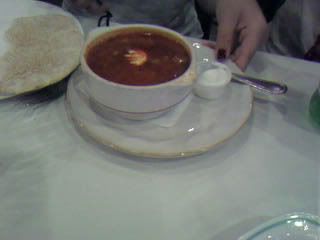 Which tasted exactly like the Chinese vegetable soups I always drink, except with thick thick sour cream added. It was delicious
And then pelmeni (btw, I didn't eat all of these dishes ok. XD We shared all of our food, I can't eat that much!! XD)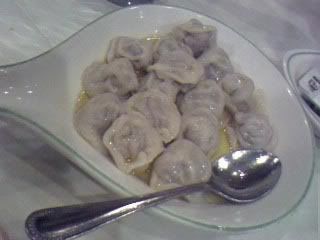 Dumplings, except the dough part was much thicker. See the yellow stuff? THAT'S OIL AND FAT. 8DDDDD If you wait a little bit, the oil on your fork would condense and then turn into solid fat! lolol Ivan, now I know where your big bones come from....
My friend ordered this one: chicken kholodetz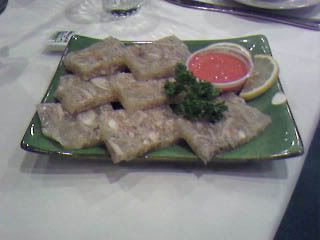 I actually had this before! Didn't know it was Russian though...OTL It's a sort of jello/gelatin, but with little chicken strips inside. Pink sauce is sort of like wasabi
Mushroom soup with barley & sour cream: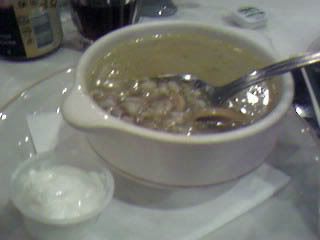 OTBIVNOY: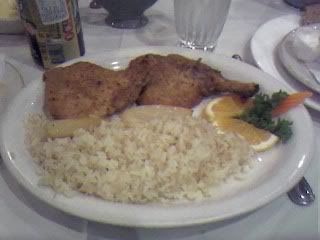 From the menu: "pork loin breaded and sauteed in butter". I read that and went "OH BABY, BUTTER LOINS!!"
And other foods I forgot to get a picture of: lula kebab, beef stroganoff, shashlik (I think), and
baklava
(dessert!)
All in all, I feel like Russian food is very comforting..it doesn't taste so different and strange like you're eating something weird, it's like home.. Also, the food makes you veeery sleepy, hehe. Like you wanna hibernate through the winter
AND THEN

AND THEN

AND THEN WHEN WE LEFT
The owner talked to us and asked us where we were from and stuff, and he said
HIS SON WAS IN CHINA

AND HE

WAS LOVING IT VERY MUCH.

LOOOVVVVINNNNGGGGG.

CHHHIIIINNNNAAAAAAA.

HIS SOOOOOOOOONNN.

I-I WANTED TO ASK HIM, I-I-IF HIS SON'S NAME COULD POSSIBLY BE "IVAN" B-BUT I WAS TOO NERVOUS

BUT AAAUUUGHHHHHHH.
*head explode*
So that was my day.

Oh yeah, and this is a bit late, but I couldn't find any authentic Shinatty-chan in China. ;A;
This was the closest I could find: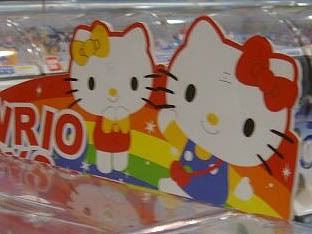 Technology has gotten too good..!
********************************
Ah...., I forgot to upload photos of my loot from AX. XD Collected & bought quite a bunch of prints and pins and keychains from people!! Thank you everybody.. ;A;
To

for all your leftover keychains, lol
To

for those freakin awesome prints
To

for the Russia sticker
To

for the Russia and China keychains
To....aurgh, I forgot, gotta go back and check XD
Listening to: Marigold by Orange Pekoe
Watching: Ristorante Paradiso
Eating: leftoversss
Drinking: grass jelly drink