I feel like something important was supposed to happen today...oh yes..that's right....
I've aged.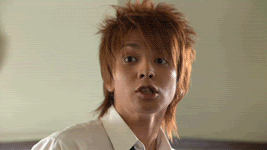 ......As I have for the past XX years. Once again.
I had plans, you know.
I was going to go out to eat lunch, then maybe stop on at the bookstore, then see if there were any good movies out...
But all of a sudden as I was about to go out, I just felt:

Losing interest in these kind of things...is this a sign of senility?
In any case...after some lousy lunch from the cafeteria, I went to pick up some stuff from the post office.. I got a giftcard from my parents..I think it's $5 less than last year, he. Ihu economic crisis. It would've been nice to get some snacks too..well, it's ok... I won't say it's the thought that counts because it's the effort.
I got a framed painting/print from my very good friend, it was such a surprise.. This woman is always a surprise to me... I don't know what to say, she treats me so well and I feel like I don't return half the favor. Treats me like something good, it makes me ashamed. Knows my one secret, blemish of my past... Definitely a true person that puts the word "friend" to shame.
There was this too

...
Umm.. Oh, there was a Qmi fanfic when I checked my LJ today (lucky coincidence)...Lovely, lovely, can't get better than that. Nothing like something rated R to start off your year, lolll...OTL
Mostly though, I'm just tired.. Can't decide if I should do my homework (the lab closes in 2 hrs) or go to sleep. Sigh, where has my youthful energy and enthusiasm gone.. There should be more to life than homework, sleep, and fandom. .................right(???)
My subscription ends in 1 week...