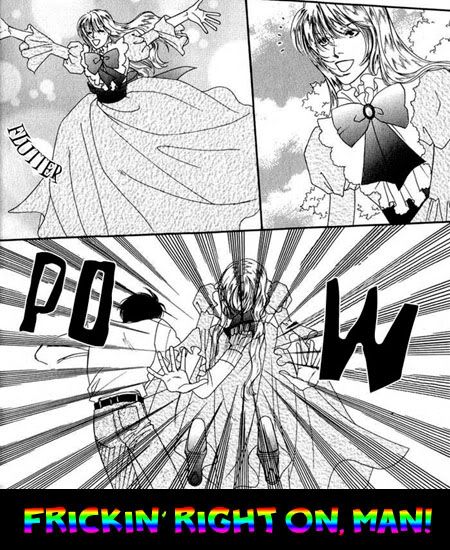 ****************
Ok, first off before I dive into a 5 hr long rant on my worthlessness.. I'd like to introduce a new member to my collection of electronic toys, this baby here:
An
external hard drive
(requirement for a class), that I named today:
Austria
.
B-before anyone looks at me like I'm crazy..! I was trying to decide between Roderich Edelstein and Austria, both have their pros and cons and different levels of misunderstandings and such.. since I am always terrible at making such decisions, I asked my roommate which one was better. Well what did I expect, I got a crazy look.

I was told to flip a coin (why of course! I can't believe I didn't think of my own advice) and the coin determined that he should be named Austria! And thus it was.
Now my family includes:
Laptop:
10daime (Sawada Tsuna/Boss. The center of all my activities.)
Cellphone:
Hayato (Gokudera. The "right arm" of my computer that I take everywhere and use to take pictures and wake me up and plug back into computer)
iPod shuffle (magenta):
Mitsurugi (Edgeworth. Cause it's MAGENTA DAMMIT.)
Tablet:
(unnamed! It's gray/black.)
Camera:
(unnamed! It's light blue/silver.)
Hard drive:
Austria (because it's so beautiful and elegant and NEW and it shines a white light! <- has nothing to do with Austria)
The reason I didn't name the other two yet was because I wasn't forced to input their name to the computer for setup so I kind-of put it off...
but it's more kinda just talking..a lot.
When I was walking to class today (1:15 PM), I noticed big signs: "STUDY ABROAD FAIR"!
Well, you know..I have been wanting to do a study abroad or student exchange thing for oh-so-long now! But the time of the fair was
10AM-3PM
!! My class lasted until
5PM
!
I...I WAS SO DEVASTATED! Because I have been reading the school study abroad manual over and over so many times for 6 months, and now there was a FAIR where a lot of the schools and representatives would all be together in one room! All the countries around the world! It would be like a dream come true! But...how could I miss class?! I'm not a goody goody student, but skipping class in college isn't the same as high school..it would be so easy to fail if you missed a class!
Well since class started 1:30, I figured that I would have at least 5-10 minutes to look around so I went upstairs to the place and "aaaaahhh~~ *insert some spectacular sensation*"
One of the booths closest to the door was for
Eastern Europe
, so I was, "Ooh! Russia!!" Russia is probably in the top..3 countries I want to live in, because I remember when I was in 9th grade, the teacher showed us a video of class trips they took to Moscow etc. (in 1990's) and such, and holy shit the rooms were totally crappy and gray and the TV had around 5 channels, but FOR SOME REASON IT REALLY TURNED ME ON. I was drooling and shaking "I..want..to..live..there..haa haa" I don't know why. Well, I'm sure it's much much better 20 years later, but I still can't get rid of that feeling!
Well anyways, the guy at the table kept talking to me about the Tatar program and learning in Kazan.

"I..I prefer to learn Russian..." "Oh, did you know that Lenin studied in Kazan? He never graduated, but.."
RIGHT. BUT I'D STILL RATHER STUDY IN RUSSIA.

But unfortunately, the classes were all
language-based
classes, which has absolutely nothing to do with my major. BUMMER.
Next I came across the
GERMANY & AUSTRA
booth which was SHARING A TABLE.
GERMANY AND AUSTRIA
. FFFFFFFFFF. I WANNA GO. I MEAN, I NAMED MY HARD DRIVE AUSTRIA AFTER ALL, HELL I WANNA GO. There were two (young) guys behind the table (who looked fairly very good-looking, considering I have 0% interest in real life humans... In any case, they beat Americans ANY DAY) and they asked me if I was interested.
DO YOU EVEN NEED TO ASK?!
They asked me what I was studying, and I was replied "art" and they made this...this...FACE. Like a "ooh...
ouch
" face. ;A;!!! And then they started talking to each other in rapid hot hot German. And told me that well, the schools mainly focus on BUSINESS. OTLLLL
WAS?!?!!! NEINNNNN!!!!!
Oh, and GERMANY AND AUSTRIA SHARED A TABLE.
Well, feeling depressed, I somehow managed to stumble across to the
China
table. To be honest I wasn't exactly that interested in studying there
again
(since I'm already going to go study abroad this summer for 5 weeks) but I thought looking around wouldn't hurt. They talked with me a bit and halfway through somehow sensed I could understand Chinese (what gave it away? the black hair?) and we switched to that language. Again my "digital art" was met with a "ooh...ouch..eww" kind of look, but then one girl was like "Hay wait! Digital art = design, right?"
Uh...uh...not exactly, but it's a start!
And they introduced me to
Hong Kong Polytechnic University
which has a School of Design. But one problem: I understand 0% Cantonese! I know Mandarin, but the two are almost two different languages.. So it would be sort of like Hell. Well I admit I don't know Russian or German either, but there a difference between when they EXPECT YOU DON'T KNOW the language, so you could learn it without pressure, and when the people EXPECT YOU KNOW the language and start talking to you and you don't understand a word and can just nod politely... ;A;
It was around
1:25PM
by then, so I was forced to leave and run to class.
When I got to class, I went to my instructor and put on my most desperate pitiful look, "There's a Study Abroad Fair today, but it ends at 3PM and I reallyreally want to go.. ;A; ;A; ;A; " And...and... HOORAY HE SAID he would finish the important stuff in the lecture first so that I could leave whenever I wanted! >8D I didn't want to be
too
disrespectful so I stayed as long as I could until 2:40 and then ran off to the fair again!
The first place I went to was the 2nd room which had the ISA (International Studies Abroad) and the guy there gave me a booklet with different schools and majors. Unfortunately it only seemed to have European and South American schools!

Hoi...Aren't we missing a big half of the world..?
But he was nice enough to show me some schools with "art", except they were all rather of the "fine arts" type, which isn't what I'm studying. According to the booklet, the only countries I can go to are Italy (Rome, Florence, Torino), Belgium (Brussels), England (London), and France (Paris). Not bad, and the classes are taught in English.. But I'd still most most rather go practice my language and study in..
JAPAN
. *INSERT FRUSTRATION HERE*
Ok, so I came across the table, at first I didn't even see it was Japanese because all the Asian countries were jammed next to each other, but my ears picked out the language! So I had to go over! I didn't know if I could learn anything since I already researched all the schools offering the programs and knew there was nothing for me, but..well..I-I had to go anyways. There were maybe 5 people in and around the table area. One girl started (trying to) talk to me, but her English was about on the same level as my Japanese = CAN'T SPEAK IT. It's like we totally understood what each other was trying to say, but to open your mouth and actually say the words..the tongue stumbled!
So the first thing she did was open a map and point and show me "Japan."
I..I think I know where Japan is. OTL
"Waseda." (the city where the university is in)
I know that too, I wiki'd it 5 months ago.
And then for some reason went on about tourism and started shoving pamphlets into my hands. Another girl who knew much much more English noticed us and started talking and she asked me if I spoke Japanese.
Oh boy, I can practice now!
BUT FUCK IT!!!!!!! I FROZE UP!!!!! ASKDFL;JKSDLA I GOT SO NERVOUS THAT THE ENTIRE TIME, I PROBABLY ONLY SPOKE 4-5 WORDS OF JAPANESE, AND THEY WERE ALL ONE-WORD, NOT EVEN COMPLETE SENTENCES. I COULDN'T EVEN REMEMBER VERBS. AFTER YEARS AND YEARS AND YEARS OF STUDYING, I WASTED IT ALL!!!
And even just the way I LOOKED: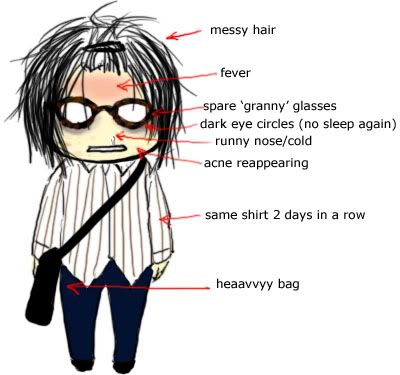 I mean, it's not like I wanted to IMPRESS anyone, but at least I wanted to look decent and clean! and not like some American closet otaku or something.
I'm so distressed and depressed now, I can't even remember what we talked about, but she asked me if I spoke, and I said "c-chotto dake" and how much I knew, to which I could only think of "yonen (4 years)" which made absolutely NO SENSE as a reply, but WTF anyways, and then if I had studied Japanese in university, and I said no, in high school...if I visited Japan before and what was I studying, I said "animation" and a "ooh....ouch" LOOK again because they were more of a engineering/finance type school. But they were said, even though we don't offer the classes, if you are studying animation, you must like Japan animation right! And shoved tourism pamphlets to me. During which I think it was just too embarrassing and pointless to continue and the conversation just DIED. And I DIED. With all the pamphlets still in my hand.
I'm starting to reaaallly reaaallly hate my major now. I came *this* close to changing it once and for all to business or finance. It's not like I can get a job with it anyways...
I died and was drifted over the to general Asia table again, and saw the White Man in charge of Asian Schools. In the ISA room, the French lady who was very kind told me that although there weren't any digital-arts focused schools now, the White Man in charge of Asian Schools was thinking of adding a new partnership with a school in Japan for ANIMATION, so I should go talk to him and beg him. So I gave the White Man my tired you're-my-last-hope-smile and told him the circumstance, to which he replied, "Who told you that?"
Ehhhh....? You're kidding me..
Nope! Nope! Such a program will never exist, maybe my fever made me hallucinate again!
By this time, I probably looked like I was gonna cry or something behind my granny glasses. (in reality, my eyes were just tired cause of no sleep and staring at computer screen too long). But he was very nice to me and told me there was actually one school that might be what I'm looking for..
Singapore's
Nanyang University
.
Yes, Singapore, I'll definitely look into that! It's close by to lots of different countries too.
I THINK IN REALITY I JUST MISS EATING RICE. OH GAWD.
I'M SO TIRED OF EATING THE "CHINESE FOOD" SERVED ON CAMPUS HERE, WHICH IS JUST MEXICAN RICE DROWNED (
DROWNED!
) IN SOY SAUCE!! EVERY SINGLE DISH IS COOKED IN SOY SAUCE. WTF. WE DON'T EVEN EAT SOY SAUCE. AND THE SUSHI SUCKS TOO.
The food is America and Italy mix.. everyday is HAMBURGER and PIZZA and PASTAAAA. Maybe if the food wasn't mass-produced in buckets it would taste good, but when I see them dumping the food out of BUCKETS I lose my appetite...
Ok, going to rest now for an hour or so before my
7PM-9PM
class starts...