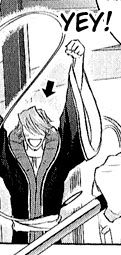 ****************
Urfg, I told myself I wouldn't do kiriban anymore, but what the heck.

Since I accidentally missed 2759 and 5927, now the next kiriban is
27590
! (lawd, TsunaGokuLeo*shot*)
If you catch it, please screencap your ENTIRE page including the time on your clock so that I know you didn't..er..photoshop the numbers or something
And here's a helpful hint too!
I usually get about 50 pageviews a day, so you can use that to calculate your chances on when's the best time to catch it

I'm so nice.
First person or people who catch it get a sketch, or maybe more depending on my work load at that time. Unless like 10 people get it, then I'll just probably take the first 3.
Oh yeah, and note me with the picture of the screencap. <- important,haha.
Happy Hunting!
Thank you for all the helpful tips and concerns on my last journal, especially by
Diangos
! I've been meaning to give my computer a good bath this weekend, but unexpectedly,hooray! my teacher assigned me a big fat old essay, so I probably won't have time to do the surgery until Tuesday or Wednesday. I also read somewhere that washing it with tap water was harmful because of all the minerals, so I need to go out some time to buy some deionized water.
As of right now, it's still behaving the same as ever, meaning my eyesight is about to go blind from trying to type this journal on a dark screen. But perseverance!
Right now I have barricaded myself in the library since I know I can't concentrate in my room. The library is open 24 hrs today, so I'll be staying in this place however long until I finish! It's my punishment for getting distracted yesterday!
Last night I ended up goofing off in the afternoon and night, so I punished myself by working in the near-freezing laundry room outside. I'm amazed how many students do their laundry at 4:30 AM...haha....

But in the end, all I got down were notes and ideas.
Why am I so concerned over one tiny essay? It's because it's worth 40% of my grade! And this teacher is one of those frightening ones, that "If you do *insertamazingthesis*, I hope you'll be satisfied with a C!" So far I've been reading book after book after book on political theory and philosophy. It would be fun if...I wasn't on a time-constraint!!!!
BY THE TIME I LEAVE THE LIBRARY TODAY, I'LL BE A (self-proclaimed) EXPERT ON ROUSSEAUIAN CONTRACTARIAN THOUGHT.

BTW, if you ever have to read the Leviathan, or Two Treatises, or the Social Contract, I highly suggest that you read those first and then read
The Social Contract Theorists: Critical Essays on Hobbes, Locke, and Rousseau
by Christopher Morris. IT'S SUCH AN INTENSE BOOK, IT'LL MAKE YOU REALIZE THAT YOU SPENT THE PAST 100 HOURS READING NOTHING BUT RIDICULOUS CONTRADICTORY CRAP. 8DDDDD
Ugg. My head. I also have to finish reading the Communist Manifesto by today too. I hope that one's fun.
Last Night: