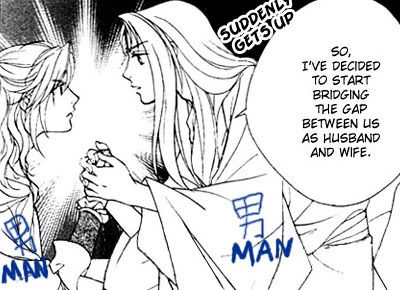 Taken out of context, it sounds rather suggestive doesn't it?

I love Seiran and Ryuki (from Saiunkoku Monogatari).
****************
Hello once again! I'm sorry for journal spam(?!) but I wanted to show my new Matt costume! But since there wasn't a proper photo shoot and I didn't exactly finish my jeans yet, I did not feel it was good enough to submit as a deviation..

Maybe I will wear my Matt costume again at Anime Expo 2009 with my Mello friend (she couldn't come this time)!

It would be fun to cosplay Death Note group again~
I didn't take that many photos this time since I was mostly still depressed about the admission price... ;A; This time I only spent $12 of merchandise!! The least ever! $5 manga(Samurai Deeper Kyo 26) + $6 keychain(2) gift + $1 magnet gift.

But it's not like I had much money to begin with anyways... OTL
I arrived at around 10:00-11:00 (forgot) with
johwa
who for some strange unexplainable reason, decided to dress up as Po from
Teletubbies
.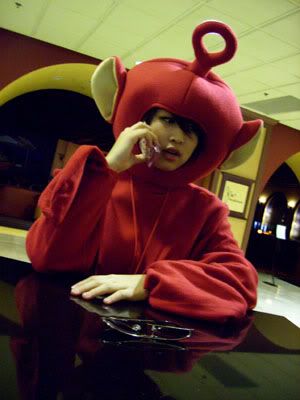 Did you know that the circle on top of Po's head is its erogenous zone? When you grab it, she goes "a-ah~ aah~" 8'DDD

I think she prolly won "Most Hugged" Award.

AS A MEGA-SUPER-BIG-AWESOME GAMER, I, MATT, COULD NOT RESIST THE GIGANTIC WIIMOTE WALKING AROUND. I HAD TO PUSH THE BUTTON.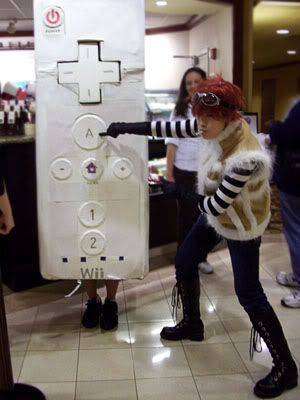 IT FELT GOOD.
Then we saw a really amazing looking Gokudera!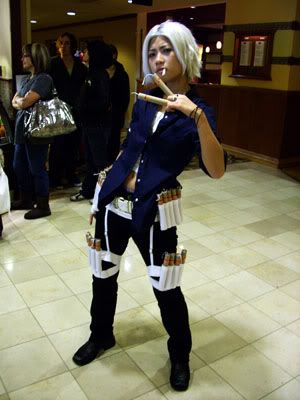 Ah, that is the outfit I want to make! But first...lose 30lb or so! OTLLL
OBJECTION!!!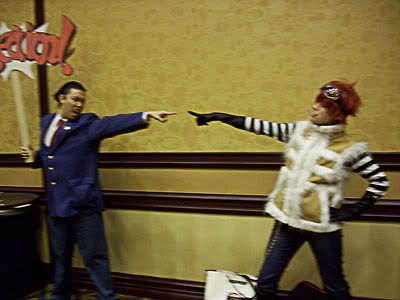 Real-Life game characters....a dream come true! Wait..Mello or games? HMMMM...
g0th3g1gg13s
&
v4n1ll4gur1
came later to join us, =v=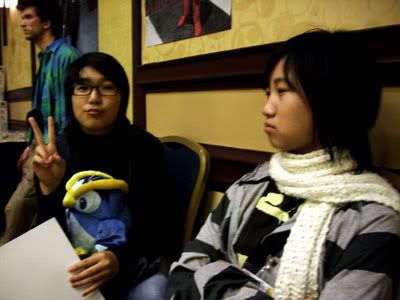 Poketard there bought a Prinplup plush and then a Buneary one later!
I CAN POST YOUR NON-COSPLAY PHOTOS, Y/Y?
To continue Pokeman-ness, I found a big Pokeball later that was just begging to have the button pushed!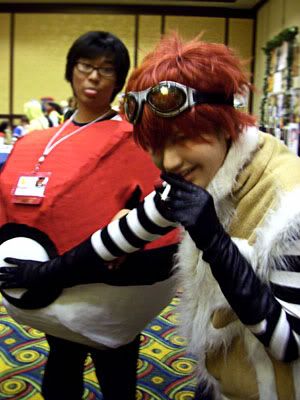 Howah, but
johwa
doesn't like this photo of Matt...she thinks I look perverted or dirty or something...

BUT ISN'T THAT JUST MY NORMAL FACE? OR DO I LOOK PERVY 100% OF THE TIME?!
And at the end of the day, we came across a man Suzumiya:
Ahaha, he looks drunk! But loong legs... DO WANT.
***************
OK! OK! How was that for record short?! 8DDDDDDDDd
Oh America...what am I going to do with you.....YOU HOPELESS COUNTRY!!!