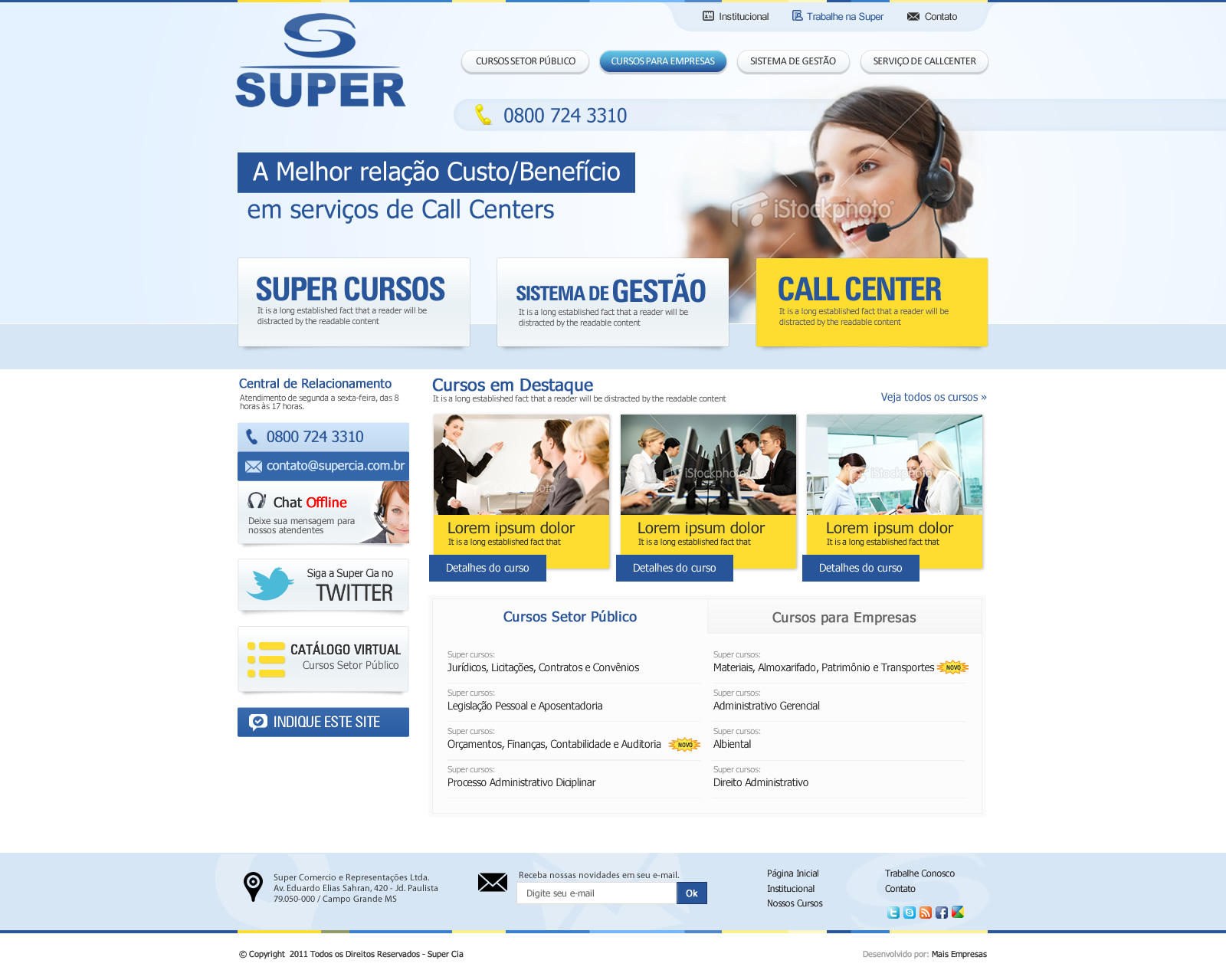 Watch
Project developed for company (Super or Super Cia), specializing in courses for businesses and the public sector. This was one of the layouts that I liked to do and one of the most liked the end result! I hope you enjoy as much as I!

Projeto desenvolvido para empresa Super, especializada em cursos para empresas e para o setor público. Esse foi um dos layouts que eu mais gostei fazer e um dos que mais gostei do resultado final! Espero que gostem tanto quanto eu!!

Thanks in advance to

and comments

Desenvolvido por: MaisEmpresas.com

Other works


Parabéns! muito bom esse layout
Reply

You know i've just recently started trying to figure out how to convert a fireworks website design into an actual site, but i just can't get the hang of it, can you reccomend some tutorials?
Reply

Reply

muito bom

gostei especialmente da integração das cores que não sobressai e consolida-se como um todo

5* mesmo
Reply

Muito obrigado!

Essa era a grande idéia, como o amarelo é uma cor forte o azul teve a "missão" de dar um ar mais clean

Valeu pelo


Reply

Reply

u can do much better

Reply

He would, but was limited due to the creation like the customer, and here the customer is always right I do what he always requested. Thanks for the comment dude!


Reply

Show de bola o layout


ah na semana passada eu trabalhei em um projeto com esse mesmo tom de azul, essa cor é excelente pra deixar o site com uma cara clean

Reply

Valeu manin.. mto bom mesmo, na verdade curti trabalhar com o amarelo *-*
Não sei porque eu gosto de cores fortes \o

Reply