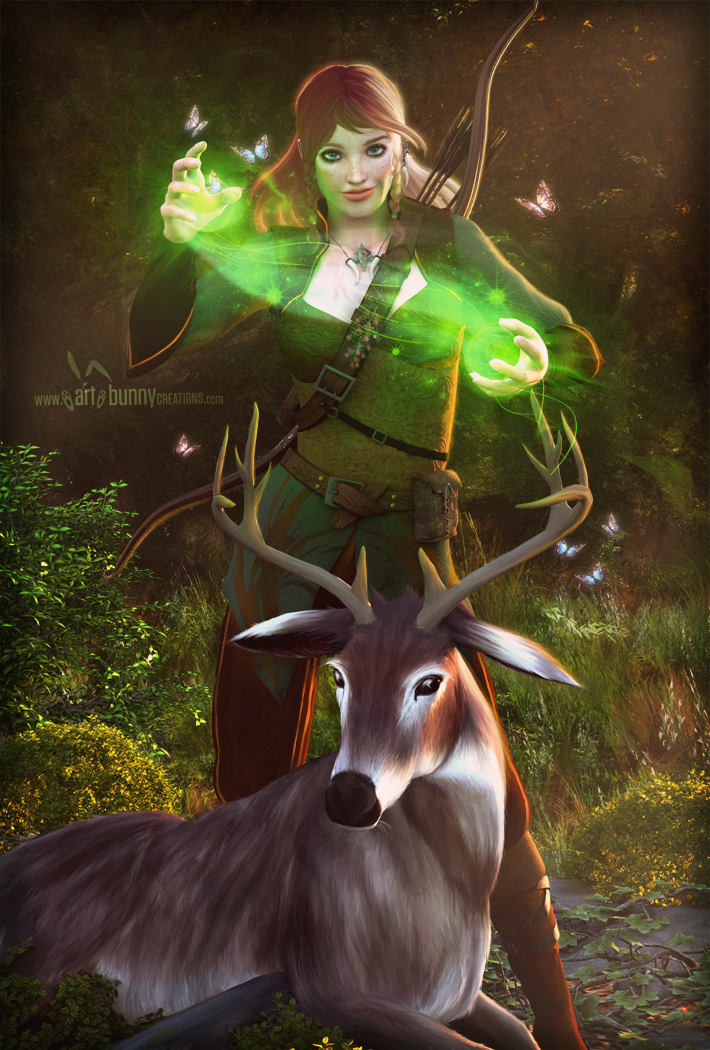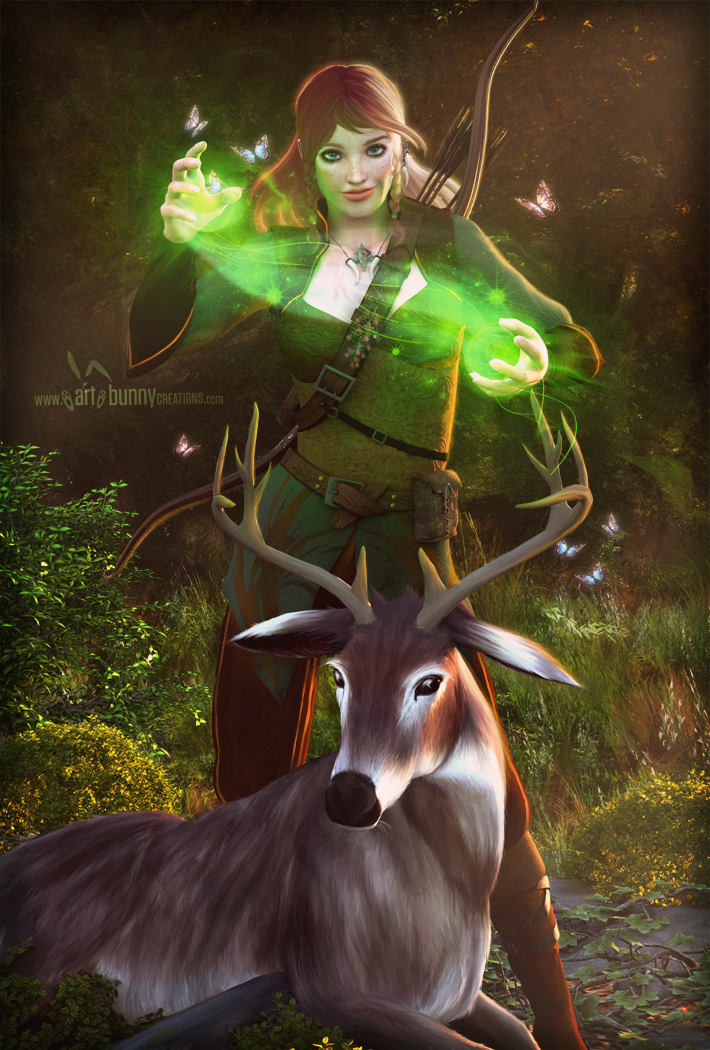 Watch
Another artwork inspired by Pathfinder - Kingmaker, this time of my Feyspeaker druid and her faithful elk companion!
I have done plenty of character artworks in my time but not many animals, so creating her elk was a bit of a challenge. I used a free stag 3D model for the pose and then basically repainted all the fur in Photoshop later. My wrist was complaining by the end, but I think it was well worth the effort.

In case you like RPGs at all, give
Kingmaker
a try if you haven't already! It's one of the best RPGs I have ever played, and they have ironed out most of the starter bugs by now and are adding interesting DLCs as we speak.

I'd also like to use this chance to wish all of you a happy holiday and a Happy New Year

, and may 2019 be an absolutely stellar year for you!

I returned to dA in 2018 after a long break and was really glad to see so many familiar faces, and I am eternally greatful for all the support and wonderful comments my art has received here. So take good care everyone, and I cannot wait to see what shenanigans we will get up to in the future!

~~~~~
INTERESTED IN COMMISSIONING ME? SEND ME A PM HERE AND WE CAN DISCUSS THE DETAILS!


~~~~~Tools of the Trade:
Carrara 8.5, Zbrush 4R8, Photoshop CS 5
Website:
www.artbunnycreations.com

Looks and sounds cool, so here's my dumb question for you: The last Pathfinder character I built and played (tabletop) was a female elf cleric of Calistria who used Calistria's favorite weapon: the whip - is that possible in this game? I used it for trip attacks mostly so my melee-fighting allies would be able to make short work of foes.
Reply

I'm pretty certain you can be a cleric of Calistria, but there are no whip weapons in the game. But there is no shortage of other ways to trip people and prime them for your allies, so don't let that discourage you!

Reply

Hm, that would take a lot of the fun out of it. Unless they have the fighting chain then you have to be in melee range to use any of the other "trip" weapons which means taking AOs while you are attempting it. If you are going to be forced to melee things you are better off to just bash them for damage rather than being brutalized by an AO so that you can set your friends up for an easier attack on a foe. Hrm.

Then again the whip is to most ill-defined weapon in the game: it's a touch attack so it ignores armor: but if the opponent is wearing ANY armor or has more natural armor than the average dog they are completely immune to the damage. That's pretty much the definition of a contradiction of terms: either their armor doesn't matter, or it does, not both.

Reply

Combat seems to be heavily inspired by the official ruleset, but also differs in some key points from it as far as I understood it. It still feels really cool, though, and there is A LOT of things to choose from to make your own builds. I think if you like more old school RPGs in general, Pathfinder:Kingmaker has a lot to offer!

Reply

Sounds cool, put it into my wishlist. Dragon Age: Inquisition just put their DLC compilation pack on sale at 50% off ($15) so I'm playing through that and trying to figure out what to play (and what companions to try - Sera, Vivianne, and Iron Bull are a hilarious set) for another run-through. I picked up the two Divinity Original Sin games but I got stuck about halfway through the first and the second has an annoying cat that follows you around early on: but if you can manage to keep it alive through the first chapter it becomes your familiar and you can possess it and use it to get into areas you can't get to otherwise: so I'm hung up there trying to decide if I should bother trying to save the cat. The last RPG I actually finished was a mod of the old Temple of Elemental Evil that makes it much more playable. They originally designed that one in the theory that you HAD to have a cleric in the group who could both create all the Holy weapons you need for the endgame AND cast individual Protection from Evil spells on everybody. Mass Protection from Evil exists as a spell but it doesn't work even for the person you cast it on initially and the final monsters all have fear aura's that are so potent nobody can make the save. I also picked up Sword Coast Legends and completed the base story; but the DLC leaves me in a quandary: in order to progress that story you have to chose to sell out to either the Lawful Evil Duergar: the Chaotic Evil Drow: or the Neutral Evil Amnians. Such choices!

Reply

It looks like you have a lot of cool games still waiting for you!

And I can warmly recommend to try and get past the cat-saving in DOS2 because the game gets so, so great later on! You just need to get out of Fort Joy and the cat will be your familiar, and there are some routes where it can follow you around easily. You can also clear a path and catch up with it later - it cannot follow you down ladders or through teleports, I think, but you can then reunite with it back at the beach once you have opened a path for it to follow.
Best of luck!

Reply

I also started playing in a tabletop Shadowrun5e game and picked up Harebrained Schemes Shadowrun trilogy: only played through the original story but they all seem to have a habit of assuming everybody ONLY wants to play a Decker for their MC - because if you don't you don't get a usable one. You can't take direct control over NPCs out of combat so you can't hack stuff that needs to be hacked with an NPC Decker unless you do it in the middle of a combat.

Yeah I heard that the best idea is to make a corral for it out of movable boxes and barrels and trap it until you are ready to leave. But I was finding the initial fights amazingly difficult even with a full team. I don't need the fights to be too easy but if they are too hard early on it spells trouble for the later game: that's why I couldn't finish the first one: I couldn't win many of the boss fights and kept having to avoid them and come back at levels where I was too high level to get useful XP; which meant I couldn't catch up to the levels I needed to have later on. I am nervous that this one will work similarly.

Reply


Aww, happy holidays, Merry Christmas and a Happy New Year.
Reply

lovely!!!


Reply

Cool!

Reply