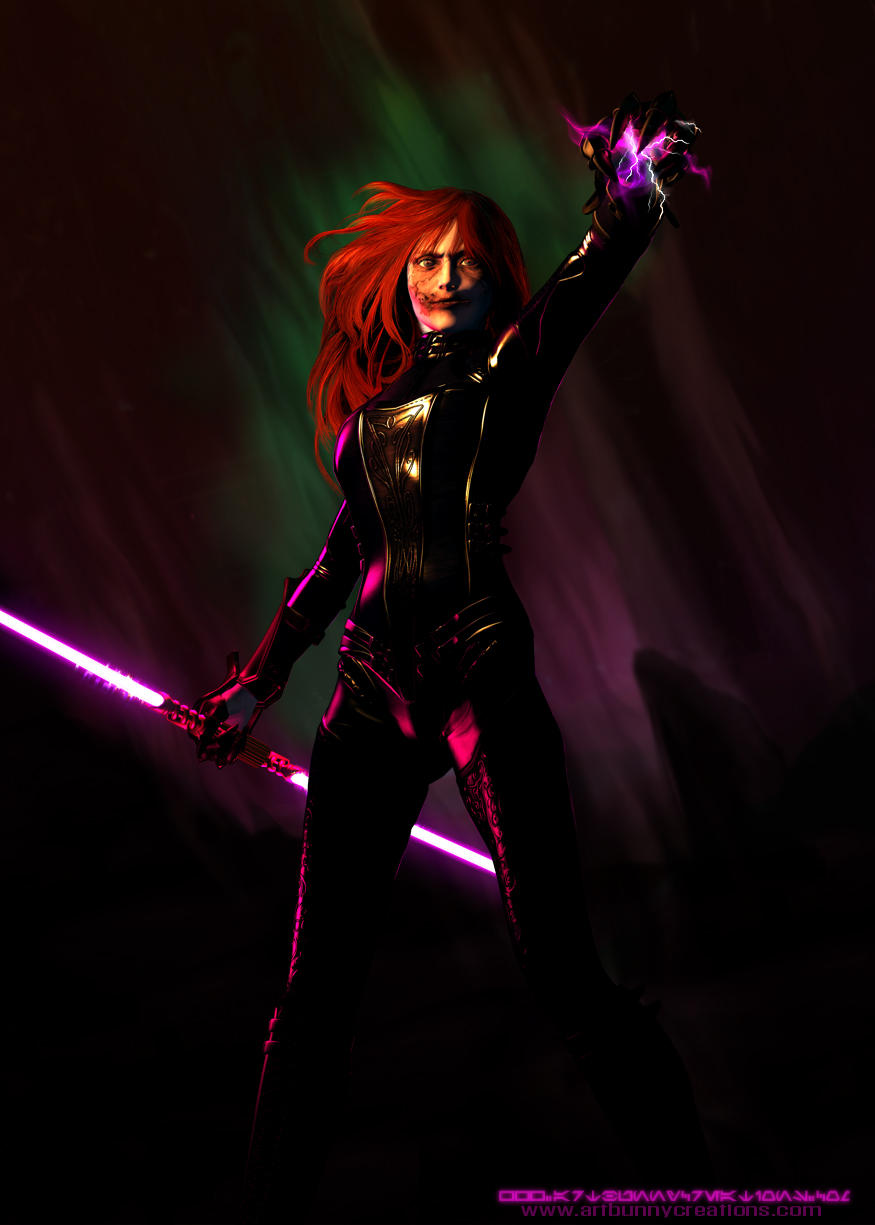 Watch
Another art inspired by
Star Wars - the Old Republic
. Here, I played a
"What if...?"
my friendly Republic-born Engineer Keridwen actually was a dark-sided Sith Assassin, as her game class suggests. And let's face it - I just wanted to get some nice posing-with-lightsaber action again!

This one was a lot of fun to work with - the lighting and hair were tricky at first, but I think it turned out quite alright in the end. If this character seems familiar... it might be, yes! I made another artwork of her here:
On another cheery note - yes, I am still alive, and making art just for the fun of it! I hope you're all doing fine, and I plan to make a more thorough journal about what happened in the past months to catch up iwth you guys! Until then, enjoy the holidays if you have any and the nice spring weather when it comes!

Cheers,
Kaana

~~~~~

Want to commission a similar artwork? Contact me here on deviantART, or at www.artbunnycreations.com !

~~~~~
Tools of the Trade:
Carrara 8 Pro, Photoshop CS5
Similar Artworks:

I like this, perhaps because she's a bit darker than your usual characters. I love the highlights on her suit and the composition is suitably epic. The green and purple colours works well with this theme of darkness and corruption. Possibly I would love a bit more highlight in her eyes. Compared to her outfit they seem a bit dull and I get the feeling her eyes should almost glow with the strength of her conviction and power. But just a brighter highlights will do too.

I hope to see this one in your calendar next year...
Reply

Thanks a lot for your comment, hon

- I'm glad you like it, and you have a good point there with the eyes. I didn't gave her the typical glowy Sith eyes because... well, I found it a little over the top and so only hinted at the corruption there, but maybe it would have worked out well in this scenario.
And I'm pretty sure she'll make her way into the calendar this year one way or the other.

Reply

I know what you mean. Perhaps it's enough to give the eyes a bit more highlight, just to lift them. Now they look a bit dull compared to the rest of her.
Calendar.

Reply

the blood on her face!

Reply

Amazing pose, dear!

Reply