So I've still been working on Rick and Morty 3D stuff.. A bunch of stuff that hasn't been seen still actually. However here's a sneak peak of the 1st official image I'm working on. It's from a scene from the pilot episode and I think it was a decent enough challenge for me to see if it was something I could manage or not.

I'm liking the look of it so far, so I'm pretty happy. I have modelled the background alien planet as well so this just needs some tweaking and it should be done.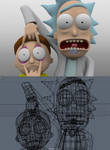 I hinted at a new site a while ago which I do have online at the moment. It's nothing fancy and it's just using a standard wordpress theme and really lacking a look that I am happy with, however I thought I would see how it goes as is and then get it looking the way I want.
I'm also releasing screen grabs of episodes (1080p grabs) for anyone who needs some show images as wallpapers or source images.
The site is right here...
Be gentle!