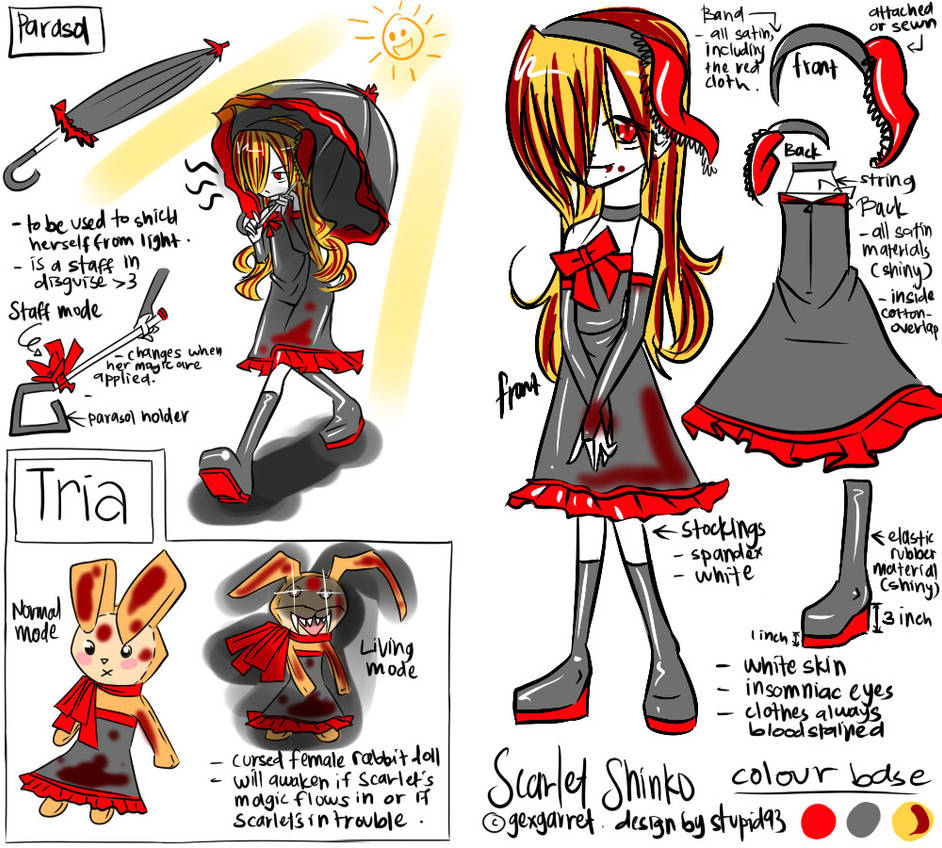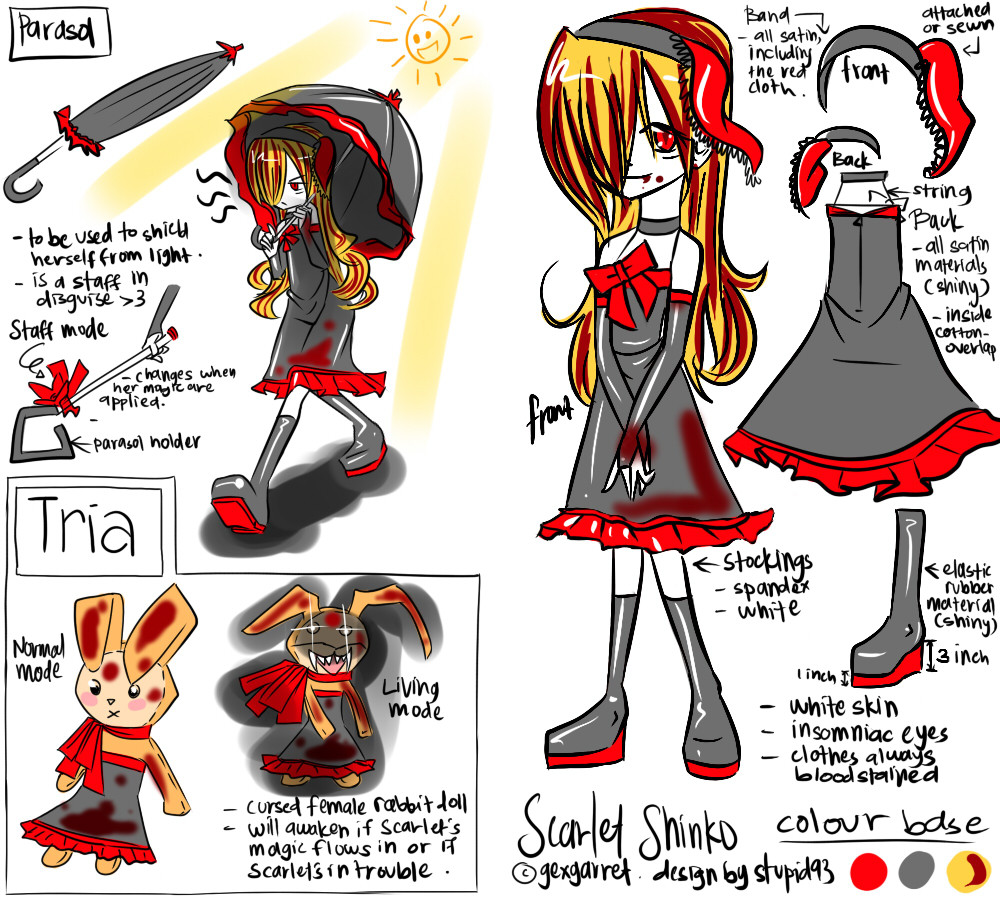 Watch
NOT Done by me! Done by my great friend

I HAVE FULL PERMISSION FROM THE ARTIST TO UPLOAD THIS ON MY PROFILE
Huh? Who is this?
This is Scarlet Creba (New name maybe soon), an insane, Half-Vampire She used to be an alternate universe version of one of my other characters, but I changed that. Thankfully. XD
The entire left side of this was a labor of love on the artist's part, she said "Damn you" to me for making her have such an interest in Scarlet, and even said she loved her, XD.
Lets get to her profile, shall we?
UPDATE: NEW PROFILE HERE
You can still read this old profile, but it's outdated, and very stupid.
[link]
BAD BACKSTORY AHEAD OF YOU. LAST CHANCE TO WALK AWAY. OUTDDATED AND NOT CANON ANYMORE Scarlet's personality
Scarlet is insane, her mind was shattered at a young age, so her mind stopped maturing, she has the mind of a 5 year old girl, but is quite smart, and sometimes have a level head, on rare occurrences, she acts her own age, which, in her mind, is acting like a grown-up. But most of the time she acts like a child.
She likes making new friends (despite how hard this is), but tends to act self-righteous most of the time, however, she is not truly good or evil, she just goes on with her li-...er...undeath.
She is normally very kind at times (Albeit childish and sometimes spoiled), even burying victims she has accidentally killed. However, when she is enraged, she shows a ferocious side that will not hesitate to tear an opponent limb from limb.
Due to being a vampire, she doesn't get much sleep, explaining her tired looking eyes.
She thinks of her doll, Tria, as a close friend, as she made it herself when she was 4, she holds it very dear
To be ironed out more! XD
Scarlet's story
Scarlet is a half-vampire, when she was but 5 she was still a human, and lived in an orphanage, back then, she had a different name, she was named Mathilde Ferdinand. One day, some bullies forced her to drink a jar of red liquid (Vampire's blood, in my canons, only by drinking the blood of a vampire can one become a vampire) in the basement of the orphanage she lived in, or they would have destroyed Tria, the doll she made with her two hands, reluctantly, she drank it, she only drank half of it, but the Bullies gave Tria back...only to dump the rest of the liquid on her and Tria, staining her hair, and Tria. Soon after, her body changed and became that of a vampire...
What proceeded shattered her mind, as everything she loved went up in flames, she fed upon, and killed her best friend, had her home burned down, and finally, went insane.
Before she left the burning orphanage, she decided to give herself a new name, a name befitting to what had happened, a name that fit what she would probably be covered in for a long time... blood, scarlet blood... but also needed a different last name...Shinko...meaning faith, Scarlet Shinko, to her, her name meant bloodstained faith.
For weeks she wandered around in rags, alone and tired. Soon, she found a castle (abandoned, it has all the comforts of home, people were murdered in it and people thought it was haunted) built around a carnival, soon, the young vampiress claimed the castle for herself, and made lodgings.
For years she remained there, coming out every few days to view the outside world.
But for the Touhou version, something has mysteriously caused her (And parts of her castle) to be placed out of time and into Gensokyo! (The land where Touhou takes place)
I might elaborate more on this later :3
Scarlet's Vampiric traits
- Scarlet is
NOT
fatally affected by sunlight, she only gets weaker, and can get sick from prolonged exposure, hence why she carries the parasol with her when she goes outside
- Scarlet is more vampire than human, so she has the gift of immortality
- Scarlet has unique vampiric powers at the cost of some traditional ones, IE: No Batform, ever.
- Scarlet has a stronger blood thirst than most vampires, while most vampires can die of blood thirst in a week or 6 days, Scarlet will expire after 3 or 4 days!
- Scarlet can talk to, and control (to an extent) bats
- Yes, Scarlet is allergic to Garlic.
- When Scarlet drinks someone's blood, they are knocked out, and once they wake up after being fed on, they have no memory of having their blood drank.
- After Scarlet feeds on a victim, they
DO NOT
become Vampires or minions, they only feel a little woozy from the loss of blood
More to come!
Scarlet's Abilities
- Scarlet, being a vampire, has much more strength than a regular human, she can tear an opponent limb from limb if enraged enough, or throw a knocked out victim far away when calm, she starts relying more on magic and her cane later, though.
- Naturally, Scarlet has a spark of magic in her, she rarely uses it, despite it being capable of great power, she only thinks of it as a passing occurrence, that is, until she is teleported to Gensokyo, where she starts to utilize it a lot more, since fist fights aren't that common there
- Scarlet's parasol is capable of transforming into a staff, the staff increases her magical abilities, and allows the casting of spell cards, she can also use it to whack around any poor sap who has gotten close to her
- Tria, Scarlet's doll, befell a curse upon being doused with the red liquid, it got a mind of its own, usually asleep, but being roused to awaken when Scarlet's magic is utilized, becoming a deadly living doll at her command, she likes to use Tria for attacks when she doesn't feel like casting magic.
Thats Scarlet's profile, so far, I hope to update it more, soon! For now, enjoy the picture, and the profile!
Scarlet is (C) of course, to me.
Gensokyo and Touhou are copyright to Shanghai Alice, and ZUN
Art done by