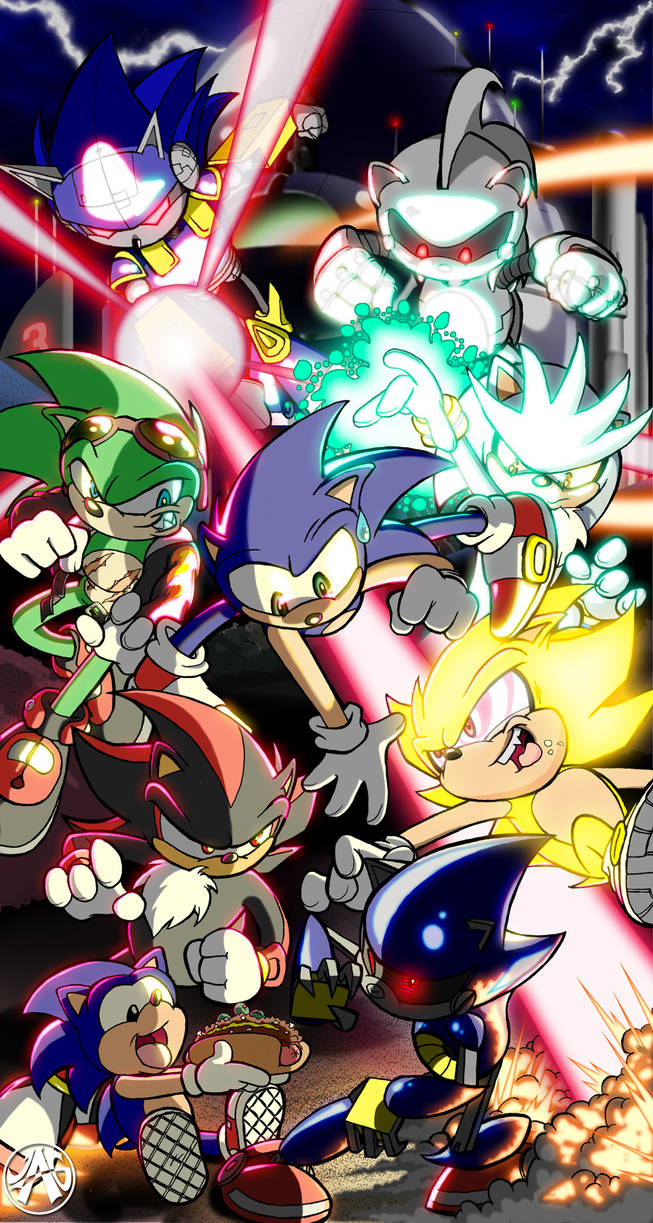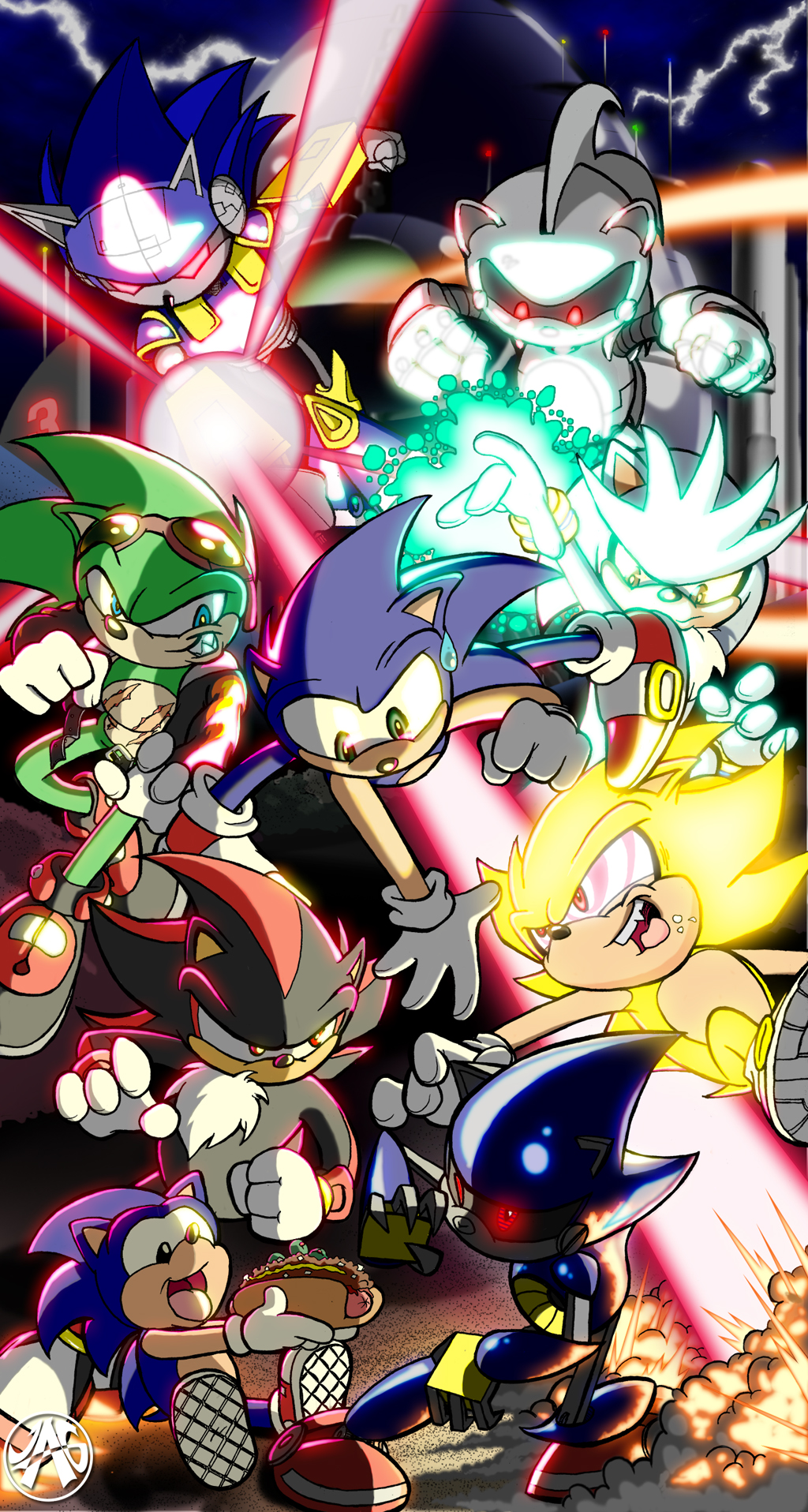 Watch
dear god.......I was hoping just to spend 4 days on this......not my whole week off /cry
ah wells, I was thinking....I'm a Sonic fan-artist....maybe it would help....you know....to draw sonic every once and awhile......ok yeah and Silver just brought this on
I ended up just trying all kinds of different stuff, just building as I went. Robotropolis and the Egg Tower was alittle tacked on, kinda worried it might have distracted from the rest of the action in the pic but eh...
took some background suggestions from
's cityscape tutorial
[link]
I guess I'll give a rundown of everyone and their main appearances:
--Left-Right, Top-Bottom --
MechaSonic: Sonic 3 & Knuckles, Archie's Sonic #39, MechaMadness
SilverSonic: Sonic 2
Scourge (Evil Sonic): Archie's Sonic #160-161
Sonic the Hedgehog
Silver the Hedgehog: Sonic Next-Gen
Shadow the Hedgehog: Sonic Adventure 2
Super Sonic (Fleetway version)
Little Sonic: Sonic SatAM (Blast to the Past 1+2), Archie's Sonic Kids Super Special
MetalSonic: Sonic CD
Sonic, Shadow, Silver, SuperSonic, MetalSonic, MechaSonic, SilverSonic, Scourge, and Little Sonic are
Sega©, DiC©, Archie©, and Fleetway©
OMG, there is so many hedgehogs that I love!!!

this is really epic! for sure an instant fav
anyway the vison is well somwhat clear, but i get that your trying to create a fight sene where there is lights, lasers, and things blowing up
Oiginality if for sure a five stars, never seen anything like it before

Technique is really well done
and the impact is well over 5 stars

you keep up the great job because you have a real talent in Sonic art

and thanks for adding our old friend Scouge, I guess he wont be left out after all

The Artist thought this was FAIR
25 out of 29 deviants thought this was fair.
This was well worth the effort you put into it. It's your most popular deviation for many many good reasons, all of which have been listed in your 800+ comments and counting. I applaud the way that you took total chaos and still managed to make it visually appealing. I'm a big fan of the lighting effects and how you took them into account when you coloured each specific character. The explosion in the bottom right-hand corner is especially well done, leaving a really cool reflection on Metal that I just LOVE.
The only gripe I have with this piece is the same that I've had with many of your drawings, although I can see it getting better with time and practice: Whenever you draw a shoe connecting with the ground, it never looks quite right. It looks more like it's floating and not actually connecting with the ground. It's definitely the rounded lines that you use which, in most cases, are a good design choice, but in this particular piece, the rounded lines make Metal Sonic's right foot look balloon-ish, unlike his left foot, which is obviously sharp and metallic. Were his right foot more "sharp" looking, it would feel more, dare I say, "natural" to his design and would really ground him to the floor of the piece. It is something to take into consideration for future works.
Otherwise, amazing work. I love to watch your progress and, I think I speak for everyone who has faved this piece, that we would love to see more of your increasingly fantastic renderings.

--Soulvei
The Artist thought this was FAIR
17 out of 18 deviants thought this was fair.