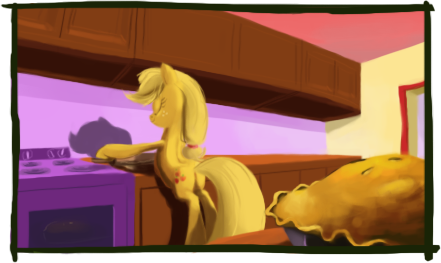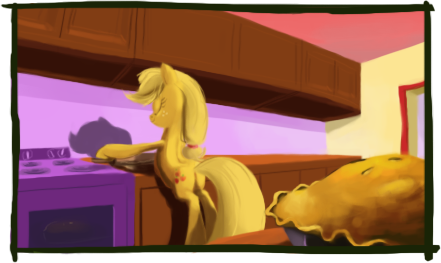 Watch
I did this ta see how long doin' a panel of a comic might take me. Honestly? Not that long, that is, if it wasn't fer that pie. I don't know anything about pies, everypony. Sometimes they have holes on top? I think so. I painted it 'til I wanted to eat it and that took longer than the rest of the paintin' all together.

Background's really simple, but I didn't wanna do too much on it. She's bakin' if it's hard ta tell. Yet, no apples to be seen. Hmmm.

*reads all the composition stuff*

Reply

Reply

Nice, I like the painting, but now I'm hungry.
Reply

Little bit of critique; avoid tangents! Explanation:
[link]
In this case, it's the edge of the pie crust and AJ's tail. And, sort of, the top of the pie crust lining up with the counter top. You should bring the pie a bit closer, or make it a bit smaller, so that it doesn't create tangents; this will improve the clarity of the composition.
Also, I think the focal point needs more definition. I can't
quite
tell if our focus is AJ or the pie, they both have slightly too similar values (
[link]
). If the pie is our focus, it needs to pop more. If it's AJ, she needs to have more definition, and the Pie needs less definition. The pie does have a darker value in the bottom corner, but I think it would greatly benefit from a push. I'm not sure if I'm describing this very well, so let me know if I'm being confusing.
Also 2, if you don't know how to draw/paint something, use references. Google Images. All good artists use references; no one assumes they know how to draw everything from memory. However, I could definitely tell it's a pie, though the crust looks a bit thin.
Ok, that went on a little longer than I thought it would. I also now realise that since this is a single, out of context panel, I'm probably going overboard. I can imagine if this were with other panels, it would fit in more.
But hey, hope I was helpful.
Reply

Much obliged! I really appreciate the input. The tangents were somethin' I realized were happenin' after I'd pretty much finished, so I figured it'd be better just to move on an' start somethin' new. As far as focus goes, that is kinda my target problem right now, an', unfortunately, one that I have little idea of how to work on. I knew *something* didn't look right, an' now I know it's AJ's/the pie's values. I'm guessin', if I wanted to bring focus on to the pie, I'd throw more darks and contrasts into it, better detail work -- but, fer the sake of learning, how would you recommend goin' about it if I wanted to focus on AJ? Since the pie's so close to the camera, it seems like it'd still have a good amount of contrast, even if it wasn't the focus, an' AJ bein' pretty small here it seems like it'd be tough (but not impossible) to stuff more details onto her... I'unno, hahah.
An' yeah, I used a couple references, but, uh, lazily. Hahah.
Again, thank you so much fer the critique!

Reply

No problem, happy to help.
Yeah, just try to remember about tangents for the future; for some reason I find them one of the easier art tips to include.
You just have to think and plan 'what/where do I want the viewer to look at?'. I cannot stress enough the importance of planning ahead.
Yeah exactly , if you wanted the pie to be the focal point/main interest of the shot, you'd have it more detailed, higher contrast.
But if I wanted AJ to be the focus, I'd tone down the detail on the pie, darken it and use lower saturated colours, and give AJ more contrast, make her stand out more and use higher saturated colours. You could also try to mimic a camera's focal depth by blurring the foreground, but that could easily look kinda cheesy if you push it too hard. Or you could try using a softer brush on the pie and a harder brush on AJ.
At the moment I'd think you want us to focus on the pie, because it has that darker corner, but the problem is that I'm not sure. Visual communication must, at all times, be totally clear.
One more thing to mention, take this image and desaturate it completely, greyscale it. You can see now there are three major areas of similar dark value, all on each level of depth, foreground, middle and background. AJ and the Pie also share similar values. Take away the colour and this becomes more readily apparent.
You can learn more about all this if you research cinematography, including mise-en-scène, storyboarding and composition. Films and animation teach you a lot about staging which you can include in comics. Or, John K made a good compilation some of this here:
[link]
Having said all that, I think this panel looks good, I like it, it just needs an extra, defining push.
No worries, happy to help. Again, if you need anything clarified, let me know.
Reply

Thanks so much! Everythin' ya've said's helpin' me out, an' that blog is fantastic. Uh, I know you've got better things ta do than write critiques, but I'd super-appreciate any advice ya have fer me in the future, you've really helped me out with this!

Thanks again!
Reply

No problem!
I learned so much from John K's blog.
I'll definitely try to help out whenever I can!
Reply

Reply

Reply