Yeah, I uploaded something, and it's not horse.
I've been trying to learn me some Blender, with 3D stuff being something I've wanted to do long before MLP:FiM came into my life and got this little DA page started. What's different now is that I have a job that gives me enough expendable income to pay for Blender lessons, so now I'm able to actually pursue that goal. I have more details in my newest submission's description: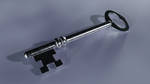 So, my page here might come back to life if I really buckle down and actually do this learning 3D thing, so, maybe I'm not dead.