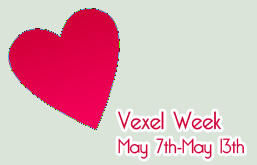 The Definition
It's hard to explain to people who have never tried vexels or vectors what they are. Even some vexel and vector artists are often not aware of the main differences between those two.
"A vexel to me is a piece of art created in a raster based program like Photoshop in the style of a vector that consists of shapes."
-
fabulosity
It's almost perfect, but there's one main characteristic thing missing. If you're working with Photoshop and you're familiar with some basic tools and techniques then you're probably also aware that vectors can be made in Photoshop as well. The main difference between vexel and vector is that
vexels
are made on
raster
layers and
vectors
are made on
vector
layers.
Okay, but what does it mean?
Rasters are based on those little, funny squares called pixels. If you try to change the raster layer's size you will see pixelation, while if you do the same with vector layers they will not lose their quality and will stay sharp and clean.
To sum up- vexels are layered shapes made on raster layers, filled with solid colour or gradients and look similar to vectors.
But not everything that is allowed when creating vectors is also allowed when making vexels...
Dos and don'ts when creating vexels

you can use vector layers as long as they are rasterized before saving your final work as JPG/PNG

you can use brushes only in the 'stroke path' method (create a path using a pen tool, right click > stroke path) however soft, feathered or photo brushes are not allowed

airbrushing or painting is not allowed

glows, filters, layer styles (drop/inner shadows, inner/outer glows, bevels, satin etc.) are not allowed. The exceptions are gradient/colour overlays, stroke and patterns created using the pen tool or lasso tool.

overlaying photos, using all kinds of photo textures, using photos as a background of your vexels is not allowed

gradient mesh is only for vectors
Vexel galleries
The easiest way to find vexels is to go to
Digital Art > Vexel
Vexel gallery is divided to 11 subgalleries:
Abstract
Animals
Fantasy
Landscapes and Scenery
Macabre & Dark
Miscellaneous
People
Science Fiction
Silhouette
Surreal
Vehicles
But that's not all, there are few galleries with Vexel subgalleries too!
Cartoon & Comics > Digital Media > Cartoons > Vexel
Cartoons & Comics > Digital Media > Comics > Vexel
Customization > Wallpaper > Vexel
Fan Art > Digital Art > Vexel Art
Hope this news helped you understand what vexels are