xUshiwakax
is a fairly new vexel artist but has already an impressive gallery and unique style.
How are you doing?
Very well, thanks!
Could you tell us something about yourself- what's your name, where are you from, do you work/study?
Florian, I'm french, still studying, banks and economic matters. Far, very far from the artistic world.
When and how did you discover art?
When I was a child, I was drawing
inspired by comics, I never really stop, even if I'm bad with a pencil
in my hand. My interest for digital art is born with the phenomenon of
"tags" for forums, in 2008. So I start working on little dimensions,
with photofiltre, gimp, then photoshop and illustrator.
Are there any members of your family who also find interest in making art?
An
aunt, a paintor, I've always like her work and her sens of
aestheticism. I possess one of her painting, a portrait of a touareg
with strong mix of blue and yellow shades, beautiful brown eyes with
beige reflets and a wonderful abstract desert in the background, who
give a veil effect of sand to the painting. I love it, very inspiring.
What's the story with you and vexel art? How and when did this 'fascination' start?
During
my passion for tags, I strat working with pentool for making colorful
shapes and my debut in vexel with portraits. It was a really instructive
pass for my actual art, working on small pieces helped me to increase
my technics, finding harmoni in colors, shapes and compositions.
Vexel
is also a way to have an absolute controle on the visual aspect that I
don't have with a brush for example, who is more "inaccurate" in my
hand. It's allow me to express a "perfectionism" in the sens that you
can do what you want with shadows, clearness or flow thanks to the
control on curves.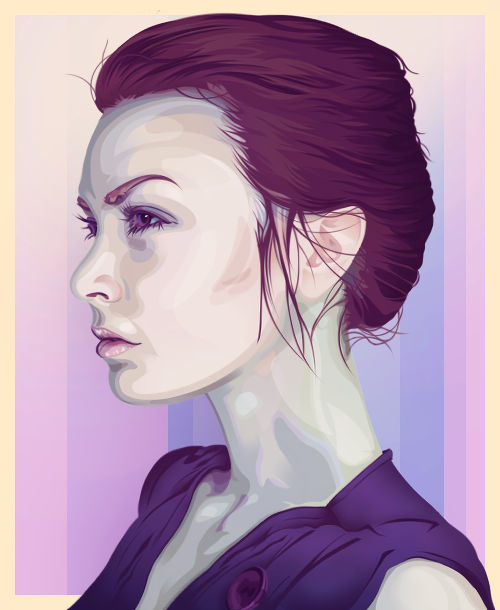 Have you ever tried vectors?
Yep!
Which one is your favourite- vexel or vector?
Vexel! I think I'm simply more comfortable with dimensions defined

Is there anything vexel relted you're working on?
Of course, a lot of
work in progress, I'm a little tired of photography based works, so I
started to scan drawings and playing with it, it's a real challenge,
because I don't have shadow base, light base or color base. But it's
exciting and this is the best way that I currently have in my hands to
express myself with visual works.
Are there any vexel artists that you look up to?
You, who else!
Honestly, nobody in particular, I don't have an "idol", I prefer follow
da groups for example, a lot of artists have their own touch, ambient or
a strong piece of art that gives me motivation to continue, it's always
a pleasure to discover someone.
But if you want a name, I can talk about hishy (
[link]
) who was a reference when I started, sadly, no more new artworks from him...
What inspires you?
Essentially music, I listen a lot of electronic
music, ambient, punk, folk, psychadelic, black metal, and others. Always
songs and lp with a strong atmosphere and aura that remind me an
emotion or a scene, what I want to transcribe with a choice of stock,
colors, shapes or composition. It's important also because I can work on
vexel for hours, so music help me to keep patience.
Do you find vexels useful in your work/school projects? If yes, could you tell us something about those projects?
Unfortunately no, the digital art is just a personal pleasure, with no professional purpose.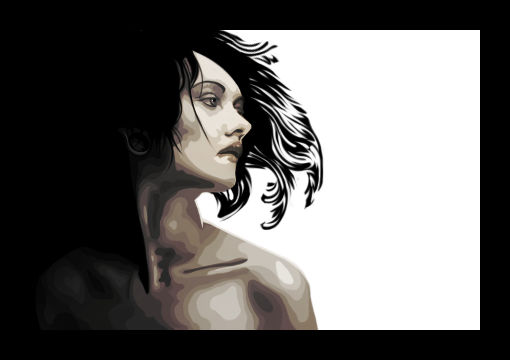 How do you think vexels' future looks like? Will they get more popular or will people turn to other styles and mediums?
I
don't think vexel will vanish, it's a style with a unique appeal, but
it's my vision, to be honest, I don't really know what future holds for
us, and when I think about it, about an idea who can seems new, someone
has already done something similar (and above all my time machine is
broken, so I pass the divination part).
Any tips for vexel beginners?
I would not talk about technical matters, there are very good tutorials for beginners.
I
would simply say don't be afraid about the time it takes, especially
when you begin, it is a work of patience, and I think it's important to
know that before starting. The ease and mastery of the software will
come with time, if you have an idea, just try to do it!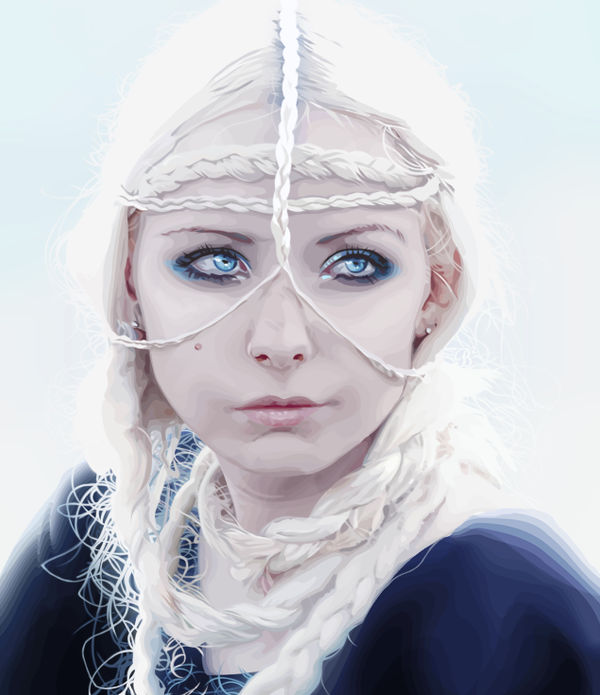 Time for a random fact about you- what's your favourite book and why?
The
serie A Song of Ice and Fire by George R. R. Martin, love the
background, the plot, the characters... . I don't read much, my other
hobbies, video games or movies, are already an important part of my
life, I don't have enough time for all (like everyone I suppose!).