Glad to meet you!
I'm Junie Thunderlight, an adventurous, introverted, sarcastic and idealistic artist.
I love rock music, Chinese food and good stories. And questions! Feel free to ask me anything.
I always put my heart and soul in my projects. Hope you don't mind if I leave some sites where you can find my crazy stuff below!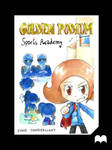 My biggest project! A comic!
I'm creating a discord server for those interested in watching it grow, role-playing with the characters and more.
Send
THIS FORM
if you're interested!

Where my art is

Where you can find recent art, random posts, memes, polls...

The most recent account I have
Intro to my story (and the perfect way to get to know it)
To read my stories (Golden Podium, Tierra de Valor...)
This was the site where Golden Podium begun
Same as Deviantart: my art is here
Telling the story of my life while drawing. Pretty amusing *joking*
To purchase T-shirts and more stuff with my art

junethunderlight@gmail.com
To contact me