So, I've finally come to term that I won't draw these two much. It's honestly the base coat that's my biggest problem, I'm not much of a fan of that pale color with hardly any contrast.
BUT, someone probably loves that! So I'm
trading
these two for two other Boucles that I'l actually draw.
A099 Theriidae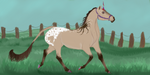 I'll take foal designs, genos, lined and starters.
What I'd like:
I'd prefer either a started or a short lined in trade for Theriidae, breeding slots left doesn't matter much, but I'd like at minimum 1. I might take a completely spent horse if I like it enough.
Any manes exception Poodaleere and Lions Mane
Any mutation or combination of anything except Perle, Aile, and Feu in a geno, but I'll still look at designed ones.
I'm not to picky on basecoat, it just depends if I like the other factors in the design/geno.
Not picky on sex. I REALLY just want something I'm going to like drawing. Complicated won't be much of an issue with me.
Thank you!