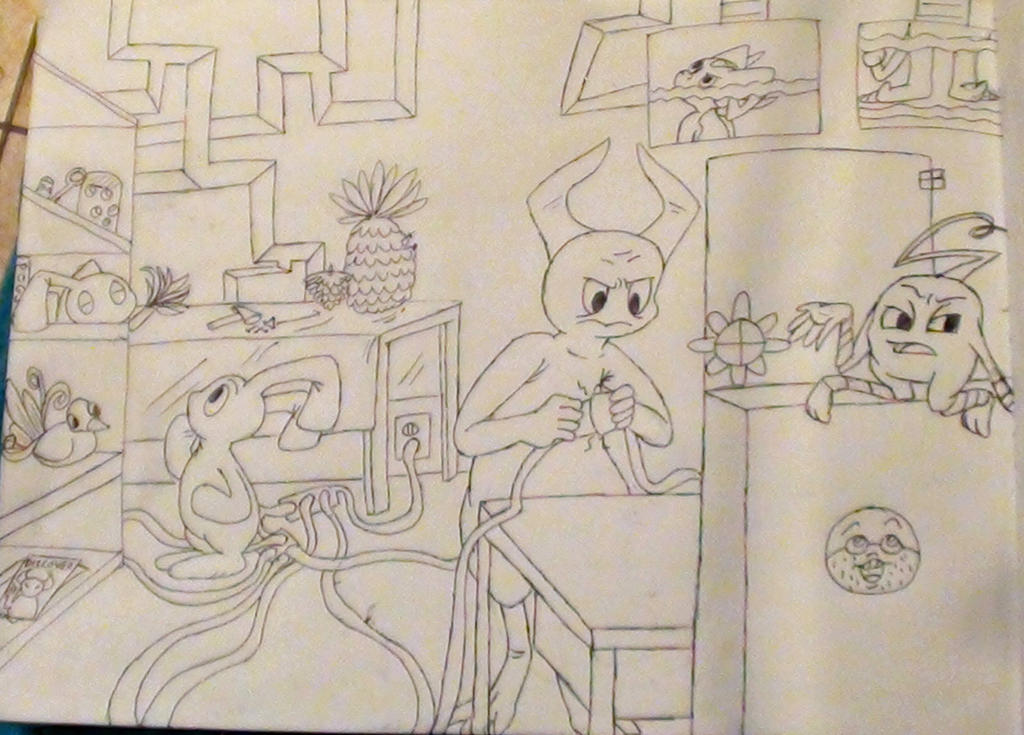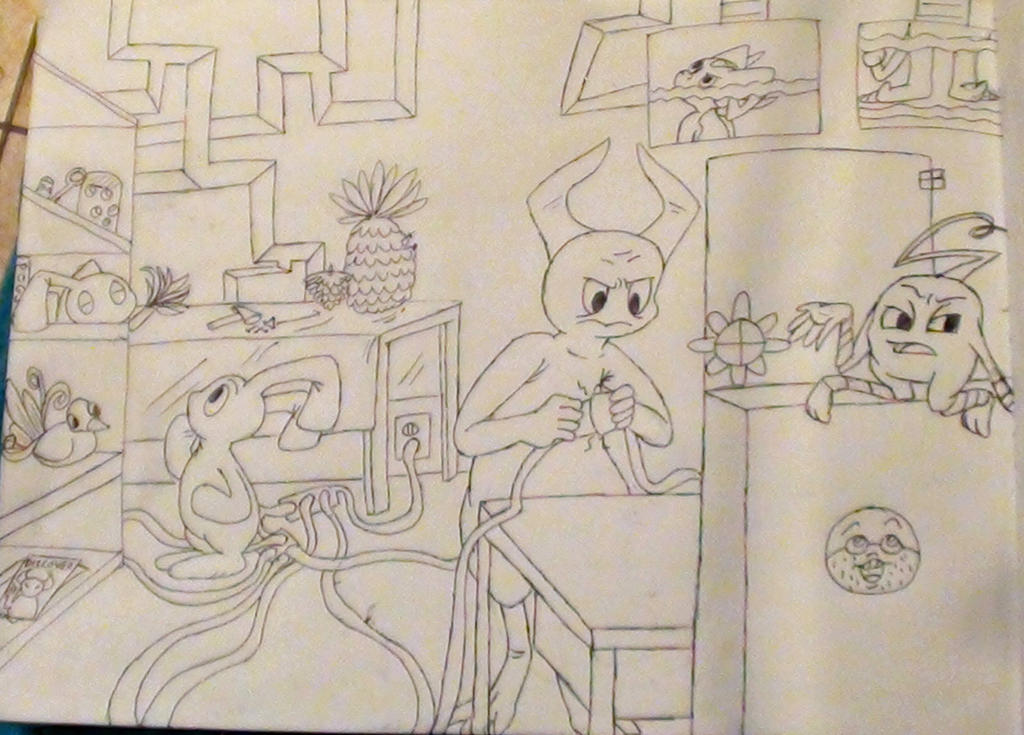 Watch
whenever i do trades with

i end up doing way more work than i expected haha. i'd originally meant for the lab to be a lot more empty and work on filling up a background with my ink work. but then i just filled it up with nonsense based on what i saw in keilphix's lab in bimshwel's comic. i'm sorry yibrick came out looking like a terrible goblin; his proportions are very unique and i unfortunately didn't practice much with him beforehand.
i also figure pog is some manner of artificial creature, and elpse is hiding in the background. the pipes don't really go anywhere, but they fill up space pretty well!
oh, also, remind me to scan this in as higher quality when i have access to a scanner, ok? the picture from my camera is kind of grainy while the picture itself is pretty clean.

Thank you for the elaborate drawing! I like the intense facial expression on the central figure. The pipes I draw never go anywhere either; I wish I had apprenticed with a plumber or an electrician so I had a better understanding of things like that. Or really done any hard labor. Of course I move furniture, remove garbage, clean clothes and wash dishes constantly but I just see the same boring things repeatedly. Beside the point! I also like huge mainframe computers. Outdated, inefficient or inconvenient technology is so much more fun to look at than boring old i-phads.

Yibrick is an artificial creature, to some degree, and can take on many terrible appearances, but nobody knows what pog is. Nonetheless I can imagine there being a project to replicate pog, or pieces of pog. kumquat also some non-natural construction but in that case even I have not fully decided what is going on.
Plugs and cables are good space fillers! I almost never think of that.

What is the apparent reading material in the lower left? Does it say "die lover?" Is kumquat being recognized at last for its elaborate collection of dice?
Reply

it's actually a copy of discover magazine! die lover can work just fine too. kumquat's also got a book on pogs and a jar labeled "bubble fluid". my writing got very cramped with the details, but it didn't want to leave random rectangles too blank.
Reply