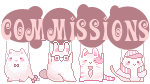 <<<<<<<MAIN GALLERY
www.facebook.com/yura.arts/
>>>>>>>>>
Twitter:
twitter.com/yura_s_arts
Instagram:
www.instagram.com/yura.s.arts/
Hago dibujos digitales y a mano, varío en estilos, pero sobre todo me gusta dibujar anime, furry y animales.
Creo personajes originales (OC) que uso generalmente para rol escrito (EPIC ROL principalmente), en mi galería encontrarán mayormente dibujos de mis OC.
Hace años colecciono figuras sobre todo de Good Smile Company y amo sacarles fotos y crear accesorios y dioramas para ellas <3
---------------------
I make drawings digitally and by hand in various styles, but mainly anime, furry and animals.
I create original characters that I use mostly for epic rol. In my gallery you'll find various images of my characters.
For years, I've been collecting figures, mainly from Good Smile Company and I love taking pictures of them and creating dioramas for them.
MY COMMISSIONS ARE OPEN!
Favourite Visual Artist
The Walt Disney Company, Tetsuya Nomura, Huke, Yuumei, Hyanna Natsu, Chris Sanders and Kyoto Animation studio
Favourite Movies
The Lion King, Lilo & Stitch, Beauty and the Beast, Brother Bear, Pirates of the Caribbean, How to train your Dragon
Favourite TV Shows
Once Upon a Time, Outlander, Adventure Time, Black Rock Shooter, Panty & Stocking, Madoka Mágica, Sword Art Online, Yuuki Yuuna is a hero, Free!
Favourite Bands / Musical Artists
One Ok Rock, NANO, Oldcodex, Eir Aoir, Luna Haruna, Reona, Supercell, ClariS, -Vocaloid-, Evanescence, Coldplay, Simple Plan, One Republic, 2Cellos
Favourite Books
Cazadores de Sombras, Reckless, Las Crónicas de Narnia, The Hunger Games
Favourite Writers
Cassandra Clare, Cornelia Funke
Favourite Games
Kingdom Hearts
Favourite Gaming Platform
PS
Other Interests
Epic Rol <3, Anime & Disney Figures