I needed some time to finish the third pose, because I had some serious problems depicting this character. I wanted her to look fierce and not too young and a slightly little bit looney. Still I had to change the pose of one of the hands.
[EDIT]: I am really sorry. I forgot to give some characters information. But I felt honestly honoured some of you actually asked for more, so here it is:
Myrell Rahal Parsley is obviously not a human but an elve, which makes her stand out in a town full of humans. - As a very skilled sword-dancer and member of a formers adventurers group she managed to get inside the university of the rose of Elyvey to teach dancing and a lot of skills that are more commonly used by carneys. But since the university is quite costly, the students are mostly nobles who strive to use their skills at the court. - This is why her lessons are not as well attended as those of the other three principals of the guild (.... the four members are named: Parsley, Sage, Rosmary and Thyme, because this is one of my most favourite folk-songs)
She is Danjiels second-most favourite teacher and since he is also "exotic" Myrell thrives to give him some advise, because she feels the naive young man needs it badly.
She also teaches him the basics of how to use his rapier, which will be his signature-weapon much later.
Here is the pose provided by AdorkaStock: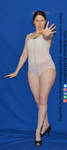 Image details
Image size
7440x9680px 2.41 MB