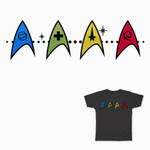 Hello dA friends! Hope all is well

Recently I was browsing around and stopped by threadless, and to my pleasant surprise they are in the middle of a Star Trek challenge.

Ideas swimming in my head, I decided to make a fun comm badge design first.
Please visit threadless to help me out!

Just follow the link and by giving it a 5/5 score we have a great chance to get printed!
Please and thank you